Big Finish Audio Dramas
UK 13 September 2019
CD: ISBN: 978-1-83868-069-5 €18.32
Digital download: ISBN: 978-1-83868-070-1 €14.99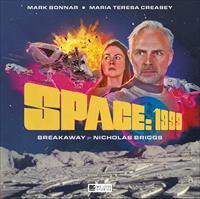 Big Finish started producing licensed audio dramas based on Doctor Who in 1998, and have diversified into other UK fantasy television franchises, including Anderson's Captain Scarlet and Terrahawks. The "audio dramas" are produced like radio dramas, with professional actors often including original cast. They are sold on CDs and internet downloads. The co-executive producer is Nicholas Briggs, an actor and writer best known for voicing the Daleks on the BBC Doctor Who since 2005. Senior producer is David Richardson, who used to write about Space: 1999 for TV Zone magazine in the 1990s.
Most of the productions are written and directed by Briggs. Jamie Anderson (son of Gerry Anderson) has worked as script editor for Big Finish on Doctor Who and other productions. Briggs wrote and directed a "re-imagining" of another ITC series, The Prisoner, starting in 2016. The series featured an updated format, with new music, and used a mixture of adaptions based on original episodes and new stories. It seems this is the template for Space: 1999.
The first play, Breakaway, was announced 12 August 2019 (with a premature advance announcement by Jamie Anderson on 11 August), for release on 13 September 1999. "An additional box set of four episodes will follow early in 2020."
The adaption (over 2 CDs) of Breakaway is based on the original episode (with some original dialogue) but expanded significantly. It was written and directed by Nicholas Briggs, with Jamie Anderson script-editing. On a third disc is a 1-hour audio documentary about the making of the play. Total length is given as 167 minutes, so play length must be a little under 2 hours.
Music is by Benji Clifford, an actor and sound editor who does music and sound design for Big Finish, and also co-hosts their podcast with Briggs. It is a new score (and sound effects), but the main theme is based on Barry Gray.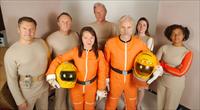 Big Finish typically uses some original cast-members for their plays, but they elected to use new actors for Space: 1999. All have worked with Big Finish on other productions. The cast is mostly British. Bonnar is Scottish, but his accent seems to be English for this production. Creasey (raised in the US and UK) uses an American accent. McCready has a rather broad Australian accent as Carter. Kano and Nordstrom are now female. The production released a photo of the cast in uniforms. The play was recorded 8-9 July 2019.
Strangely two characters have subtle and rather needless name changes, neither of which will be obvious in an audio format (Simmonds becomes "Simmons", Gorski is "Gorsky"). "Sian Springer" is a new character.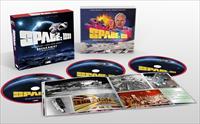 Jamie Anderson's company, the Gerry Anderson Store, produced a special edition, limited to 500 copies, with a slipcase, a "Gerry Anderson photo archive" booklet (the "exclusive" photos in the promo photo are all ITC shots seen on the Carlton and Network DVDs), and a previously unreleased Anderson interview (by Jamie and Briggs) for download.