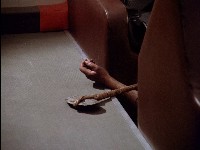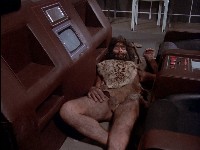 Helena's point-of-view in the Eagle module shows the caveman's hand and axe. The view from the side shows the caveman's head is on the walkway ledge. His head should be visible in the previous shot.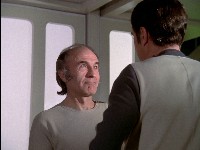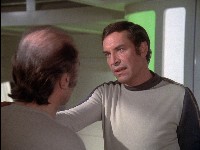 Koenig briefs the Alphans at his desk. When he stands to talk to Bergman, his arms are by his side (although the right arm is just out of frame). However, when it cuts to the view from behind Victor, Koenig's hand is on Victor's shoulder. Thanks to Mark Moss.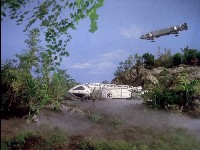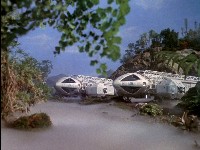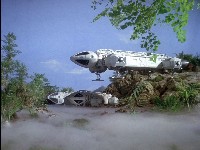 The position of the Eagles in the four landing shots are inconsistent. When Alan's Eagle lands next to Koenig's (middle picture), Koenig's Eagle has moved to the right (relative to the hill beyond). When Bergman's Eagle lands in the next two landings, Alan's and Koenig's Eagles have moved left sharply.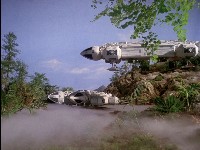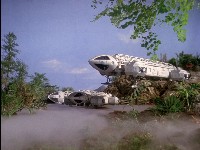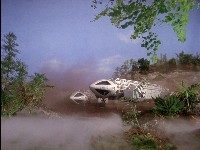 When landing, the Eagles move to the correct position. Only then does the Eagle fire the vertical retros (with sound effects and kicking up much dirt), and then descend. As seen in the last landing (when Bergman returns), the vertical retros stop (again, with sound effects) before the Eagle has fully landed- it gently floats down the last few metres as the dust clears. Thunderbird 2 in Anderson's series Thunderbirds also landed this way.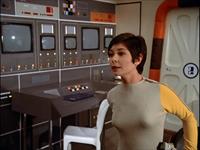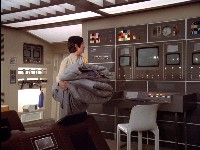 Sandra wakes up and puts on her belt, calling for Alan. She walks forwards to the command module and talks with him. Then she goes back to the passenger module and gathers up the sleeping bags, glancing at the clock on the computer wall. The clock had not been on the computer wall when she woke up. The desk in front of the computer has also moved position.