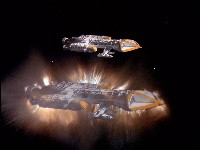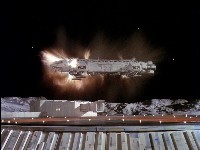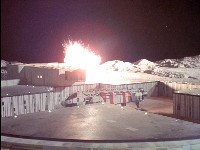 Several shots feature cardboard cut out spacecraft exploding. The effectiveness varies: the Hawk explosions are good, but the Eagles, especially the one on the launch pad, are seen for a few frames too long.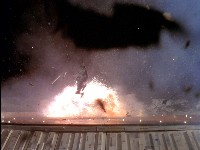 When the cut out Eagle explodes over the launch pad, part of the cut out showing the leg and engines is seen clearly blowing around in the flames.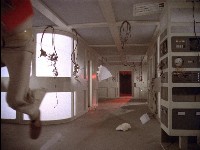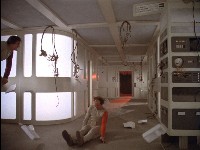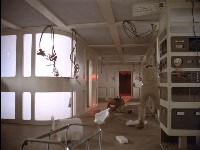 Stunt man Colin Skeaping is pulled backwards towards the airlock door. At the start of the sequence, the wire pulling him is just visible against the white wall. At the end, he turns over, and the back of the harness is visible. Against the red of the airlock, the wire can be seen leading up to the ceiling, where a pulley hangs. From the pulley, the wire leads through the open door on the right. Thanks to NeoGoglu.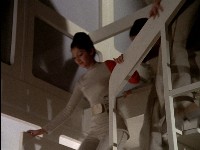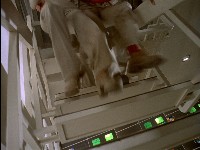 Alphans run down the steps. This is obviously the steps from the Main Mission balcony, although we already saw the same Alphans leaving Main Mission. One Main Mission operative has bright red socks. Binu Balini, Robert Atiko and Alan Harris are all clearly visible. Some of those Alphans end up in Medical, including Atiko and nurse Kathy Mallory.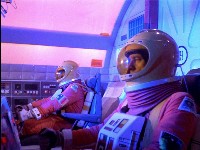 As Alan and Koenig fly into the planet forcefield, bright lights flash in the cabin. On the upper left of the frame, the edges of the lights can be seen.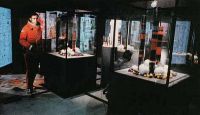 Not from the actual episode- this behind the scenes shot shows a technician on his knees between the alien columns.
Copyright Martin Willey.