Moonbase Alpha Ceases Operation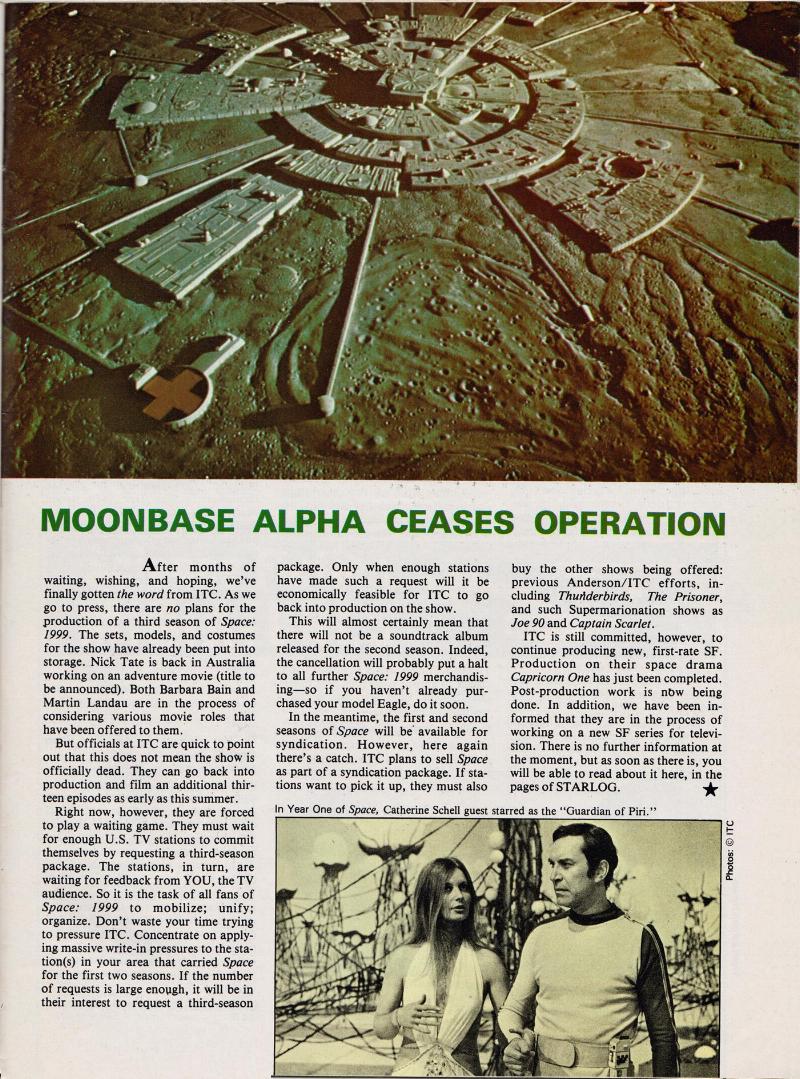 Starlog 6 (June 1977) p57
After months of waiting, wishing, and hoping, we've finally gotten the word from ITC. As we go to press, there are no plans for the production of a third season of Space: 1999. The sets, models, and costumes for the show have already been put into storage. Nick Tate is back in Australia working on an adventure movie (title to be announced). Both Barbara Bain and Martin Landau are in the process of considering various movie roles that have been offered to them.
But officials at ITC are quick to point out that this does not mean the show is officially dead. They can go back into production and film an additional thirteen episodes as early as this summer.
Right now, however, they are forced to play a waiting game. They must wait for enough U.S. TV stations to commit themselves by requesting a third-season package. The stations, in turn, are waiting for feedback from YOU, the TV audience. So it is the task of all fans of Space: 1999 to mobilize; unify; organize. Don't waste your time trying to pressure ITC. Concentrate on applying massive write-in pressures to the stations in your area that carried Space for the first two seasons. If the number of requests is large enough, it will be in their interest to request a third-season package. Only when enough stations have made such a request will it be economically feasible for ITC to go back into production on the show.
This will almost certainly mean that there will not be a soundtrack album released for the second season. Indeed, the cancellation will probably put a halt to all further Space: 1999 merchandising- so if you haven't already purchased your model Eagle, do it soon.
In the meantime, the first and second seasons of Space will be available for syndication. However, here again there's a catch. ITC plans to sell Space as part of a syndication package. If stations want to pick it up, they must also buy the other shows being offered: previous Anderson/ITC efforts, including Thunderbirds, The Prisoner, and such Supermarionation shows as Joe 90 and Captain Scarlet.
ITC is still committed, however, to continue producing new, first-rate SF. Production on their space drama Capricorn One has just been completed. Post-production work is now being done. In addition, we have been informed that they are in the process of working on a new SF series for television. There is no further information at the moment, but as soon as there is, you will be able to read about it here, in the pages of STARLOG.