Eagle Pilot Section Panels
Text and console art by Marcus Lindroos
---
Introduction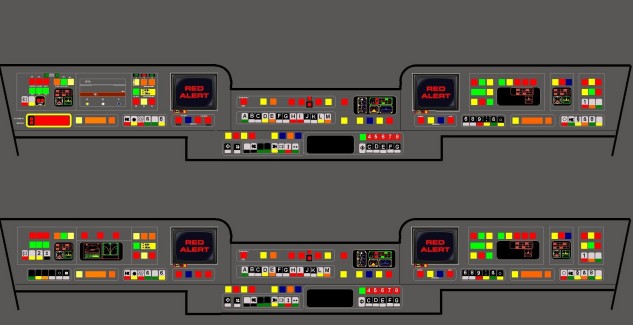 The flight console - and the cockpit set in general - is about 152 inches (386cm) wide. The most common Year 1 configuration is depicted on top. A second version (bottom) appears in Breakaway only. It has two multifunction display instruments on both sides whereas the usual Year 1 console had a hardcopy printout panel on the port (pilot) side.
The level of detail is impressive; the flight console has about 150 buttons and switches plus another 300 on the twin side panels next to the crew. In comparison, NASA's real-life Apollo Lunar Module had about 380 "control elements" while the current Russian Soyuz TMA has about 160 critical command buttons, computer system keys and circuit breakers.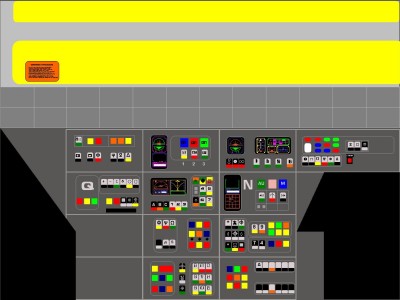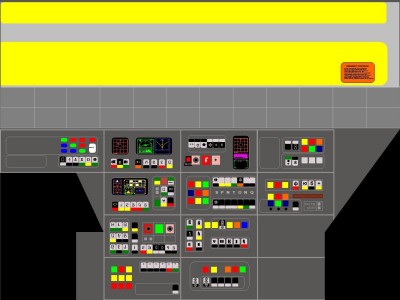 The side consoles are 96 in. (2438mm) long. The individual panels are smaller (16 x 8 in. / 406 x 203 mm) than the usual X5 computer panels but incorporate mostly the same kinds of buttons and controls.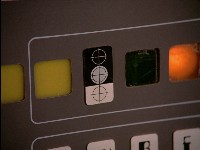 There are usually two types of input "control elements." Touch sensitive white, green, blue, orange, yellow or red lights are very common. There are also black or white rubber keys with a white, green, orange, yellow or red bottom strip. These are often marked with letters, numbers, symbols, Greek and Cyrillic characters only. Both types of keys usually emit a loud click or beep when pressed. Many operations require two or three keystrokes and since many input keys have no markings, most are probably computer function keys that perform different functions in different contexts (real-life fighter aircraft or Soyuz spacecraft "multifunction display" keyboard systems operate on the same principle)