Born in 1946, Foss is famous for his airbrush paintings for science fiction book covers, depicting immense, complex spacecraft and robots. He also did the illustrations for Alex Comfort's Joy Of Sex in 1971. He did several paintings as designs for Space: 1999, the early Dune film project in the late 1970s, and the films Superman (1978) and Alien (1979).
Michael Dickins Ford was born in 1928. He is sometimes credited as Michael D. Ford. His first film was Man on the Moon (1960). He worked on The Anniversary (1968), Kelly's Heroes (1970). On TV he worked on ITC series including The Adventurer (1972), The Protectors (1972), and with Keith Wilson on both Star Maidens (1976) and The The New Avengers (1977). He then concentrated on set decoration for film, beginning with Empire Strikes Back (1980), Raiders Of The Lost Ark (1981, for which he won his first Oscar), Return Of The Jedi (1983), The Chain (1985), Empire of the Sun (1987) and The Muppet Christmas Carol (1992).
As set decorator, Ford frequently collaborated with art director Peter Lamont on seven productions (Lamont was brother of Michael Lamont, who drew the original model plans for the Eagle for Brian Johnson). Lamont and Ford worked on three Bond movies, Living Daylights (1987), License To Kill (1989), and GoldenEye (1995). For Titanic (1997), they accurately recreated the interiors of the ocean liner, for which Ford won his second Oscar in 1998. Lamont affectionately called him "the Flower Arranger". Their final film was Wing Commander (1999).
He has two Oscars plus two further nominations. In 1981 for Art Direction: Raiders of the Lost Ark [Art Direction: Norman Reynolds, Leslie Dilley; Set Decoration: Michael Ford], and 1997 for Art Direction: Titanic [Art Direction: Peter Lamont; Set Decoration: Michael Ford]. He was also nominated in 1980 for The Empire Strikes Back [Art Direction: Norman Reynolds, Leslie Dilley, Harry Lange, Alan Tomkins; Set Decoration: Michael Ford] and in 1983 for Return of the Jedi [Art Direction: Norman Reynolds, Fred Hole, James Schoppe; Set Decoration: Michael Ford].
Michael Ford died in 2018. When he died, Peter Lamont issued a statement: "When we were on Titanic the producer said to me that he was worried about the costs of set decoration and I said, 'Don't worry, Michael is one of the most frugal (at work) with a budget that I know'. Three months later I was talking budget again with the producer, and he said to me, 'You were right about your Flower Arranger, he is the only HOD [Head of Department] who has done all we needed and still have budget left!' He was a very talented set decorator and artist. I never once saw him blow a fuse at work, he was a true gentleman and we will all miss him."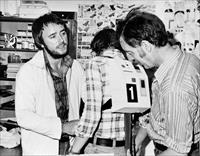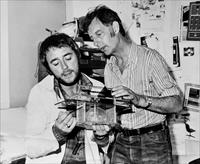 Keith Wilson and Michael Ford, early in Year 2.