These actors appeared in Space: 1999, but we have not identified the episodes.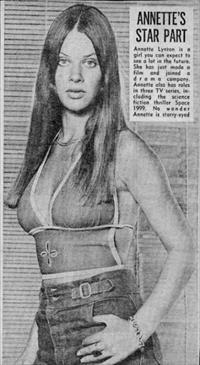 Annette Lynton. Appeared in several episodes of Star Maidens (1976), and was the adjudicator in the 1984 season of the game show Treasure Hunt . She became a minor celebrity after marrying Pink Floyd drummer Nick Mason in the mid-1980s.
Possible identification thanks to Marcus Lindroos: this Main Mission operative in Collision Course, Full Circle, End Of Eternity and The Last Enemy (in the first 3 episodes she has her hair tied back; in the last she wears her long hair down and has an orange sleeve).

L Sandrock. Appeared in as a yellow sleeved Alphan, probably Yr 2
Venetia Witty, Sylvia Thorpe, Jane Henley, Anita Holden, John Dove: Alphans (see uniforms)
M. Renall, Ian Flint: Medics (see uniforms)
J Galsten. Uniform pants, sleeve and sex unknown.
Copyright Martin Willey. Spotlight images thanks to Shaqui.