| | | |
| --- | --- | --- |
| Utility Belt | | Remco, USA 1976 |
| Space Belt | | Remco-Burbank, UK £3.45 1976 |
| Utility Belt/Ceinture d'accessoires | | Irwin, Canada 1976 |
Remco also produced a Stun Gun, and their parent company Ahi produced many Space:1999 toys. Remco produced utility belts for many licensed properties, including Star Trek, Batman, the Amazing Spider-Man and Mickey Mouse.
The box is 37.5 x 20 x 5 cm with plastic window to show contents mounted in card braces. The US and UK interiors differed, because of the different box window size.
The playset consists of:
belt
"Compass watch"
"Stun gun"
"Radiation detector"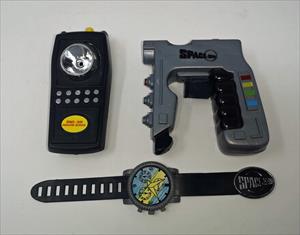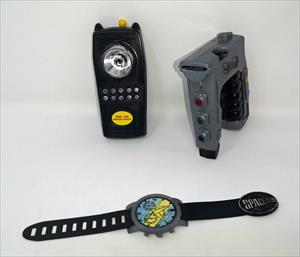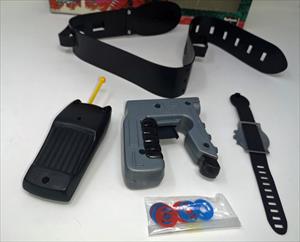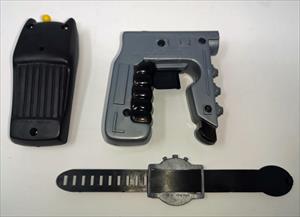 Canadian box
The box is identical to the US box, but with some French text and the Remco credit re-badged to Irwin Toy Ltd of Toronto. In Canada, Irwin was the largest distributor of toys, mostly from US companies who were blocked from the Canadian market because of tariffs (this changed after the 1987 Canada-US free trade agreement; by 2001 the struggling company was sold, then went bankrupt).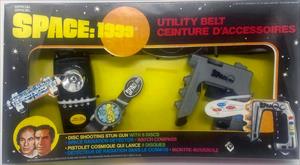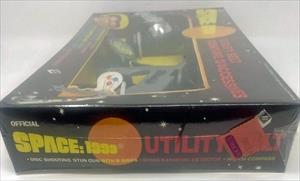 UK box
Burbank Toys were a UK toy company based in Wellingborough which made dolls, and also imported US brands into Britain, including Mego, Mattel and Remco. Unlike Canada's Irwin Toys, then retained the Remco brand but created their own box design.