No 9548.
"It's a space vehicle! It's a headquarters and living quarters on Moon Base Alpha! With three 3" TV characters!...Command and engine modules detach! Make a mini-spaceship!...Module hatch opens, room for 2!...Over 2 1/2 feet long! With 3 characters from Moon Base Alpha!"
81 x 33 x 15 cm, white plastic with red engine bottles and grey nozzles. Engines and nose cone detachable (can be fitted together to make "mini spaceship". Each side of pod opens on a hinge along the base. Interior of pod has two chairs, "space crane" (working, operating through floor hatch), "weapon rack", and non authentic computer panels on two pillars. Hatch opens in top of nose cone so two figures can be placed in seats.
Figures are 7.5 cm tall, in red spacesuits. Four figures are standing, 2 seated. One modelled on Koenig, one Helena, one Victor. Arms, waist and head movable (detachable at waist, so legs may be swapped). Accessories: 4 stun guns, one (accurate) laser rifle, plus helmets (soft orange plastic) & "space pack" (chest and back packs in soft white plastic) for each astronaut.
Sold unassembled (all nozzles and "landing skids" separate, as is nose cone, engine bottles, side jets, weapon rack, space crane, chairs and hatch cover. 34 transfers, including 6 Alpha insignia, the black nose cone insets and side jet crosses, interior instrument panels, plus red strips to decorate fuel pods and top framework.
Detailing generally crude, though top detailing within framework is extensive.
With 48 x 31.5 cm instruction sheet.
Box 69 x 33.5 x 13.5 cm, with art of Mattel Eagle over Alpha; Koenig (with heavy laser), Helena & Victor right. Sides and back shows art of model. "For ages over 3".
Mattel also produced the Flying Eagle, and four figures with a playset.
For E. James Small's indepth description of Mattel's Eagle 1 Spaceship, click here
From the collection of E. James Small (originally owned by Paul Ettinger of Nova Scotia).
A wide range of replacement parts is available on the internet made by fans. Mint boxed toys attract high prices- one in February 2010 was sold on ebay for $750.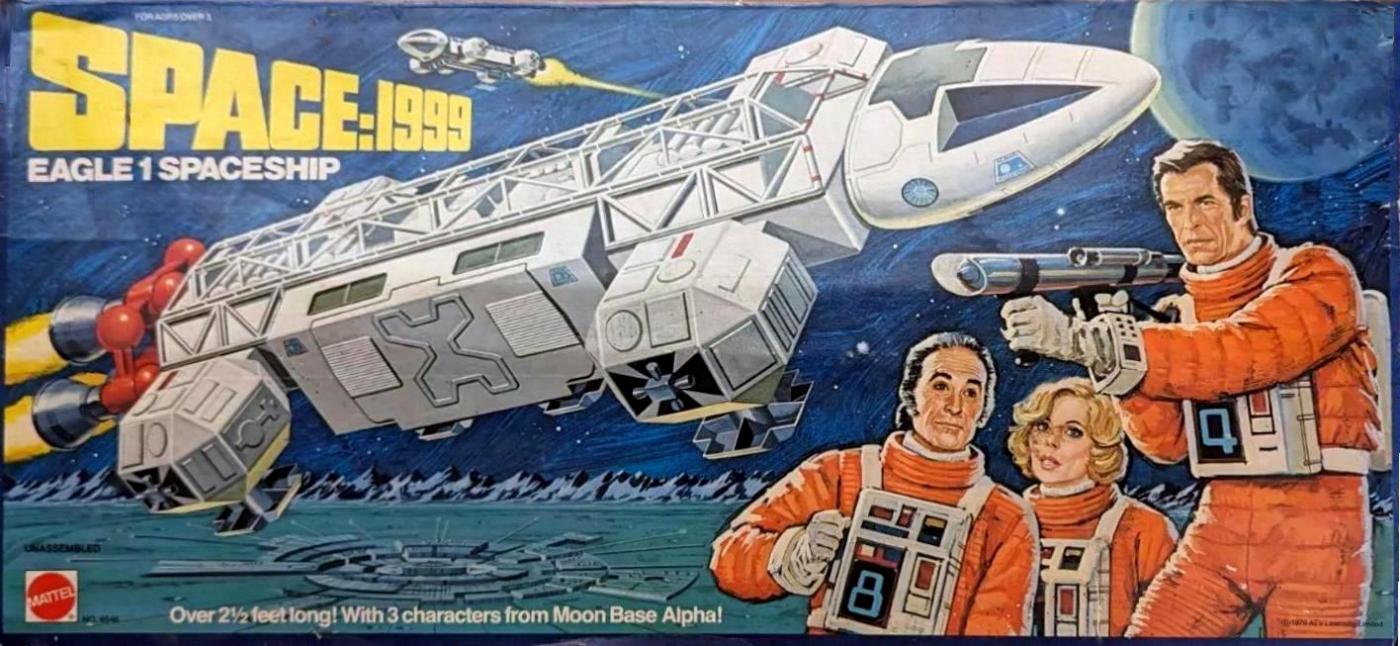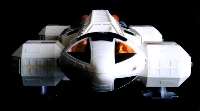 Carrier [carries] three 3" TV characters
Space crane
4 engine nozzles
4 steering jets
8 landing skids
Weapons rack
Hatch
2 chairs
Side panels swing open, both sides
4 stun guns, 1 laser rifle

Eagle 1 Space Set contains:
2 1/2 ft. Space Vehicle & living quarters with detachable command & engine modules. Plus 3 TV characters from Moon Base Alpha: Commander Koenig, Dr. Russell and Prof. Bergman. Characters are poseable, stand 3"
tall, wear space suits with helmets. Set includes labels & complete assembly instructions.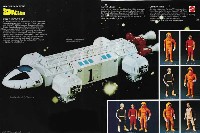 Above: the Mattel dealer catalogue shows unusual markings: a large "1" on the passenger pod, and the mysterious initials "WS" on the cockpit section. The Alpha insignia is barely recognisable, and the cockpit window sections look smaller. The Alpha Crew and Characters would also have been available separately.