Larami Corp Toys
Larami made cheap "rack toys" in Hong Kong for US market. They was cheap pocket-money toys with little if any connection to the series. The card backings of the blister packs had nice if messy Year 1 photos, usually of astronauts, largely from Breakaway, Ring Around The Moon and Alpha Child. Several were reissued for Year 2 with some new toys.
---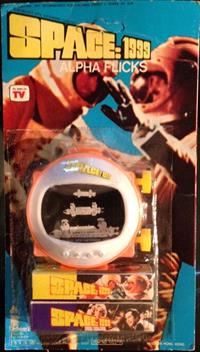 US 1975 No, 7022-7
A wrist viewer similar to the toy TV in the Alpha Flicks and Stamping Set, with the two story reels from that pack.
---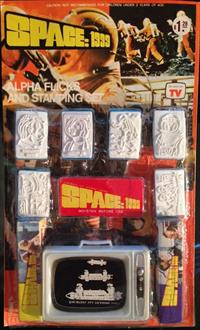 US 1975 No. 9521-6 $1.29
Contains a "TV" viewer with two rolls (from the "Alpha Flicks" set) and stamps (from the "Stamping Set")
A small set of seven stamps decorated with crude designs from the series, plus an ink cases decorated with the series logo. Also included was a plastic "television set" and two paper reels, each telling a short story in a series of colour artwork pictures. These reels could be mounted in the "television" and the dials on the side used to wind on the reel, revealing consecutive pictures on the "screen". Sold in a bubble pack with colourful photos of astronauts: top left behind logo is Alan aiming Alpha Child blaster, top right are the Ring Around The Moon astronauts in transit.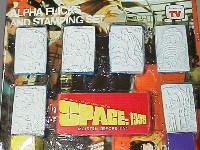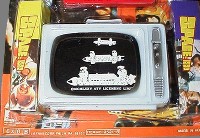 ---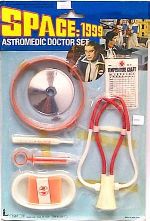 US 1976
A variation of the Moonbase Medic kits
---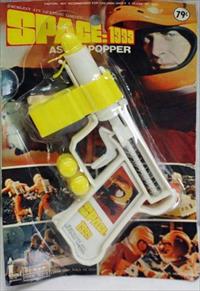 US 1975
Item No 7021-9. Made in Hong Kong. 79 cents.
Very crude white pistol which uses a spring to "pop" yellow caps fitted to the barrel (no connection with series). The logo and a colour photo of Koenig aiming laser rifle (from Alpha Child) appear on a card inserted in the handle. Sold in bubble pack, with very attractive photos of astronauts on the 15 x 23cm card.
The same pistol was also issued as the Space Explorers Dart Set and the Target Set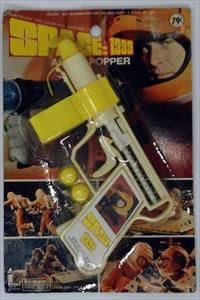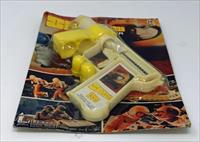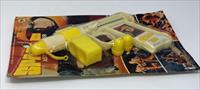 ---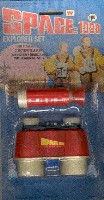 US 1976
Contains "High Powered Lens", "2 Section Telescope", "Adjustable Binoculars with carrying strap" (the last marketed separately as "High Power Lookouts")
---
US 1975 59 cents.
A toy plastic watch (two different watch faces). Blister pack has nice astronaut photo (Sandra Benes from Last Sunset) plus inset of Eagle struck by lightning. A variation pack is longer, showing an additional inset of moonbuggy.
---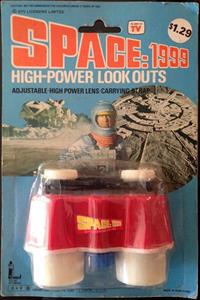 US 1976. No. 7071-4 $1.29
"Adjustable High Power Lens-Carrying Strap". Children's binoculars. Blister card shows shots of Eagle from Metamorph, Koenig from Brian The Brain, and Alpha.
---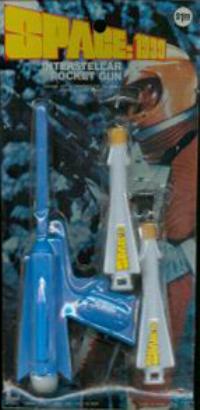 US 1975
A toy gun with two large darts. Also issued as the Interstellar Target Shooter (which had the same background picture of astronaut Alan with the Alpha Child laser blaster).
---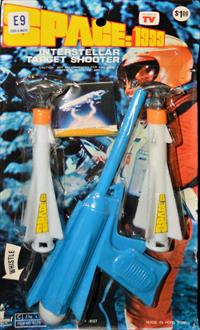 US 1975 $1
Also issued as the Interstellar Rocket Gun
---
US 1976. No. 8029-1 $1.29
7" x 13" card. Two different sets, but packaging identical (including serial number). Labelled top right "All bottles and boxes are empty".
set 1: "Dr Nurse blood pressure meter", pocket watch, two vials, tweezers, spoon, thermometer, two small bottles labelled "alcohol", measuring cup, cotton container, and forceps.
set 2: stethoscope, pocket watch, tweezers, thermometer, mirror, two probes, "Space: 1999 Aspirin Tablets" box, alcohol bottle, a hammer, scissors, and syringe
Also issued as the Astro-Medic Doctor Set
---
USA 1975. Item no. 5014-6. Made in Hong Kong. First version: 59 cents; second version: 69 cents
Toy penknife (9 cm long) with soft plastic fork, knives, spoon. Red logo on side.
Blister card (13 x 18 cm) features yellow logo and photo of Koenig & Helena by Terra Nova pool. Second version had a year 2 photo of Koenig in the caves from Seed of Destruction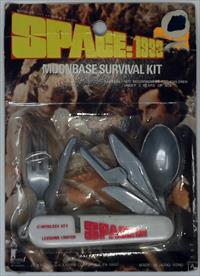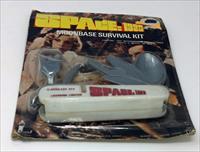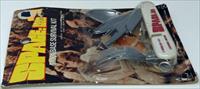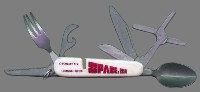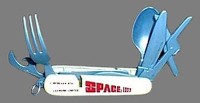 ---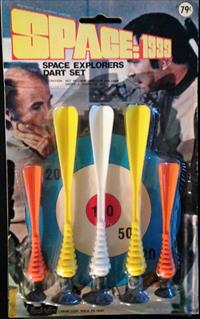 US 1975
Dart board and toy darts. Blister pack card shows Victor and Koenig in the lab. See below for variation.
---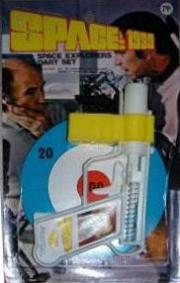 US 1975
Dart board and gun (the Astro Popper set). Same blister pack card with Victor and Koenig in the lab as the other set of the same name.
---
US 1975 $1.00
Item Number 9493-8. Made in Hong Kong. A set of 12 rubber stamps, 2 stamp holders and an ink pad. Two versions of the blister pack top; one shows an Eagle and Satazius (upside down), the other shows a Main Mission photo.
The same stamp designs appear in the Alpha Flicks and Stamping Set.
---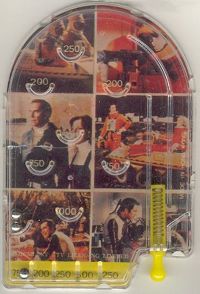 US 39c 1975
Item No 3003-1 Made in Hong Kong "Not recommended for children under 3 years of age"
A pinball game with colour photos of Year 1 cast (9 x 12.5 x 1 cm). Spring fires ball to top of board; it rolls down to be trapped in plastic cups giving various scores (200, 250, 500, 750 and 1000). Three balls. Six photos on card backing: astronauts in buggy, Koenig aims laser blaster, Koenig & Helena in ice cave, Koenig & Helena sat in buggy, Koenig & Helena by Terra Nova pool, and, behind the spring, Koenig talks to Victor in lab. No text on game apart from faint copyright line.
Sold in clear plastic bag with card stapled on top, with 1999 logo in yellow on black background.
---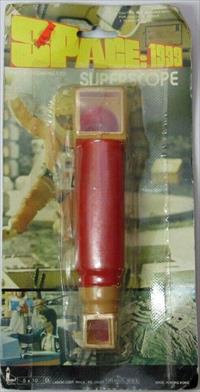 US 1975, 1976. Item No. 7032-6
It's a plastic periscope.
Different year 1 and year 2 card designs. The main photo of the Year 1 design is flopped left for right. The main photo of the Year 2 design shows Nordstrom jumping over the moonbuggy, which also appears above the logo. There is a of Tony in Command Center.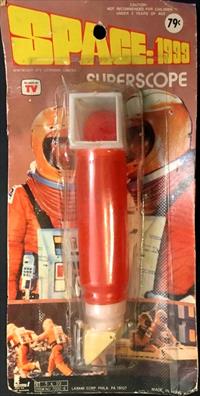 ---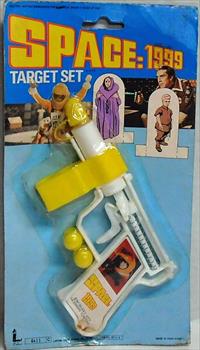 US 1976
The same pistol was also issued as the Space Explorers Dart Set and the AstroPopper
The card back includes two art figures to cut-out: a cave miner from The Metamorph and Mirella from The Exiles (neither were antagonists in the series).
---
Copyright Martin Willey. Thanks to Allen Barnella.