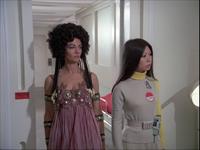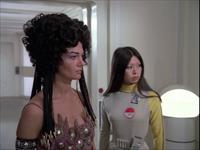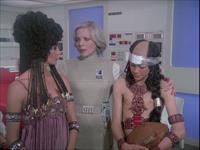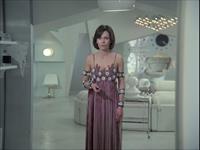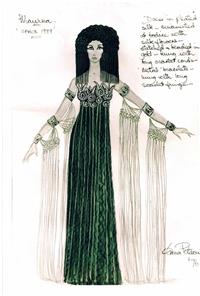 This is the dress worn by Veronica Lang as Maurna in The Mark Of Archanon, and was later worn by Kathryn Leigh Scott as Yesta in Dorzak. Emma Porteous's description on her design for Maurna's dress: "Dress in pleated silk - ornamented at bodice with silk flowers - stitched and beaded in gold- hung with long scarlet cords - metal bracelets - hung with long scarlet fringe -".
Pictures and text by Simon Rhodes

It has a dark, almost ox-blood/purple, silk-like slip with a pinkish layer of pleated silk (both man made I think?) over the top. The bodice is based around a standard model 1976 bra, which still has it's little embroided flowers in place. The detail consists of various shapes and sizes of beads and sequins stitched onto round and leaf shaped thick felt pads covered in a sparkly woven material of a similar but lighter colour to the slip. These in turn are stitched to the bra, the straps of which are held to the sides and back of the dress with little squares of velcro. A small zip is inserted in the back of the slip and then the pleated overskirt is closed with little plastic poppers. Hanging from the front off the bodice section are many fine streamers, again in the dark colour of the slip. Originally the fastenings at the back were hidden by one of the round, detailed, felt circles with streamers, but over the years this has been lost.
The costume was reused and worn by Kathryn Leigh Scott, in Dorzak, when it was re-dressed by putting what look like little artificial white flowers over the large jewelled beads on the bodice. Sahala's (Jill Townsend) costume had a fringe of similar detail running along the top. Subsequent to its last use on that episode these flower details were removed and it's now back to its original appearance. The costume is in lovely condition, having been retained by the original seamstress who worked on it. The white bra has many traces of makeup and so it appears not to have been washed and in the same state, bar the flower detail, as when it was last used in November 1976.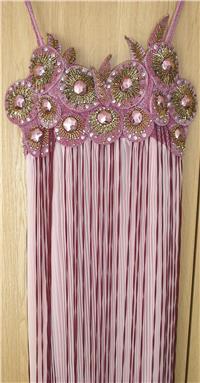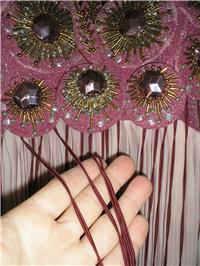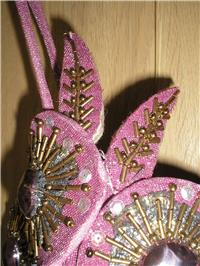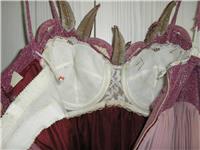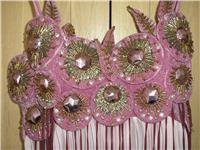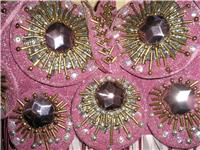 Additional photos from 2015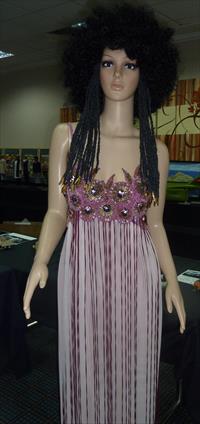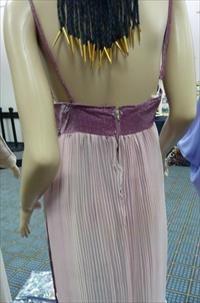 ---
Contents copyright Simon Rhodes, Martin Willey