The Mark of Archanon

Year 2 - Episode 8

A sensational find below the Moon's surface...an imprisoned man and his son. Who are they? How did they get there? How long have they been there? And why? ITC summary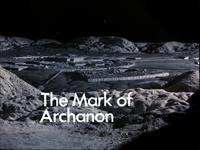 Shooting script dated 12 April 1976.
Amended pages 14 April (2 pages), pink pages (18 pages) and line amendments (6 pages) 21 April. On 26 April, blue line amendments (1 page) and pages 26 April (7 pages). 8 new blue pages 27 April; 3 new blue pages 28 April.
Filmed 4 May-18 May 1976, plus additional scenes on 19 May.
At the start of filming, 5th May, there were 4 new pages including a new epilogue. After filming (on 20 May), Freiberger issued a memo with 2 new script pages, with another new epilogue.
A "Double-Up Helena" script- while Bain and the other cast were filmed in the studio, Landau and Schell filmed The Rules Of Luton on location.
Wrong credits: writer Lew Schwarz is credited as Lew Schwartz; Raul Newney is credited as "Raul Newey".
The Warwick student film contains behind-the-scenes footage.
Studio sound tracks are on the Network Year 2 Blu-ray - see also sound rushes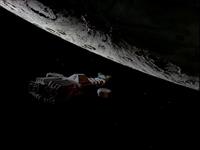 The Archanon ship was built by Martin Bower between the filming of the two series. A revamped version of the model appears in Space Warp.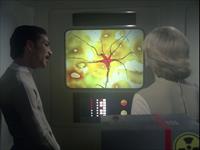 The virus (or genetic disease- the episode calls it both) is obviously based on haemophilia, a genetic disease caused by the absence of the gene for making the blood clotting protein Factor VIII. It is a hereditary disease passed only in males, treated by blood transfusions.
In stasis the Archanons are standing. Standing requires muscular effort and brain coordination; humans cannot stand while asleep.
The lunar caves are apparently natural (and are seen again in Catacombs Of The Moon; see more science notes there). It is an incredible coincidence that Moonbase Alpha is built over the former location of an alien base - but a well-developed system of lava tubes would be ideal for any lunar settlement. Evidence of lava tubes on the moon was first discovered in 2010.
The Eagle is in a "meteor storm". Meteors are asteroids burning up in an atmosphere; the correct term is asteroid.
Even in the recording from a thousand years ago, the Archanons speak modern English
640 days after leaving Earth orbit (Thursday 14 June 2001)
1 fatality (possibly), Andy Johnson - we don't know whether he survived his "serious head injury".
Alpha Technology: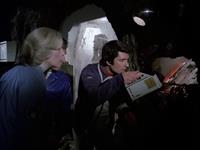 Eagle 1 (Koenig, also stationed above pad- see observations); 3 (rescue)
None
None
Aliens:
Pasc, Etrec, Lyra and Maurna from Archanon. Humanoid.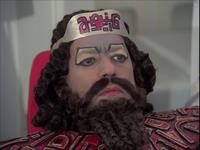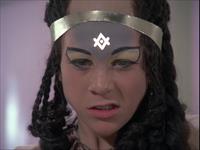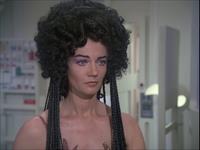 Footage:
One shot of Alphans in jumpsuits running down a corridor is reused from The Metamorph
One shot of Alphans in jumpsuits running into a travel tube is reused from The Exiles
Props:
In the asteroid storm, the Eagle's legs are sometimes bent, sometimes not (for some shots the Eagle was filmed standing vertically so dust could be dropped past it; hence the bent foot pads). It also changes between the second and third Eagle model, with obvious differences in panel details.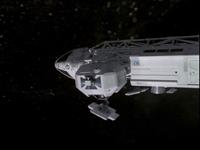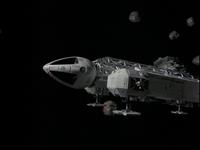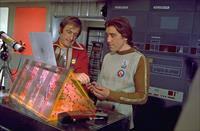 The football match alluded to is a rugby league at Swinton in the UK on 9th November 1963 when Australia beat Britain 50-12, one of the Ashes test matches. The Australian team was captained by Arthur Summons and included Earl Harrison, who played five-eighth. Harrison used to play at club level for Gilgandra, then was selected into the New South Wales team. He coached at Coonamble, NSW.
Was Crom II another planet that Alpha visited? (according to the script it was).
The name Pasc indicates a Passover analogy, with Pasc spilling his blood to redeem his son.
Cobber? Yeah. That means you're a pal, you know, a real close buddy. The Australian colloquialism, first recorded in 1890, is considered archaic and rarely used (the preferred colloquialism is "mate").
Emma Porteous's description on her design for Maurna's lilac dress: Dress in pleated silk - ornamented at bodice with silk flowers - stitched and beaded in gold- hung with long scarlet cords - metal bracelets - hung with long scarlet fringe -.
External Links