---
Italy October 2003+, reissue March 2007
€57 per volume; reissue €103.50 per box
Released in 4 box sets, each containing 4 discs/12 episodes. The DVDs are region 2 PAL. Soundtracks are Italian (Dolby Digital 5.1 and mono) and English (mono). The Italian soundtrack for The Last Sunset was missing, so a poor quality off-air recording was used for the second half of the episode. There are subtitles in Italian and English.
Reissued as in two "Collector's Editions" in 2007 (see below).
Packaging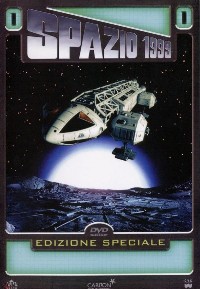 Initial packaging of volume 1 was a thick plastic case. Inside, on each side are two overlapping discs, difficult to extract. The discs are pale green with blueprints of the Eagle. There is also a 14-page full colour booklet, describing the series background, characters and the episodes.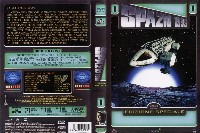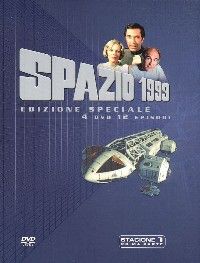 Packaging of volume 2 (and later versions of volume 1) is a digipack (see flyer). A limited introductory offer for volume 2 includes an empty digipack for volume 1. The digipacks are dark blue, with fine grid lines, oval photos and simplified blueprints of the Eagle.

Booklets
Each of the 4 sets comes with a 14 or 16 page booklet, describing aspects of the series plus the episodes in that set.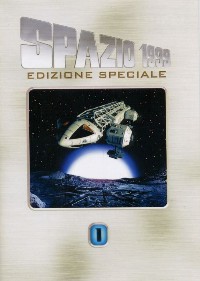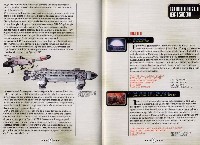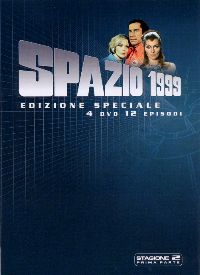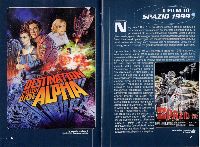 Menus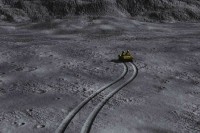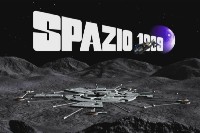 Each disc has an animated introduction. Green computer type appears: Denominazione: Mare Imbrium/ Superficie: 890.000 kmq/ Posizione: Settore centro nord, Luna. This fades into wheel tracks in the lunar surface. The camera pulls up to show a moonbuggy driving away, and continues to rise over the lunar hills, to reveal Moonbase Alpha. Two Eagles speed overhead and the logo appears. Year One volumes have a white logo with purple planet; Year Two volumes have a yellow logo with red planet.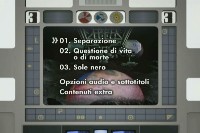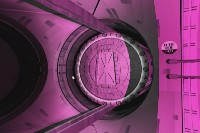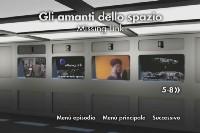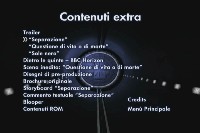 For the Year One volumes, the view of Alpha then appears on Main Mission's Big Screen, and the main menu appears. This Episode clips play on the Big Screen behind the menu.
For the Year Two volumes, the Moonbase view changes into an overhead plan, with rotating radar sweep. The menu appears over the plan.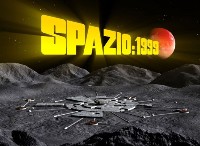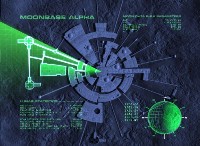 Year One sub menus have an animated transition, pulling away from the Big Screen and moving through Main Mission or into corridors, elevators and travel tubes. Although Carlton and TF1 used a similar concept, the animations (by Roberto Baldassari) are very accurate and much more extensive. The main menu uses the series theme, sub-menus and transitions use incidental tracks.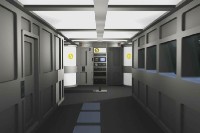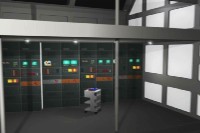 Year Two sub menus have a different transition, as areas of the Moonbase plan are highlighted and an area of the Moonbase appears. The episode menu zooms into the Computer Room (as seen in Black Sun). Scene selection appears on computer screens. The audio menu is in the Eagle hangar (an Eagle is carried across on an overhead rail). The extras menu shows an Eagle on the launch pad. Picking each extra zooms through the Eagle door, through the corridor into the pilot cockpit.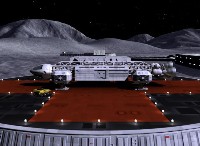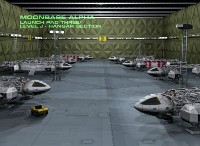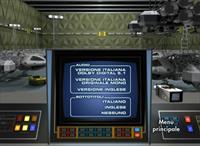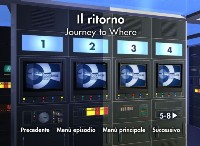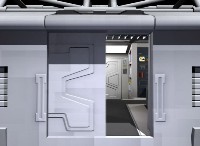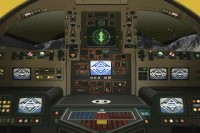 Extras
Extras include episode trailers (the "This Episode" title sequences, also seen on A&E discs) and many of the extras also seen on the Carlton discs (Horizon clip, ice lolly advert, photo galleries, preproduction artwork, trailers). While the UK set had 2 Landau/Bain promos, and the US had 14 different versions, there are 23 different promos on the Italian set.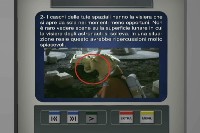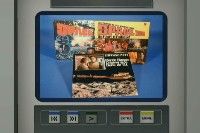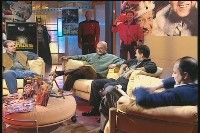 New content includes merchandising gallery (with rare Italian material), interviews with Johnny Byrne, Christopher Penfold, Prentis Hancock and Zienia Merton (in English with Italian subtitles), a photo/text blooper guide, text commentaries for certain episodes (by Roberto Baldassari), the 1999 Italian documentary Destinazione Serie (with disturbing close-up shots of the presenters), and a commentary by Zienia for Message From Moonbase Alpha. There is also the original Italian year 2 titles (and a special karaoke version of the Oliver Onions song used on the end credits). On DVD-ROM, each disc contains the ITC dialogue continuity transcripts (in PDF). Members of the Italian fan club Moonbase 99 were involved in the production of these extras.
There are hidden "Easter eggs" extras hidden on some discs. For discs 3 and 7 click on the travel tube door. On Set 3 disc 4, click the commlock in the sound menu.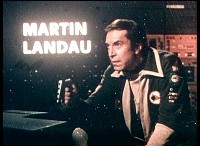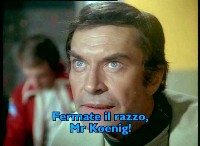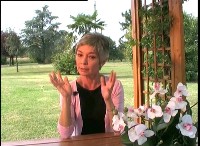 Set
Release Date
Episodes
Extras

Set 1





October 22nd 2003

Trailers
Horizon
Edited scene- Matter Of Life And Death (photo)
Pre-production art
Original brochure
Breakaway SFX storyboard
Breakaway text commentary
Bloopers
CD-ROM

Disc 2
Ring Around The Moon
Earthbound
Another Time, Another Place

Trailers
Photo gallery
This is your Life (photo/text)
Bloopers
CD-ROM

Trailers
Ice lolly advert
Merchandise Guide part 1
Bloopers
Easter Egg (7mins 40 secs, Italian convention with clips of Merton, Morse, Byrne)
CD-ROM

Trailers
Merchandise Guide part 2
Johnny Byrne interview (56 minutes)
Bloopers
CD-ROM

---

Set 2


April 7th 2004

Disc 5
Collision Course
Death's Other Dominion
The Full Circle

2 Trailers
Alternative sequence from Collision Course
Destinazione Serie from 7th Dec 1999 (31 minutes)
Bloopers
CD-ROM

1 episode trailer
Compilation movie trailers: Destination Moonbase Alpha (2 minutes), Alien Attack (3 versions, 1:24, 56 secs, 30 secs), Cosmic Princess (1:40, 3 sec "bumper"), Journey Through The Black Sun (1:40, 3 sec "bumper")
Cut scene from End of Eternity (1 photo)
Bloopers
CD-ROM

1 Trailer
Message From Space City film (35secs)
Cut scene: Space Brain (2 photos)
Merchandising Guide part 3
Easter Egg (Los Angeles 1999 convention, 24 minutes)
Bloopers
CD-ROM

Disc 8
Mission Of The Darians
Dragon's Domain
The Testament Of Arkadia

Trailers
Testament Of Arkadia text commentary
Italian titles and text-less titles
Merchandising Guide part 4
Bloopers
CD-ROM

---

Set 3


Dec 2004

Photo gallery
Cut scene The Metamorph (photos and text)
Cut scene The Exiles (photos and text)
On-set interviews (Anderson, Landau, Bain, Schell, Wilson, Freiberger)
Text commentary The Metamorph
Bloopers
CD-ROM

Photo gallery
Year 2 trailers (3 versions)
Landau-Bain trailers (5 x UK, 18 x US)
Bloopers
CD-ROM

Disc 3
The Rules Of Luton
The Mark Of Archanon
Brian The Brain

Photo gallery
Interview with Christopher Penfold (13m 30s)
Merchandise Guide part 4
Bloopers
CD-ROM

Disc 4
New Adam, New Eve
Catacombs Of The Moon
The A B Chrysalis

Photo gallery
Cut scene from A B Chrysalis (text and photos)
Interview with Prentis Hancock (7m 20s)
Merchandise Guide part 5
Bloopers
Easter egg: New York convention (18m 50s)
CD-ROM

---

Set 4


23 Feb 2005

Photo gallery
Brian Johnson interview and commentary (14min 45s)
Bloopers
CD-ROM

Disc 2
A Matter Of Balance
The Bringers Of Wonder part 1
The Bringers Of Wonder part 2

Photo gallery
"Next week" trailers (50s total)
Second series titles: Italian (opening, end), karaoke (4m 15s), opening titles without text
Bloopers
CD-ROM

Photo gallery
Seance Spectre cut scene (text and pictures)
Zienia Merton interview (42m 40s)
Merchandise Guide: toys and games
Bloopers
CD-ROM

Photo gallery
Message From Moonbase Alpha (Italian, English and Zienia Merton commentary, 6m 55s)
Dorcons text commentary
Merchandise Guide (models)
Bloopers
CD-ROM
Reissue of the DVDs as two 8-disc Collector's Editions (one for each series), 21st March 2007, by Mondo Home. 103.50 €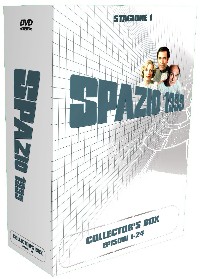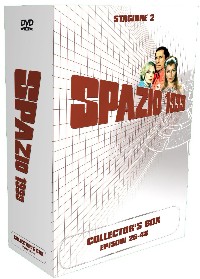 La Repubblica, the second largest newspaper in Italy, began selling Year 1 in 12 volumes at the end of 2007. The first volume was just 20euro cents on Friday 14th December with La Repubblica and the magazine L'Espresso; second volume was Monday 17th December for 7.90€ (with a storage box to keep the full set) and then a new disc every Monday. Two weekly news magazines, "Il Venerdì di Repubblica" and "L'Espresso", contained flyers promoting the new DVDs, shown below.
The menus are the Roberto Baldassari menus used on the 2003 Pulp Video DVDs, and the extras are reused as well.
Thanks to Andrea Gualco.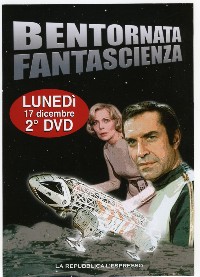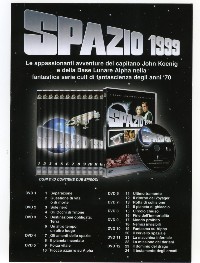 | Disc | Release Date | Episodes |
| --- | --- | --- |
| 1 | 14 December 2007 | |
| 2 | 17 December 2007 | |
| 3 | 24 December 2007 | |
| 4 | 31 December 2007 | |
| 5 | 7 January 2008 | |
| 6 | 14 January 2008 | |
| 7 | 21 January 2008 | |
| 8 | 28 January 2008 | |
| 9 | 4 February 2008 | |
| 10 | 11 February 2008 | |
| 11 | 18 February2008 | |
| 12 | 25 February 2008 | |
Reissue of the DVDs as individual themed discs, April 2008, by Mondo Home. 12.90 € per disc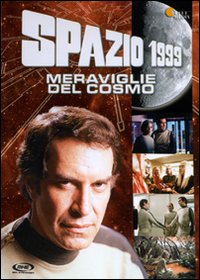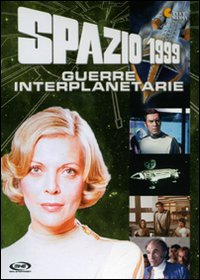 The first volume is "Meraviglie del cosmo" (Wonders Of The Cosmos) about black holes and space warps; the second is "Guerre interplanetarie" (Interplanetary War).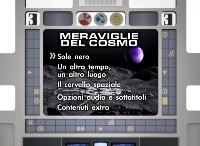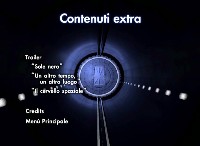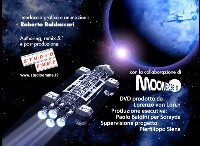 The menus use the same Roberto Baldassari animations as previous releases, as can be seen above. The only extras are "trailers" - identical to the "This Episode" title sequences, and seen on previous releases.
| Disc | Release Date | Episodes |
| --- | --- | --- |
| "Meraviglie del cosmo" (Wonders Of The Cosmos) | April 2008 | |
| "Guerre interplanetarie" (Interplanetary War) | April 2008 | |