---
Corriere della Sera / La Gazzetta dello Sport
Italy 16 February 2016+
€1.99 - 5.99- 9.99 per volume; complete collection €227
Thanks to Andrea Gualco and Ale.
Corriere della Sera is one of Italy's oldest and most popular newspapers; its sister paper is La Gazzetta dello Sport, an newspaper devoted entirely to sports, particularly football. Another Italian newspaper (and competitor to Corriere), La Repubblica, had previously released Space: 1999 DVDs as a promotion in 2007. In 2016, Corriere della Sera and La Gazzetta dello Sport added "Spazio 1999" to their other DVD promotions (other series include Poirot and the Walking Dead).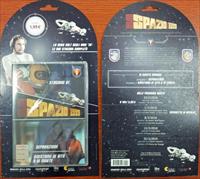 DVDs were released in weekly instalments. When you buy one of the two newspapers, you can buy the DVD of the week. The first DVD had a special price of €1.99 (€5.99 online), the second DVD is €5.99 and the other DVDs cost €9.99 each. The entire two series (24 DVDs) can be bought online with a slipcase for €227.
Packaging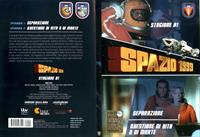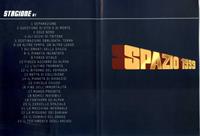 The colourful covers have photo covers that don't reflect the episodes. The complete collection slip case has a lunar landscape (the set from Space Warp).
The spines of the covers line up to show the lunar surface with the series logo above. On the left it reads "Stagione 1" ("Season 1"), on the right "Stagione 2" ("Season 2"). An Eagle is flying by on the extreme right. Between the last two DVDs, 23 and #24, including both "Season 2" and the Eagle, the images are misaligned, making the image appear with one "slice" higher. Thanks to Ale.
DVDs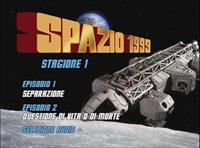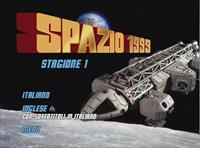 The menu is a simple static image, with an Eagle over the moon (an MPC Eagle, possibly the Round 2 "Deluxe Edition", over an Apollo 8 picture of the Moon). The menu lists the two episodes and audio selection. The audio page offers Italian dub and original English with Italian subtitles. There are no extras on the discs.
As on the 2003 release, L'ultimo tramonto -The Last Sunset on disc 6 only has a poor quality home recording of the Italian dub for the second half of the episode. (Thanks to Ale)
There are other faults on the discs (also thanks to Ale):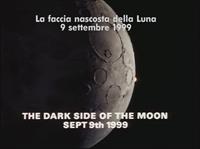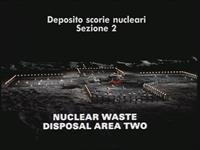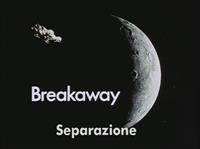 The DVD picture is the original version (apparently identical to the 2003 Italian Pulp Video set), not the Network restored prints.
Booklet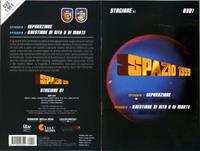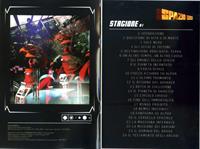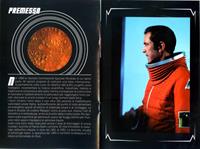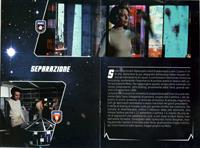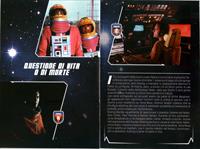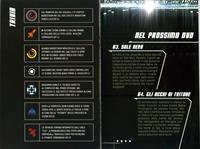 There is a 12 page booklet, generously illustrated, with an episode list, short series premise, description of the two episodes and some trivia (helmet visors opening, changing collars, the parrots calling "cut").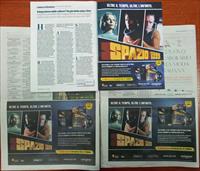 The launch of the DVDs in February 2016 was accompanied by adverts in the newspapers and the Corriere della Sera Sette weekly magazine. The advertising slogan is "oltre il tempo, oltre l'infinito" ("Beyond time, beyond the infinite").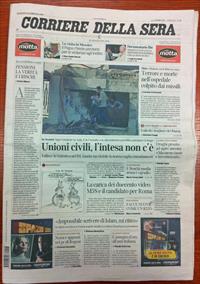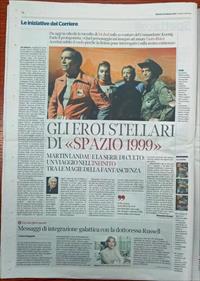 On the launch date, 16 February, the Corriere della Sera had two colour adverts on the front page and a full interior page devoted to the series (p38). "Gli eroi stellari di Spazio: 1999" ("Stellar heroes of Space: 1999") was a Martin Landau interview by Giovanna Grassi. The supporting article was "Spazio 1999, messaggi di integrazione galattica con la dottoressa Russell" ("Space 1999, galactic integration messages with Dr. Russell") was by Laura Zangarini. The Corriere della Sera website had a front page photo and link to online versions of the articles. A TV advert was also available on YouTube