A Matter of Balance

Year 2 - Episode 16

While exploring an apparently lifeless planet a member of Alpha's crew comes under the influence of an "anti-matter" being and suddenly all Alphans are in danger of having their futures swapped for the past...! ITC summary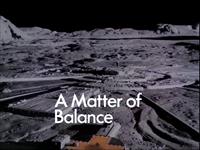 Final shooting script dated 7th July 1976.
Amended shooting script dated 20th July 1976. Pink page revisions 30th July, blue pages 5th August, yellow pages 9th August
Shooting schedule dated 30th July 1976, revised shooting schedule dated 16th August. Filmed 5th August- 24th August 1976 (14 days, the last being inserts only)
A "Double Up Koenig" script, filmed simultaneously with Space Warp
Martin Landau's wrote comments on the script as follows: I'm not going out on a limb for this show because I'm not in accord with what you're doing as a result...etc
I don't think I even want to do the promos - I don't want to push the show anymore as I have in the past. It's not my idea of what the show should be. It's embarrassing to me if I am not the star of it and in the way I feel it should be. This year should be more important to it not less important to it....I might as well work less hard in all of them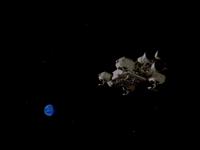 Sunim is represented by a blue monochrome version of an Apollo 11 photograph of Earth. It was taken on 16th July 1969, about 10,000 nautical miles from Earth, and shows portions of North and Central America under swirling clouds. The picture is also used as Planet D in Brian The Brain. Thanks to Marcus Lindroos.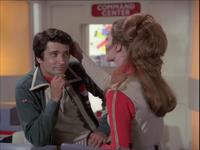 Antimatter is also used as a plot device in Matter Of Life And Death. Antimatter is not a parallel dimension that is transparent to ours. The explanation that Koenig and Maya give Tony is wrong in every respect.
Feynmann in 1944 suggested time was reversed for antimatter, a theory that became popular in pulp science fiction but was found in the 1950s to be wrong.
Logically, if time is reversed, Vindrus would know the Alphans would defeat him before the episode started.
The planet is said to be an illusion, but the Alphans breathe the air and walk in gravity.
This is another planet with a constant even surface temperature- this time 78 (25 C). It would be impossible to evenly warm a planet surface.
Maya strides through the forest declaring "no life forms" despite being surrounded by vegetation.
There are no animals. The forest seen could not exist without animals mixing the soil, pollinating flowers, dispersing seeds and nutrient cycling.
The episode establishes there must be a balance between antimatter and matter. The ending, in which Koenig states only matter was destroyed, not antimatter, contradicts this.
Why do humans have to be exchanged to balance matter? As antimatter is on the subatomic level (protons- antiprotons; electrons-positrons) Vindrus could have exchanged a matter rock for each antimatter person he brought across.
"They depict the whole evolutionary process of man. Emerging from a sea of primeval slime, then advancing through all stages of development...Simian, Australopithecus, Neanderthal, Cro-Magnon, to modern." The illustrations skip a massive amount from jellyfish to ape-man.
Simian means ape; an ape species living about 15-20 million years ago was an ancestor of the hominid species which include humans.
The australopithecines included several species of hominids between 4 and 1 million years ago, and were bipedal. About 2 million years ago, some australopithecines evolved into homo erectus, who spread throughout Africa, Asia and Europe, with more sophisticated tools and using fire. In Africa, homo erectus continued to evolve into h.ergaster (1.8 million years ago) and then h.heidelbergensis (0.6 million years ago). Heidelbergensis is the common ancestor of two hominid species, Neanderthal (250,000 years ago) and homo sapiens, modern humans (200,000 years ago).
The Neanderthal spread through the Middle East and Europe (h.erectus still lived in Asia). Modern humans started to migrate out of Africa between 120,000 and 60,000 years ago, arriving in Europe about 40,000 years ago. In the 1970s, Cro Magnon was a generic term for modern humans throughout the world, but now only refers to the European humans and their culture. Neanderthal and Cro Magnon co-existed in Europe for about 5,000 years, until the former became extinct. The Neanderthal were not direct ancestors of modern humans, but genetic evidence shows there was some interbreeding and most non-Africans have a small proportion (perhaps 1%) of Neanderthal DNA. The Alphans regress to Cro Magnon society in The Full Circle
There is no plant named "Magnus Lilarium". There is a genus of flowering plants called Lilium (lillies). "Magnus" (Latin for great) is used for several species or taxa, including Bombus magnus, a bumblebee.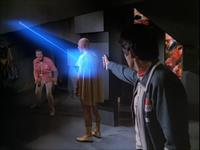 The stun ray is called "an electrical beam". Lasers are not electrical beams. However, stun guns being developed in 1999 used a laser to ionise a path through the air, then discharged electricity along the path to disable the victim. This technology closely matches the capabilities of the Alphan stun gun. It could also be a taser, first developed in the 1970s and sold in 1976, which fires two copper wires with hooks into a person, before electrocuting them.
How does an illusion reflect the stun beams?
1702 days after leaving Earth orbit
0 fatalities.
Alpha Technology:
Shermeen is said to have been collecting specimens from every planet they've visited. Strangely we have never seen her amongst the landing parties before.
Different Hydroponics Units are seen in The Troubled Spirit and The Beta Cloud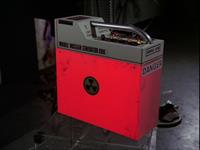 We see a mobile nuclear generator. The mobile nuclear generator is also seen in The Lambda Factor and the Pigs In Space segments of The Muppet Show!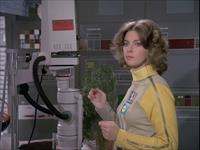 A propogatoscope, with the unusual accessory of a proton bombarder. The propogatoscope also appears in Weapons Section in The Beta Cloud. Actually it's a Krokus color SL photographic enlarger, with plumbing pipes in the lower section.
Eagle 1 (Koenig); 2 (Shermeen)
Fox, spider monkey, Shermeen
Sunim
Aliens:
Vindrus from Sunim; humanoid. Thaed, bipedal semi-intelligent animal, presumably from Sunim.
Props: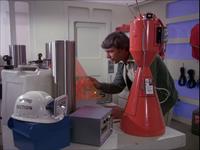 A red version of an Ariel capsule from The Last Sunset appears in the equipment room (it is also seen in Journey To Where)
Also, Taybor's pyramid plan from The Taybor appears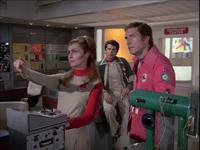 Maya uses the Eagle remote control to operate the Big Screen video shots.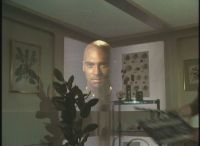 When we first see Vindrus in Shermeen's room, the first few frames show the clapperboard bottom right. Note this is not visible in the A&E DVD version (which crops the shot to make it much tighter), but it is on the Carlton and TF1 versions. It was cut from the Network Blu-ray version.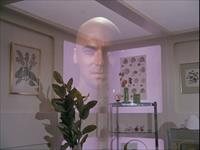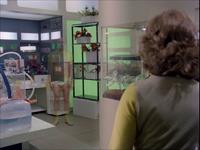 A shot of Vindrus in Hyrdoponics actually shows him in Shermeen's room. Notice the shadow of the crew member's head still visible bottom right.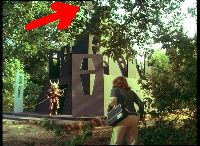 When the Thaed first emerges before Shermeen, the microphone dips into the top of frame several times. Thanks to Hilton Fitzsimmons. It is cropped out of the Network Blu-ray version.
Sunim is "Minus" spelt backwards. Thaed is "Deaht" spelt backwards (almost "Death"). Vindrus is "Surdniv" spelt backwards.
Shermeen's age is perhaps 22 (Lynne Frederick's age at the time), which is young to be a highly skilled botanist, only just old enough to have a first degree. Helena records the date of the episode as 2004, about 4 and a half years after the Breakaway, so Shermeen would have been 17. Drew Gaska's comic "Aftershock and Awe" shows Shermeen in 1999 as a 10 year old schoolgirl whose visit to Alpha is a prize for winning a science fair. With her mother and teacher, they are trapped when the virus infection suspends all flights. Her mother and teacher die in the breakaway. Shermeen is immature and naive, although intelligence and qualifications are no insurance against that.
The name Shermeen is unusual. It is a Muslim name of Persian-Urdu origin, suggesting at least one of her parents is from Pakistan or India.
In the French version of this episode, Shermeen Williams was renamed Armelle Williams. Thanks to Thomas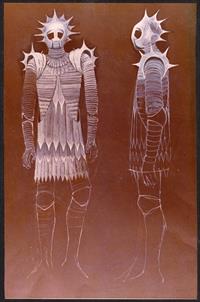 Keith Wilson design of an alien solider in knight's armour. Possibly this is an early design for Thaed. The original script description of Thaed was a monster with horns and crab claws. Keith Wilson wanted to do a alien soldier with a uniform. The Thaed on screen does wear a uniform, and has spikes (horns) like this design, but with the Beta Cloud creature head added.
External Links