Devil's Planet

Year 2 - Episode 22

Original Title
Devil's Moon
Belgium (Flemish)
Duivelsplaneet
Poland
Diabelska planeta
Spain
El pianeta del diablo
A planet of the devil
France/Canada
La planète du Diable
The Devil's planet
Italy
Il pianeta del diavolo
The Devil's planet
Japan
Nightmare of the Colonised Satellite ENTRA
Portugal
O Planeta do Diabo
Devil's Planet
Answering a distress signal, Commander Koenig is forced to crash-land his Eagle on Entra - moon of the planet Ellna - which turns out to be the planet's penal colony, and Koenig finds himself a prisoner of the beautiful Elizia and her equally beautiful prison guards. ITC summary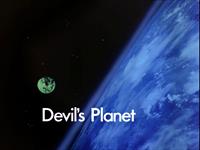 Shooting script dated 9th September 1976 titled "Devil's Moon" (and filmed under that title)
A "Double Up Koenig" script, filmed simultaneously with Dorzak. Shooting schedule dated 28th October 1976.
Filmed 2nd November - 17 November 1976 (12 days)
The prison interiors were shot on stage B. They returned to stage M for the planet exterior on day 7, 10th November.
Wrong credits: Barbara Bain recorded a status report but is not seen in this episode, apart from in flashback. Catherine Schell and Tony Anholt are credited but do not film any scenes for this episode (they are briefly seen in flashback scenes from previous episodes). Alibe appears in the first of her three episodes.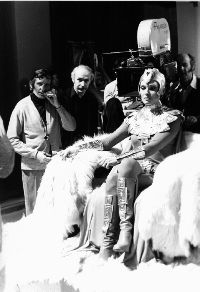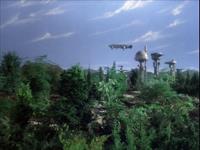 The buildings on Ellna uses clusters of Airfix Eagle leg pods. One tower uses a slide projector carousel, another is a plastic swing-top bin. They were built by Martin Bower.
Ellna buildings: model photos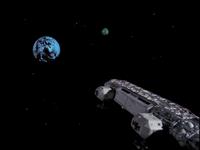 The first image of Ellna is a reversed version of a photograph taken by Apollo 17. A monochrome blue copy of the same picture is seen as Entra when Koenig is teleported. Other shots of Entra are actually Tora from The Seance Spectre. Thanks to Marcus Lindroos.
Ellna, looking like Earth. This is a reversed NASA photograph (original below left, with image right reversed and rotated 90 degrees). The original is used for the Space News titles in Dragon's Domain.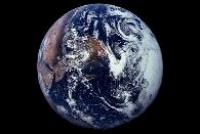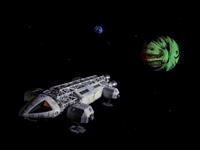 Entra, looking like Tora.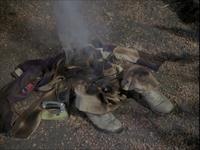 The atmosphere is said to be nitrogen, hydrogen and oxygen. There is not much hydrogen in Earth's atmosphere and it tends to react explosively with oxygen (it is found in the form of water, however).
Koenig's thoughts are projected on screen. This is very advanced technology. Note in some of them Koenig watches himself.
The forcefield destroys bodies completely, but leaves clothes intact. Clothes are generally more flammable than tissue and bone. Why is there an atmospheric forcefield if they don't have spaceships?
The deadly virus has evidently destroyed all Ellna life down to the microflora, whose enzymes are mainly responsible for decomposition. The virus did not strike long enough ago for inorganic processes such as leaching to have caused any obvious decomposition; perhaps months. As Beron's wife has had a baby (and presuming he is the father...) we presume it is within the last year. Even if the Alphans are immune to the virus, they may carry it from then on, causing other aliens the same fate.
2306 days after leaving Earth orbit (Thu 5 Jan 2006). 2 days before the events of The Lambda Factor
298 population (1 more than The Metamorph). 1 fatality, Blake Maine
Helena appears only in flashback and narration. There is no explanation of why she or Tony or Alan are not present.
Alpha Technology:
Eagle 1 (Koenig, crashed); 2 (Fraser, rescue)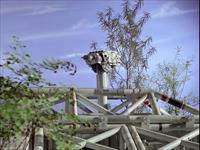 The laser turret is seen. It is also seen in The A B Chrysalis
None, but clips from previous episodes seen.
Ellna and moon Entra
Aliens:
Elizia, Crael, Sares, Beron, Jelto, Kinano, Phirly, from Ellna. Humanoid
Props
The transmission booth is the same booth used in The Lambda Factor
Footage: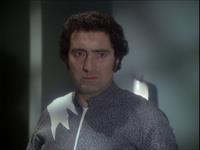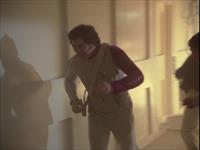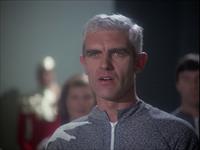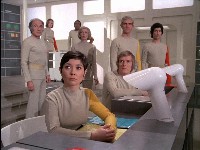 When the path is prepared for the prisoner dressed as Koenig, the top of the sky backdrop is just visible top left. This can only be seen on the Carlton DVD (left), not on the A&E DVD (right). Thanks to Chris Dale.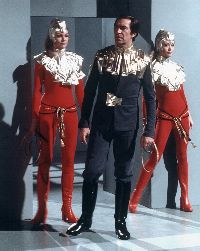 The Entran guards in their scarlet leotards and whips have led to several television companies shifting this episode to late night slots.
Sanctuary is a medieval concept by which criminals could seek protection from the law in churches or other consecrated buildings. In England it also allowed safe passage to a port in order to leave the country. Sanctuary was disallowed for treason and second offences in 1486, abolished for criminal offences in 1624, and abolished for civil offences in 1697 and 1723.
Transportation to penal colonies began in 1614 when British convicts were sent to Virginia as an alternative to the death sentence. By 1790 the range of crimes had expanded and Australia replaced the newly independent Americas as the primary destination. Convicts worked as labourers for the government or private citizens. By 1850, penal philosophy favoured prisons, and transportation was seen as an incitement to crime due to the booming economies of the colonies. In the 20th century, the Soviet government in Russia sent millions of ordinary criminals, members of ethnic groups and political dissidents to brutal Siberian gulags (forced labour camps).
The title of the episode explicitly references Devil's Island (Île du Diable, off French Guiana), the infamous French prison which housed political prisoners as well as the other criminals from 1852 to 1946. The harsh conditions and disease ensured that few prisoners lived out their full sentence, and very few escaped. The harsh conditions became notorious after the Dreyfus affair in 1895, and again in 1970 when the book Papillon was published, followed in 1973 by the film. The prison was only formally closed in 1952.
Thomas points out the episode title could easily be swapped with the next episode: The Immunity Syndrome which features an apparently cursed planet, while this episode features Koenig with immunity to a plague.
It is not stated how long ago the virus struck Ellna, but it is presumably very recent. Elizia must have known her regime was soon to collapse, as Sares and the guards would complete their tours of duty.
This is not a very large prison. In addition to Elizia and Sares and the Interrogator, there are 6 guards. In Elizia's chamber, the prisoners include Crael, Beron plus 6 men and 6 women. Jelto, Kinano, Garth and Phirly are not present, presumably confined to their cells.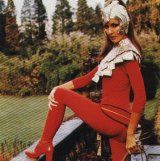 Publicity shot in the Pinewood gardens
External Links