Eagle Passenger Module
---
The passenger module of the Eagle is used for carrying passengers and materials, and for more serious computing analysis than is possible with the flight computers in the cockpit. The crew enter and exit through the passenger module side doors. The forward part of the module has shelves and alcoves, and the seating in the rear section may also be replaced for storage. There are either 8 or 4 seats, depending on whether some are removed for storage, or the starboard side is replaced by a large computer wall.
For the first 6 episodes, the front door of the passenger module had the numbers 5 (outer) and 4 (inner) and the rear door is number 3 (the door to the Command Module was numbered 6). If the numbering is door numbers, perhaps the side doors are 1 and 2. From Missing Link onwards, the Eagle number appears on the door. In Year 2, an additional "Eagle" label is added for clarity.
Although the pods have four vertical rocket motors and extendible legs underneath, the interior has almost no underfloor space to accommodate this.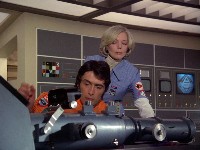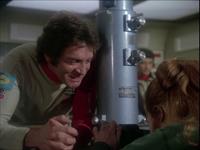 In The Metamorph and All That Glisters we see this tall microscope inside the passenger module, which is normally seen in Command Center.
---
Copyright Martin Willey. Thanks to Marcus Lindroos.