Eagle Passenger Module
---
The passenger module of the Eagle is used for carrying passengers and materials, and for more serious computing analysis than is possible with the flight computers in the cockpit. The crew enter and exit through the passenger module side doors. The forward part of the module has shelves and alcoves, and the seating in the rear section may also be replaced for storage. There are either 8 or 4 seats, depending on whether some are removed for storage, or the starboard side is replaced by a large computer wall.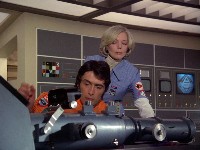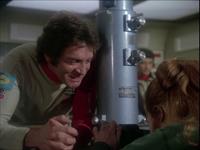 In The Metamorph and All That Glisters we see this tall microscope inside the passenger module, which is normally seen in Command Center.
Profiles and plan
Rear door
The rear door in the passenger module is only ever seen open in The Testament Of Arkadia (showing the moonbuggy and a section of wall) and in The Last Sunset during the crash (only boxes can be seen). In both cases there is only a single door frame- not an inner and outer door (like at the front of the passenger module). Theoretically the passenger module could be mounted facing in either direction. This passenger module configuration probably is not detachable from the Eagle since there is no rear door and the cargo compartment (which is identical to the usual passenger module wall in The Testament Of Arkadia) extends into the aft access corridor. It is probably used on missions carrying bulky cargo such as the moonbuggy, where there is no need for leaving the passenger module on the surface.
---
Copyright Martin Willey. Thanks to Marcus Lindroos.