Black Sun

Year 1 - Episode 3

Terror in Outer Space confronts the breakaway moon personnel when on a collision course with an all-devouring "black sun."

Original (inaccurate) ITC summary: Terror in Outer Space confronts the breakaway moon personnel when on a collision course with an asteroid which suddenly burns out and becomes all-devouring "black sun".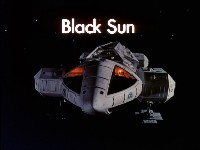 First draft script November 1973. The script was over-long- Christopher Penfold estimated there were 120 minutes worth of story.
Second draft script 5th December 1973.
Shooting script 21st January 1974, revised 24th January (by Christopher Penfold)
Filmed 31st January- 21st February 1974. Filming took 3 1/2 weeks instead of the allotted 2 weeks; because of the over-run on this and Breakaway director Katzin was not asked to direct any more episodes as he had been contracted to do. There were additional retakes (including 25 March 1974).
On 14th February 1974, while the ageing sequences of Koenig and Bergman were filmed, a BBC crew filmed shots for the children's TV quiz series Screen Test. The sequences showing old-age make-up being applied, and Landau and Morse on set, were shown in 1974 (either series 6, May-July, or series 7, September -November). No archive recordings of these series survive.
The episode was nevertheless a favourite with all the cast and crew. However, Abe Mandell was incensed and stated they might as well close down the entire show; the episode was impossible to understand. According to Martin Landau "It was jazzed up because some people said it was too slow." In fact, the final episode is very close to that scripted. Subsequently all scripts had to be sent to the US to be vetted.
Edited into the 1982 compilation movie Journey Through The Black Sun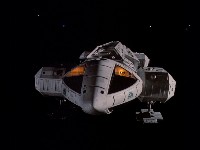 There are five front-shots of the Eagle showing the astronauts.
The explosion of Ryan's Eagle is a little too small and obviously superimposed over the model.
Original score by Barry Gray, recorded at Wembley on Thursday 25th April 1974.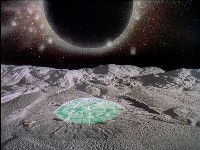 Black Holes were first theorised in 1796 by Pierre Laplace, but named as such in 1967 by physicist John Wheeler. The episode may have been inspired by Professor John Taylor's 1973 book "Black Holes: The End of the Universe?". The term black hole is the standard name since about that time; older terms include frozen star, black star and black sun, which persisted into the early 1970s.
"A hatful of the stuff can weigh more than several Alphas." Actually a black hole has a singularity as its centre- a point of infinite density. It would weigh more than several Moons.
Light from behind a black hole is bent around the event horizon; this is a region around the singularity where the escape velocity is equal to the velocity of light. The episode is accurate in its portrayal of a black circle with a rim of stars.
The intense gravity of a black hole creates so-called tidal effects, stretching and tearing apart objects as their near side is subject to much more gravity than the far side. The stretching of the Eagle and asteroid is therefore accurate. However, the Moon should also be destroyed by the same tidal forces.
Super-massive black holes- which can be found in the centre of galaxies such as the Milky Way- are so large that tidal forces are much weaker. Theoretically, an object could enter the event horizon of a supermassive black hole without being torn apart.
Note the forcefield does not cover the outer-most areas of the Moonbase.
1 fatality: Mike Ryan.
Kano also plays chess in Dragon's Domain. They use real chess pieces here (in Dragon's Domain the pieces are flat squares with symbols).
Although under-developed, there is a suggestion of a triangle-relationship between Paul, Sandra and Tanya.
| | | |
| --- | --- | --- |
| Ancient Koenig | Ancient Bergman | Tanya with Paul |
Alpha Technology:
Eagle 1 (Ryan, destroyed); 5 (lifeboat); Alan's laser Eagle. An empty pallet pod is seen on the launch pad alongside the lifeboat Eagle in one shot.
None.
Aliens:
Cosmic Intelligence in Black Sun.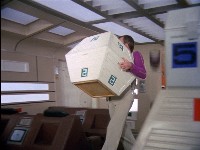 This interior scene shows the Eagle docked to the starboard side- yet external views show the Eagle docked from the port side (the exception is the lift-off). Note the wooden base of the box is visible here.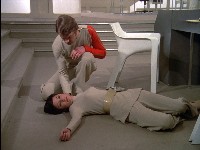 Footage of Victor doing calculations on a glass panel in his room was reused in Dragon's Domain
There are a few unused shots in the This Episode sequence.
This is the universal favourite with all the cast. Says Martin Landau: Black Sun was one of my favourite shows. That was shot early on in the first season. We thought that was the direction the show was to take. We had relationships, humour, a bunch of us, and music... beautiful! Unfortunately you didn't see the version I liked. It was jazzed up because some people said it was slow. That was a period of finding out. That was the direction Barbara and I wanted the show to go in. Gerry also. We watched Black Sun and said it was really marvellous and it's what Space needed. It's the direction the rest of the show should have. (1978 convention).
The suggestion of conflict between Bergman and Kano was more overt in the script; Victor is still quite gloating when he states "Computer could do with a rest."
Alan's speech, "I care about dying...how I die...", does not work; it comes across as cowardice or whining instead of an assertion of hope.
Sandra faints when Ryan is killed; Zienia Merton disliked this clichéd behaviour and she became a stronger character later in the series (although fainting women reappeared in The Metamorph). Later as Paul sees her off there is a suggestion of a new romance between them which is realised in The Last Sunset.
Marc Zuber appears as a Main Mission Operative in this episode. He later appears in Brian The Brain as a security guard.
In 1997, the documentary Equinox on UK Channel 4 showed clips of this episode as part of a documentary on black holes.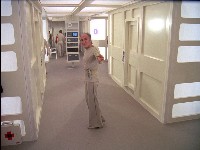 Bergman gestures to camera
External Links
Andersonic #16 (April 2015) has a review of the first draft script p27-33