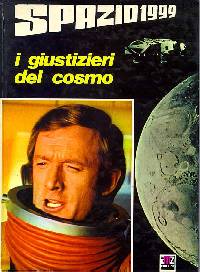 The Italian hardcover books, titled Spazio 1999, are novelisations adapted by Gianni Padoan from original scripts. Padoan (born 1927, died 1995) was a prolific author of children's books, and also wrote for television and radio. Each book features (usually) two episodes, all heavily illustrated with photos.
Volumes 0 and 4 were translated into German and published in new editions by Koralle in 1977/ 1978. The books were reprinted in Portugal, titled Espaco: 1999. In 1999 two books were reprinted by Fanucci in Italy (see below).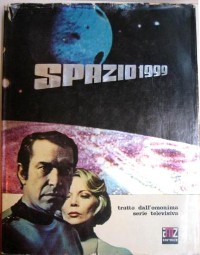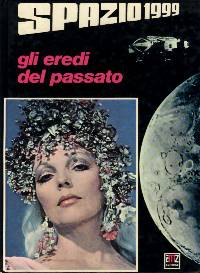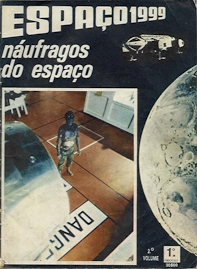 The original volume, just titled "Spazio 1999", was published in 1975 and contained three stories and a scientific appendix. There were few copies (the show had been seen in the cinema, but was not on Italian television until 1976). It had a dust jacket with a plain blue hardcover binding; the jacket rarely survives. All the later titles have photographic hardcover binding, without a dust jacket.
In September 1975, four more titles were published, numbered 1 to 4, adapting 2 episodes each. These were reprinted in November. Both these editions have stars on the spine; later reprints have plain colours.
By October 1976, with the series on Italian television, the stories from the original volume were reprinted in two books. As Breakaway is the first episode, that became book 0. The other two episodes from the original volume became book 5.
Other volumes continued until 1978, when all 24 episodes had been adapted in 12 books. In 1979, four Year 2 editions were published.
The initial book was 188 pages; the other first series books were 160 pages long, and the second series books 144 pages. The initial pages of each book included photos of the regulars and a full cast list. Each story lasted 63 pages and each book was illustrated with over a hundred large colour photos (the first series books had poorer quality photos, sometimes quite fuzzy). The final pages featured shots from other titles in the series.
The covers of the first series featured an episode shot, usually a head and shoulders portrait of a character, bordered to the right with an Eagle over a hemisphere of Moon. The second series cover features episode photo with various Eagles below and left. The back cover lists all titles over the black sun (prima serie) or the photo of the red moon from the Year 1 series credits (seconda serie).
Title
Cover
Stories
Prima Serie/ first series:
Spazio 1999
(large format, 1975, 188 pages)

Dust jacket with plain hardcover binding

p1-8 frontpages; p10-156 novelisations

Il distacco (Breakaway)
Sole nero (Black Sun)
Un altro tempo, un altro luogo (Another Time, Another Place)
Appendice scientifica (science article, p157-188 )

0 - Il distacco
1976
Montage of Koenig and Helena

Reprint from large format book

Adaptation of Breakaway (65 photos)
science article

1 - I naufraghi dello spazio
Sept 1975
High view of Zoref before open furnace


Questione di vita o di morte (Matter Of Life And Death, 44 photos)
Destinazione obbligata Terra (Obligatory Destination Earth - Earthbound, 37 photos)
Forza vitale (Life force - Force Of Life, 22 photos)

2 - I pirati delle galassie
Sept 1975
Koenig in spacesuit, arms up (Ring Around The Moon)


Fiocco azzurro su Alfa (Blue Band On Alpha - Alpha Child, 70 photos)
Anello intorno alla Luna (Ring Around The Moon, 41 photos)

3 - Verso il tremila
Nov 1975
Vana and Raan


L'anello mancante (The Missing Link, 67 photos)
Il guardiano di Piri (The Guardian Of Piri, 60 photos)

4 - I giustizieri del cosmo
Sept 1975
Alan in Eagle seat


Il ritorno del 'Voyager' (The Return Of 'Voyager', 56 photos)
Rotta di collisione (Collision Course, 55 photos)

5 - Al di là del tempo
1976
Other Paul and Victor on Earth


Sole nero (Black Sun, 44 photos)
Un altro tempo, un altro luogo (Another Time, Another Place, 56 photos)

6 - L'ultimo tramonto
July 1977
Companion


L'ultimo tramonto (The Last Sunset, 75 photos)
La macchina infernale (The Infernal Machine, 51 photos)

7 - Gli eredi del passato
Sept 1977
Kara


Il testamento degli Arkadi (The Testament Of The Arkadians, 64 photos)
La missione dei Dariani (The Mission Of The Darians, 54 photos)

8 - Guerra nel cosmo
Sept 1977
Alphan falling out of corridor into space


Nemici invisibili (Invisible Enemies - The Last Enemy, 55 photos)
Mondo proibito (Forbidden World - War Games, 62 photos)

9 - I giorni del terrore
July 1977
Koenig grimaces, holding laser rifle


Il dominio del drago (The Domain Of The Dragon - Dragon's Domain, 69 photos)
Fantasma su Alfa (Ghost On Alpha - The Troubled Spirit, 49 photos)

10 - Gli esploratori dell'eternità
June 1978
Jack Tanner


Fine dell'immortalità (End Of Immortality - End Of Eternity, 53 photos)
Il circolo chiuso (The Closed Circle - The Full Circle, 66 photos)

11 - La grande dominatrice
July 1978
Sandra in leopardskin (Full Circle)


Il cervello spaziale (The Space Brain, 66 photos)
Il pianeta di ghiaccio (The Planet Of Ice - Death's Other Dominion, 54 photos)

Seconda serie/ second series:
1 - Gli alieni dai mille volti
March 1979 (144 pages)
Maya


Metamorfosi (Metamorph, 65 photos)
Ritorno alla Terra (Return To Earth - Journey To Where, 56 photos)

2 - Gli stregoni del cosmo
March 1979 (144 pages)
Taybor


L'Eden del futuro (The Future Eden - New Adam, New Eve, 58 photos)
Il mercante dello spazio (The Merchant Of Space - The Taybor, 51 photos)

3 - Il ritorno degli ibernati
March 1979 (144 pages)
A, B, Guardian's brother


Le sfere parlanti (The Talking Spheres - The A B Chrysalis, 49 photos)
La luce della morte (The Light Of Death - The Mark Of Archanon, 54 photos)

4 - Rapimento nello spazio
March 1979 (144 pages)
Archon and Varda


I signori della galassia (The Gentlemen Of The Galaxy - The Dorcons, 50 photos)
Brian il robot (Brian The Robot - Brian The Brain, 46 photos)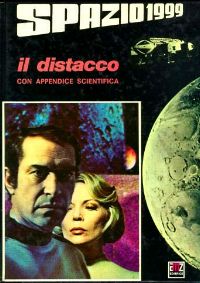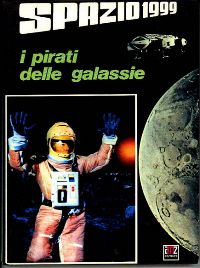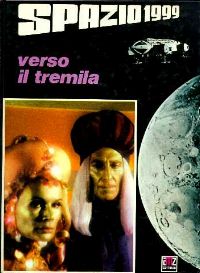 | | | |
| --- | --- | --- |
| Typical page- large, but fuzzy, photos | Original first volume was later split into volumes 0 and 5, with different photos- click for larger image (thanks to Angelo) | Inside covers- the second series titles (bottom) added a Maya transformation |
---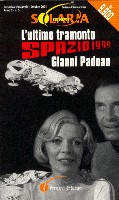 Fanucci reprinted stories from the AMZ books in 1999, in a new paperback format. The episodes were in production order and included an appendix listing all episodes from both series, a brief description, and credits for each episode.
Each book was L14,000 and 288 pages with a 32 page glossy colour section. Like the original AMZ volumes, the 50 photos used were somewhat fuzzy. The covers were plain silver with a vertical logo. A glossy page inside the covers (page 4) featured a pictorial cover (illustrated here).
In October 2001, Fanucci reprinted more stories in a book for their Solaria series, sold on newstands rather than bookshops.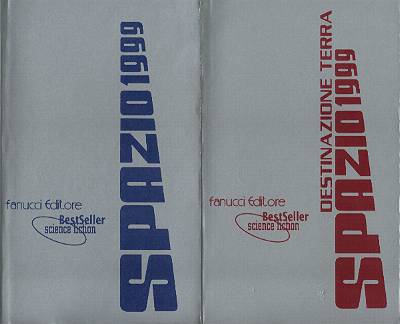 Spazio 1999
#100

Separazione (Breakaway) p5
Questione di vita o di morte (Matter Of Life And Death) p107
Sole nero (Black Sun) p153
Gli occhi di Tritone (Ring Around The Moon) p215
Appendice (episode list and credits) p271

Spazio 1999: Destinazione Terra
#104

Destinazione Terra (Earthbound) p5
Un altro tempo, un altro luogo (Another Time, another place) p67
Gli amanti dello spazio (Missing Link) p143
Il pianeta incantato (Guardian Of Piri) p221
Appendice (episode list and credits) p275
---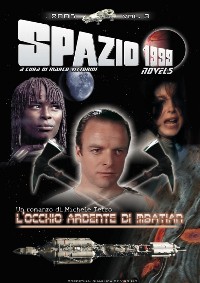 The English translation of the title is "The Burning Eye of Mbatian". A novel by Michele Tetro, based on the short story "Adagio" by Michele Tetro and inspired by Space 1999 episode "Dragon's Domain" by Christopher Penfold
Published by Edizioni del Nano-Cosmic Group, Modena 2005, pp. 236, graphic and design by Marco Vittorini, cover by Gianluca De Virgilio, technical plans by Roberto Baldassari. It has a preface by Gianni Garko (who played Cellini in the episode).
More details including synopses
Thanks to Michele Tetro
---
Copyright Martin Willey. Thanks to Angelo Finamore, Gordon Moriguchi, Michele Tetro, Patrick Zimmerman.