Alpha Child

Year 1 - Episode 10

The first baby is born on the moon...but terrifying events follow with an outer space battle between spaceships deciding the fates of hundreds. ITC summary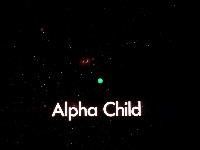 The original idea was from Gerry Anderson, in discussions with Christopher Penfold. The final shooting script is credited only to Edward di Lorenzo. The on-screen credit is to Christopher Penfold.
Shooting script 19th June 1974. Blue page amendments 1st July.
Nuclear Generator scenes filmed 5th July 1974. Main filming 8th July - 19th July 1974.
Barry Morse took time off during filming the episode. He is only in the 3 scenes set in his living quarters, filmed on 8th July 1974; apparently he doesn't leave his quarters for the entire episode.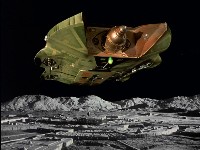 This is the first episode that Martin Bower provided models for. This was only the second episode to feature alien ships (after Earthbound); subsequent episodes relied heavily on new spaceships.
Jarak's ships were in two scales, 1.83m and 0.9m long, made of hardboard steamed over a frame. They were both made in 10 days. The smaller one was sold at Christies in 1995 for £1700.
The pursuer's spaceship was an older model by Martin Bower, partially inspired by 2001, about 5 feet/ 1.5m long. It was extended with a central radar dish (made of a Star Trek Enterprise saucer) and landing pads on the sides (on which Jarak's saucers could land). On the design it is named as the "Guadalcanal" (misspelled as "Guardalcanal"), after the US Navy helicopter assault ship launched in 1963.
Library track: Secret Service "Last Train to Bufflers Halt" by Barry Gray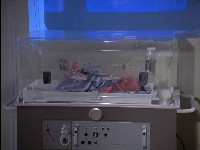 According to the label, the incubator is a Vickers "Five-Nine". It maintains temperature, humidity and oxygen for premature babies. The model name refers to the assumption that babies under 5 pounds 9 ounces (2.5kg) were premature- Jackie is 7 pounds, 11 ounces (3.5kg), slightly heavier than average. Even in the 1970s he would not have been put in an incubator. Putting a newborn across the room from the mother is strikingly old-fashioned.
The birth of Jackie imposes some chronology. It is unlikely a pregnant woman would be allowed on Alpha by Earth's space programme, due to the risks of radiation and space travel. Jackie was either conceived shortly before September 1999, or some time after, so this episode is perhaps May-June 2000 or later.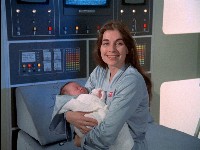 0 fatalities, but we learn of Jack Crawford's death some time previously. There is one new Alphan: Jackie Crawford
Alpha Technology: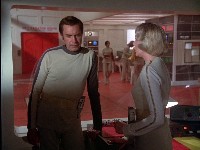 The nuclear generating area was also seen in Force Of Life.
Jackie wears the Commander's black sleeve- which will shortly be apt.
The laser blaster ("hand held armour piercing laser") is seen. It is also used in The Last Sunset and is often seen on Eagle weapons racks.
There is a Command Conference with just 4 Alphans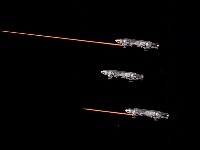 There is a flight of 3 Eagles, unnumbered
When Alan's Eagle drops down to the lunar surface, the passenger pod has grey stripes - it is a repainted Rescue pod. In subsequent episodes the model was weathered so the painted over stripes were less visible.
None.
Aliens: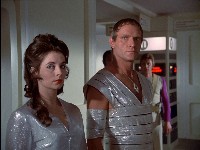 Jarak's people. They do not have human form.
Footage:
Footage of the Eagles firing lasers is repeated in War Games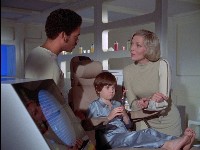 In Medical, Jackie plays with a hypodermic needle (or the Alphan equivalent).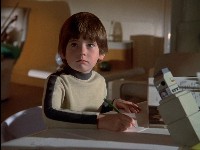 Julian Glover remembers "Alpha Child was totally ridiculous, but it was good fun to do. I mean, how often do you get the chance to run around in a silver skirt?" (Starlog 52, p40).
The idea is derived from Wyndham's Midwich Cuckoos (plus possibly the film The Omen, being filmed at Pinewood at the same time), and older myths of a changeling/devil-child. The beguiling, innocent, vulnerable child is in fact evil.
Jackie Crawford is presumed to be five years old. Actor Wayne Brooks was actually 6 1/2 when filming the episode.
The title is a triple pun- Alpha in the sense of Moonbase Alpha, in the sense of first (the first child on Alpha), and in the sense of dominant individual ("alpha male" in biology).
The early pilot script, Zero G by Gerry and Sylvia Anderson, had an alien ship watching Moon City with a green pulsating light.
External Links