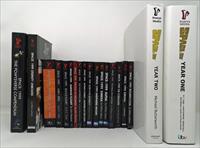 Series of paperback titles based on both series
May 2002- August 2023
A small publisher based in California, run by Mateo Latosa, publishing officially authorised novels based on Space: 1999 and The Prisoner. Later editions (and re-releases) were published through on-demand service Lulu.com. From 2014 to 2019, author William Latham took over from Mateo. In August 2023, ITV's licensing agreement ended and all titles became out of print.
All were paperback format only, until 2017's 2nd edition of Survival which was also released in hardback. The covers feature photographic montages and, in later editions, art by Ken Scott.
Most of the books have a shared continuity, the "Powysverse", documented in the 2012 title "The Powysverse Compendium" by Patricia T. Sokol (itself updated in Volume 2, 2024). The chronology includes the episodes (included in the Year 1 and Year 2 omnibus books), original novels and short stories. Existing episode novelisations and original books by Tubb and Rankine were adapted to fit the continuity.
Three books are not included in the chronology, each re-published titles: "Earthfall" (2022), "Earthbound" (2022), and the compilation "Apocrypha!" (2023). The covers have slightly different designs (a different Eagle, yellow logo) and spine colours (one "Powysverse" book does have a non-black spine, "Phoenix of Megaron"(2012)).
An audio book version of Resurrection was recorded by Barry Morse in early 2004, and was released 7 May 2010. The audiobook of Spider's Web was released 8 November 2010.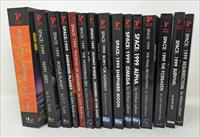 The story of how Powys came to publish the books (and of TV novelisations in general) is described in the afterword of Alien Seed (2020) by David Spencer (p205-251). Mateo appeared with John Kenneth Muir to talk about the books in the convention in 2022.
NB: Future dates, titles and cover images to be confirmed.
Title
Cover

Resurrection by William Latham
introduction by Johnny Byrne
May 2002; $15
re-released 13 Feb 2011;
146 pages
Chronology: Year 1
Resurrection was reviewed by Don D'Ammassa in Chronicle magazine, #229 October 2002, p41

Back cover of "Resurrection", first published 2002 with Carlton logo; 2nd edition 2011 with ITV Studios logo.

The Forsaken by John Kenneth Muir
foreword by Prentis Hancock
published with 2 different covers
January 2003; $15
Reissue with corrections: 24 January 2013; $12.15
259 pages
Chronology: Transitional Year 1 - 2. The 2013 edition corrects some typos.

Survival by Brian Ball
foreword by Barry Morse
1st edition: March 2005
2nd edition (paperback/trade/hardback): 28 Feb 2017
194 pages
Chronology: Transitional Year 1 - 2

2005 1st edition and 2017 2nd edition trade paperback

Eternity Unbound by William Latham
1st edition: 31 March 2005
2nd edition: 2017
303 pages
comprises Eternity Unleashed (Balor's rise and fall), End of Eternity (a new and expanded novelisation), and Resurrection (a new and expanded version).

Space 1999 Year Two Omnibus by Michael Butterworth, J Jeff Jones
Revised adaptions of all 24 Year 2 episodes, limited edition of 100 (autographed by Michael Butterworth), with second edition of 100 (not autographed)
Hardcover 220mm x 285mm with white dust jacket, 442 pages with foreword by Butterworth and afterword by Mateo Latosa
1 April 2006, $100
Shepherd Moon (anthology of short fiction)
23 January 2010
272 pages


The Touch of Venus by John Kenneth Muir
Fallen Star by Albert Leon, Ken Scott, Lindsey Scott-Ipsen, Raja Thiagarajan
Cargo by Brian Ball
Futility by John Kenneth Muir
Dead End by E C Tubb
Remembering Julia by Stephen Jansen
Mission Critical by Michael A Faries
The Astelian Gift by Emma Burrows
Spider's Web by William Latham

Born for Adversity by David A McIntee
Chronology: "Year Three"
3 February 2010
Foreword by Catherine Schell
293 pages
Omega by William Latham
27 February 2010
196 pages
Foreword by Christopher Penfold

Alpha by William Latham
27 February 2010
199 pages
Afterword by Christopher Penfold
Sequel to Omega.
Chasing the Cyclops by William Latham
17 December 2010
182 pages
Nonfiction: "The Creation of the Powysverse Mythology (and Omega and Alpha)"
Android Planet by John Rankine, foreword by John Mason
3 February 2011
141 pages
Revised version of title originally published in 1976
The Powysverse Compendium by Patricia T. Sokol, foreword by Zienia Merton, afterword by Martin Willey
February 2012
454 pages
Nonfiction. "The Authorized Companion to the Powys Media Space: 1999 Universe"
Phoenix of Megaron by John Rankine, foreword by John Mason
1 October 2012 (Orig announced for February 2012)
181 pages
Revised version of title originally published in 1976

Johnny Byrne's Children of the Gods by William Latham; Foreword by Sandy Byrne
24 January 2013
147 pages
The Whispering Sea by John Kenneth Muir; foreword by David Hirsch
18 February 2014
197 pages
The Final Revolution by William Latham. Foreword by Barbara Bain
10 July 2015
316 pages
Rogue Planet by E C Tubb, Foreword by Philip Harbottle
Revised version of original 1976 novel.
First edition November 2019 had font issues and was withdrawn.
Second edition with improved Tubb bibliography October 2020
Space 1999 Year One Omnibus by E C Tubb, John Rankine, Brian Ball with William Latham and Rupert Booth
Revised adaptions of 1975 novels, with new material (a new version of Earthbound by Patricia Sokol, new versions of Force of Life and End of Eternity by William Latham, new story by Rupert Booth). Includes forewords by Tubb, Rankine and Ball, publishing history and editors notes. Two editions


Hardcover, limited edition of 200, signed frontpage, 700 pages. 24 January 2020.
Paperback, print-on-demand, no signatures, 628 pages. 15 December 2022



Alien Seed by E C Tubb, Foreword by Philip Harbottle, afterword by David Spencer
December 2020
Revised version of original 1976 novel.
Includes Tubb bibliography
Earthfall by E C Tubb, Forewords by Anton Phillips, Philip Harbottle, afterword by Ian Sharpe
January 2022
Reprint of original 1977 novel.

Earthbound by E C Tubb, Forewords by Philip Harbottle, Patricia Sokol; afterword by Chris Bentley
November 2022
Reprint of original 2003 novel.

Odysseus Wept by William Latham
May 2023 (initially 2018)
Early cover art (2013):

Apocrypha!
Compilation of short stories from the 1970s
Not released, due 2023
Black Doves by Elena Cambio, foreword by Nick Tate
Not released (initially 2018)
The Prodigal Moon anthology
Not released (initially 2018)
Unpublished titles
A number of titles were announced, but were not published.
Title
Eternity Unleashed by William Latham
The first novel in Eternity Unbound, see above.
A Cry in the Wilderness by Shane Johnson
Chronology: after Testament Of Arkadia
Syukhtún by Vicente Gallegos-Aguazul
Chronology: the alternative Alphans from Another Time, Another Place. Some of this material is in Omega.
The Original Self by John R. Mason
foreword by David Hirsch; afterword by Patricia T. Sokol
A sequel to John Rankine's Phoenix Of Megaron
Not published (Cancelled start of 2014). Ken Scott prepared cover art.