19

:00
11am Los Angeles
2pm New York
7pm UK
Suzanne Heimer-Peterson
John Goldsmith
Jack McKenzie
Suzanne

That was taken in the wardrobe, where they keep all the costumes. It's a Polaroid. I thought last night, there's a picture of him (Justin) with the helmet on.
John Goldsmith

It's all due to Gerry Anderson. I started off as a novelist, and my first novel was so wildly successful I had to end up working for the publisher. I wanted to get into television, and I did various spec scripts. One of which was a period piece, which a friend of mine sent to Gerry Anderson. Who wasn't in the least bit interested in doing period pieces, but he liked the writing. So he summoned me to his great house down in the Thames valley. He was just starting a show called The Protectors. He said, look, I've got this show which may or may not happen. If it does happen I will need scripts immediately. Send me a story and if I like your story, then I'll commission the script. So I sent him a story which he liked, and Lew Grade green-lit the show, and it was a go.

I was living in a cottage in the country in those days. The phone rang, and it was Gerry. He was very laconic, slow, careful, took his time. I said, 'hello, Mr. Anderson', dying of fear, 'You got the script all right?' 'Yes'. Silence. I thought, oh God, this is awful. And I said, 'you read it?'. 'Yes'. Another long silence. I said 'What did you think?' Now a long silence. Then he said, 'Very few people in this country ever have a career as a screenwriter. I think you're one of them.' So he bought that script, and others for The Protectors. Then I left writing for a couple of years to go into business and earn a bit of money.

Then I came back to London, and wanted to get into television. I heard he was starting a new show called Space 1999. I wrote to him. No reply. I rang the production, and they said the person to write to is Freddy Freiberger, who was the script producer of the show. He was American. I sent him a story. 'Seed of Destruction'. Heard nothing. One day I got a panicky phone call from a secretary saying 'is that Mr Goldsmith, we've been trying to track you down. Freddy Freiberger wants to talk to you.' He came on the line, and said 'we want to commission the script'. So I wrote it. I went down to Pinewood, and there was Freddie, who was the first American producer I'd ever met. He was wonderful. I learnt so much. I did a rewrite. It wasn't a huge rewrite, but it was a very significant rewrite. Every script you write, you learn a new trick, a new angle, a new way of doing things. He was great.

In those days, humble writers like me didn't meet anybody. You sent your script in, they shot it, and that was that. I never met Kevin Connor who directed it. I did hear, I had a friend on the production, who told me, 'you know, you've driven them all mad, don't you? They're all going crazy, they're tearing their hair out.' I said why? He said, 'well, it's that bloody hall of mirrors you wrote'. I said 'it's critical to the plot, it's all about images and mirrors and reflections and so on'. 'Yeah, we all know that, but did you ever consider how they were going to shoot it?' I thought, no. The problem was, wherever you put the camera, you could see it in the mirror. It took them hours to work out how to shoot that scene.

I love sci-fi, I love sci-fi concepts. You can say so much about today, philosophically, poetically in science fiction, which wouldn't be acceptable in normal drama.
Jack McKenzie

On the 23rd June 1972 I boarded the plane at Edinburgh Airport for London and never looked back. I went to Waldorf Street to this address, and I sat down. The door opened and a woman walked in and said 'I'm looking for a beery face for a Guinness commercial. You'll do.' I'd just walked into the city, it was wonderful. Then I got this lovely old agent called Max Kester. Max was the original imperial broadcasting service, with a moustache. He said 'There's a job at Pinewood Studios, if you're interested. It's £50 for the day.' I wasn't earning £50 a month as a police officer.

I went to Pinewood, Studios and met the casting director, Michael Barnes, and his very attractive assistant sitting beside him. She's now sitting beside me today, Rosemary [Palmer]. We met in 1974, and lost touch for 21 years, and met again and we've been together for 25 years. The casting director said it's a new space project called Space 1999. In walked the costume designer, 'come on, get your costume, measure you up. Can you start right away?' I started right away, and walked on the set. I'm surrounded by these stars, Martin Landau, Barbara Bain. They said 'can you come back tomorrow and do another one?' Cut a long story short, the first episode took months, that's from January to May. I was still there in May. One of the assistant directors said 'weren't you supposed to leave us on the 6th of January' I said, 'well, they keep asking me back'.

They kept me on, I became a technician, I walked in slow motion across the surface of the moon in an orange spacesuit. One episode I had to slide a chromium diode into the capsule (actually withdraw the "converter" tube from the power station, Earthbound). I thought I don't want to make a mess of this, I'd better get it right. So while everybody was at lunch, I went on to the set, and pushed this thing in. I didn't notice the door coming down, crash, and I hit it. So I fled to my dressing room, and I heard this voice saying 'bloody hell, somebody's broken the bloody diode. We'll have to postpone another couple of days, can you stay another couple of days?' Oh, yes I can.

There was one where I was in a card-playing scene (Black Sun). I think we all look very cold. I think I was 'I raise you a hundred, Smitty'. For several days I walked in slow motion across the surface of the moon in an orange spacesuit (Ring Around The Moon; he was possibly a stand-in as he isn't part of the on-screen rescue party).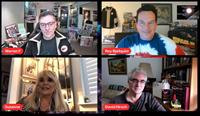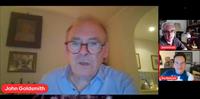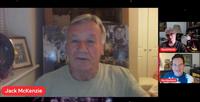 21

:00
1pm Los Angeles
4pm New York
9pm UK
Mateo Latosa (Powys)
John Kenneth Muir
Kevin Connor
Kevin Connor

I only did two of them, but Keith Wilson, who was the production designer, he's done about 10 of my movies after that. We became great friends.

I was brought up at Pinewood Studios. That was my training ground from back in 1954, when I first went there in the cutting rooms and worked my way up the ladder. Sound editor, editor and so on. And then got a break directing with Amicus Films. There used to be a fantastic restaurant, you could meet actors and directors and producers. That's how I got to meet Gerry, because you intermingle. I got a call from Gerry because I was in the studio at the time on something else. I knew about them because they were on those two stages way on the other side of the lot. I didn't visit it very often, but I went there and they showed me a couple of the shows and Gerry gave me the script. It was great, just the way the team were working, and obviously they were way ahead on the scripts. Keith and his team came up with all these ideas, I was quite amazed how fast they had to work. Everybody knows why they're there and what they're there to do. So that makes life easy for a visiting director. It all went very smoothly. I worked with Landau on several films later on, he was a neighbour of mine over here. He was separated from Barbara Bain by then.

The other one, the mirrors, that was complicated. It all worked out, everything was on hand and everybody was so keen on the show, and enthusiastic and that's the great thing about movie sets, the enthusiasm about the subject matter. Gerry was one of the greatest producers I ever worked with. Just on a personal level, apart from anything else, he was really kind and helpful. It all went like clockwork, beautifully laid out.