Jack McKenzie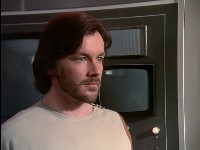 ---
He works with Smitty in Main Power Unit, and is seen on the same set in two episodes. "I raise you a hundred, Smitty". He grows a beard and is held hostage in Earthbound. He was in the Technical section and corridor scenes in The Last Sunset, and can just be seen behind Bergman in one shot. Thanks to Fergus.
He was one of the background technicians in Technical (preparing the Meta Probe launch) in Breakaway
The actor remembers "For several days I walked in slow motion across the surface of the moon in an orange spacesuit" (2022 convention). He wasn't part of the on-screen rescue party in Ring Around The Moon, but he may have been a stand-in for that sequence.