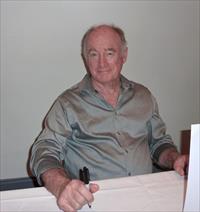 Born 18 June 1942, Sydney, Australia
He is 1.8 m (5'11") tall, fair-haired and has blue eyes. He is a fitness fanatic who enjoys most sports.
Tate is a third generation actor, with a grandfather who was a vaudeville in England and, on the other side of his family, a grandmother who was a Russian opera singer. His parents are the character actor John Tate and the actress and singer Neva Carr-Glyn. They separated when he was 12.
At 12 Tate joined a surf club whose captain was actor Rod Taylor, then being lured by Hollywood. Deciding to direct, he joined the Australian Broadcasting Company which was starting up Australian television. Over 6 years he graduated from studio hand to assistant director. In 1964 he joined an actors' workshop as he became more interested in acting, but unsure of what he wanted to do he joined the Australian commandos for a year. He returned to play the juvenile lead in the series The Purple Jacarada (1965), and the co-lead in the award winning series My Brother Jack (1965). One of the writers was Christopher Penfold.
With this success and his father's introductions he went to Britain in 1965, appearing in films such as A Man For All Seasons (68), Submarine X1 (68) and The Battle of Britain (1969), as well as repertory theatre and BBC plays and series, including Dixon Of Dock Green, Z Cars, The Champions (68), The Troubleshooters, Sherlock Holmes (episode The Boscombe Valley Mystery with his father, 1968). But during his four year stay in Britain the acting jobs were few and far between, and to avoid unemployment most of his time was spent in diverse jobs like double glazing salesman, swimming pool life guard, market researcher, and a year as a stage manager in a Soho strip club.
In 1969 he saw The Canterbury Tales staged in the West End and got cast for the Australian production as Nicholas The Gallant. After a popular and enjoyable 18 months with this production he starred in two seasons of an Australian soap opera, Dynasty, with his father, and starred in the pilot The Chaser. He returned to the stage in 1972, starring in the hit play Don's Party. Actor Robert Morley tried to bring the play with the original cast to Britain in 1973, but this was unsuccessful. However, it brought Tate to London in mid 1973, where his father was now living.
In Piccadilly he met John McCallum, on his way to lunch with Bruce Gyngell, deputy managing director of ATV. Gyngell had previously been in charge of the production company of The Chaser in Australia and when McCallum told him Tate was in London he sent letters to several TV producers warmly recommending the actor. One letter went to the Andersons and Tate had a long but fruitless interview with casting director Michael Barnes. Tate asked to see Sylvia Anderson, but Barnes replied she was too busy. Tate insisted that they should meet. She's too busy to see you, and anyway I'm doing the casting! insisted Barnes. Tate refused to leave until he saw her, and Sylvia agreed to see him for 2 minutes. In the interview Gerry Anderson and Lee Katzin were also present, and they talked for over an hour. He was cast as the pilot Collins in the first episode Breakaway. He continued to push for one of the main regular roles.
At the last moment the Italian actor who was to play chief pilot Alphonso Cantini could not get released from a film he was doing in Italy. Many Italian actors in Britain were tried, but Lee Katzin liked Tate and Tate was asked to read for the role- with an Italian accent. His attempt was comical, but Katzin asked him to try another nationality. He tried German, then French, then Czech, equal failures. Katzin tried to persuade Gerry and Sylvia Anderson to have an Australian pilot, but they thought Americans would think he was cockney. Tate shouted at them that Australians were aggressive and arrogant, not servile like the cockney character. Katzin agreed and Tate was given a contract for six episodes, after which he was signed for the rest of the series.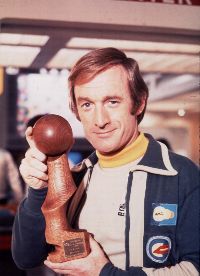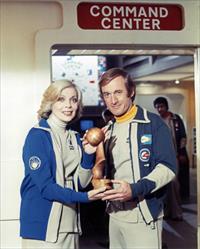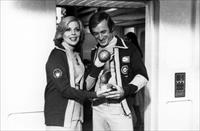 Between the two series he returned to Australia to star in the film The Devil's Playground (1975), for which he won (with Simon Burke) the 1976 Australian best actor award from the the Australian Film Institute (AFI). Director Fred Schepisi won best screenplay and director. Tate was presented with the best actor award by Barbara Bain on the year 2 set. He returned to Britain to star in the Anderson production Into Infinity (1975), before filming the second series of Space 1999.
After the series ended Tate moved between Britain and Australia. He starred in the Australian film Summerfield (1976), before returning to Britain for theatre work and some television, including The Strange Case Of The End Of Civilization As We Know It (1977), Danger UXB (1978), and the film Licensed To Love and Kill (1979). In Australia he appeared in two of the Men Of Action series (78) and Chopper Squad. He returned to Britain in 1980 to star in the TV play Number On End (1980) and episodes of Spearhead In Hong Kong, The Gentle Touch, West End Tales and Churchill: The Wilderness Years. Since then he lived and worked in Australia, with his wife Hazel, who he married in 1977, and their son Thomas, born 1977, and daughter Jessica, born in 1986.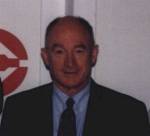 He starred in the soap opera Holiday Island (1981) and appeared in the soaps A Country Practice (some of which he also directed), Sons & Daughters (1985), Butterfly Island (1986) and The Flying Doctors (1986). He starred in the film The Coolangatta Gold (1984), the television movie Olive (1986), the miniseries' The Alien Years (1988) and The True Believers (1988), and the television play Police State (1989). On a trip to Britain he filmed an episode of Boon (1988). He appeared in a number of major international films: small roles in Cry Freedom (1988) and A Cry In The Dark (1989), and a starring role in Return From The River Kwai (1989).
He then appeared as a regular in the short lived U.S./Australian series Dolphin Cove (1989), leading to his moving to America in 1989 for a role in the sitcom Open House (1989). He guest starred in the Star Trek- The Next Generation episode Final Mission (1990), and had a small role in Spielberg's Hook (1991). Subsequently Tate has found a lucrative career providing voice overs for film trailers, including major films such as Jurassic Park and Independence Day as well as TV work such as trailers for Ally McBeal. He has continued to guest star in series such as Star Trek- Deep Space Nine (episode Honour Among Thieves, 1998) and X Files (1999) and episodes of Diagnosis Murder and Jag. In 2000 he returned to Australia. Roles have included Farscape (final episode, 2002), The Junction Boys (TV movie, 2002), Lost (2004). The Pacific (2010), The Killer Elite (film, 2011).
Nick Tate and Alan Carter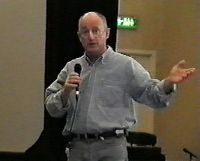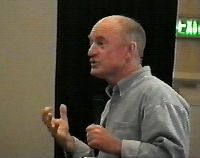 Alan Carter was the most popular character in the show: in July 1976 ITC claimed Tate was receiving 5000 fan letters a week (Tate only received a fraction of that, and suspects the figure was exaggerated).
Because Sylvia Anderson thought the Australian accent was similar to a cockney accent, Tate was encouraged to exaggerate it. After the eighth episode ITC New York complained they couldn't understand him, so he reduced his accent to normal. In the second series Fred Freiberger wanted him to be more Australian again. Although the scripts often gave him an important role, Tate was paid less than the other regular cast (when he changed from a single-episode extra to a regular cast member, he had not thought to ask for more money).
It seems Freiberger was initially ignorant of the actor's popularity and wanted a new pilot character, but Gerry Anderson pressed him to retain Tate. He was not, however, given a contract for the second series, and only appeared in eighteen episodes. While he was away the character Fraser, played by John Hug, replaced Carter. He much prefers the first series, and his favourite episodes are Another Time, Another Place, Full Circle and Journey To Where.
In 1986 he was flying in a sea plane to a location on a Queensland island for the series Butterfly Island. The pilot recognised him as Carter from Space 1999 and handed him the controls, to Tate's alarm. He commented to a newspaper Wherever I go people recognise me as Carter and think I can fly anything.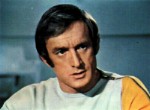 From a 1978 interview: Question- You were lucky because you did the cross over between series one and two, whereas others didn't. Was there any doubt that you would be in the Second Series?
Nick. Oh yes there was, I wasn't to cross over at all, we were all out. Prentis, Zienia, Clifton, myself and Barry Morse; I was rather put out by the fact that I was not asked back. We all were, we had worked very hard, we were popular in the series, I knew by all the fan mail I was getting, and I thought they were crazy not to ask me back. Still I don't have much complaint about the first series. Of all of them I was given the most to do, until just past, the middle, then it kind of levelled off, then it came on stronger again. There were scripts written where I was given a great deal of heavy involvement and on the whole I came out looking pretty good for the first series.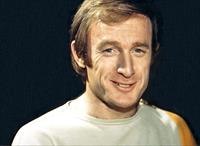 Then the second series came along and it was suggested that what was wrong with the first season was that there wasn't any young guys in the show, who had a good go and a big love thing. And although they had given me a 'bit of a go', they'd never really let it flower. So the only way they could do a second season was to guarantee that they would have a young love interest in the series, a young spunky guy and a girl, who perhaps would be an alien and my name was suggested, or rather my character for this role. But the powers that be didn't think that this was such a good idea and so I didn't get it... and the whole thing was recast and Tony came in as the adventurer of the series.
But somebody somewhere was waving a magic wand and saying, 'but what about Nick Tate' ? He should be in the series. And in fact I think they were trying to get everyone back. Anyway Gerry Anderson rang me 6 days before the second series started shooting and told me that there was a lot of pressure to bring me back into the series. However at the time I was due to start A Street Car Named Desire. I had learned the part and was about to start rehearsals. Gerry said 'We'd really like you back in, the series'. I wanted to say no; but I thought... 'well if the others aren't going back'
Gerry made promises on how it would be but unfortunately it wasn't like that. I did the first 6 episodes under this new-producer, Freddy Freiberger, who had no sympathy at all for the first season; he didn't like the first season at all, he was brought in to make the new series better and different, that was his job and so he really wasn't interested in keeping what bad been in the first series. The second series was his idea, obviously he had to go with the original concepts. I really didn't think he had many plans for Alan Carter, so after the 6th episode I could see that it wasn't much good my being in the series, and so I left. By that stage they had brought Zienia back, but they had not served her very well either, so she left as well. I think they asked Anton back.
You see when they had started the new series, and kicked everybody out, that it did not even look like space 1999; what they had was so different that they would have been crazy not to have asked everyone back. But they treated people poorly, and so they left. I really believe the series could have gone on successfully had they re organised the second series on the basis of the first .....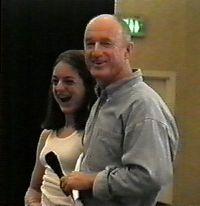 He was invited as the most popular actor from Space 1999 to two Star Trek conventions whilst still filming Year Two: the August Party at the University of Maryland, U.S.A, and the Terracon in Leeds, England in October 1976. He was a guest in many conventions: 1978, 1979, 1980, 1999, 2001, 2012 all in the U.S.A., and 2014 in Britain. He was interviewed for a 16 minute documentary, Into the Uncertain Future: An Interview with Actor Nick Tate (2019), an extra on the Shout! Factory Blu-ray. He joined internet conventions in 2021 and 2022.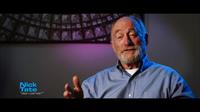 Tate autographed cards for the Round 2 Eagle 1 model kit (2013), and Unstoppable cards (2016).
Print: MOVIE STARS (12 Dec 1976); "Daring Nick Tate Of 'Space: 1999' Confides: 'I Want Lt. Carter to Really Feel Pain'" interview by Ann Hamilton, p12,52
Print: TV Times (Australia) (15 Jan 1977) "The Astronaut Who Blasted Off From Down Under" p30-31 Catacombs
Print: Starlog Number 4 (March 1977); "Nick Tate" interview by Jim Burns p48-52 (Catacombs)
Print: MY WEEKLY (July 1978); "Nick Tate- A New Star With A Very Bright Future" p8-10 Catacombs
Print: Dreamwatch Number 12 (August 1995) "Alphan From Oz" Nick Tate interview by Steve Eramo p26-27 (Catacombs)
Print: Starlog Number 227 (Jun 1996); "Space Pilot" Nick Tate interview by Steve Eramo p76-80 (Catacombs)
Print: TV Zone Special Number 31, Yearbook (Dec 1998) Nick Tate, Where Eagle Pilots Dare interview by David Bassom p94-98 (Catacombs)
Print: FAB 77 (Apr 2014) "Nick Tate Australian Eagle" interview part 1 p10-17
Print: FAB 78 (Jul 2014); "Nick Tate Where Eagles Dare" interview part 2 p12-19