Nick Tate (Alan Carter) Space: 1999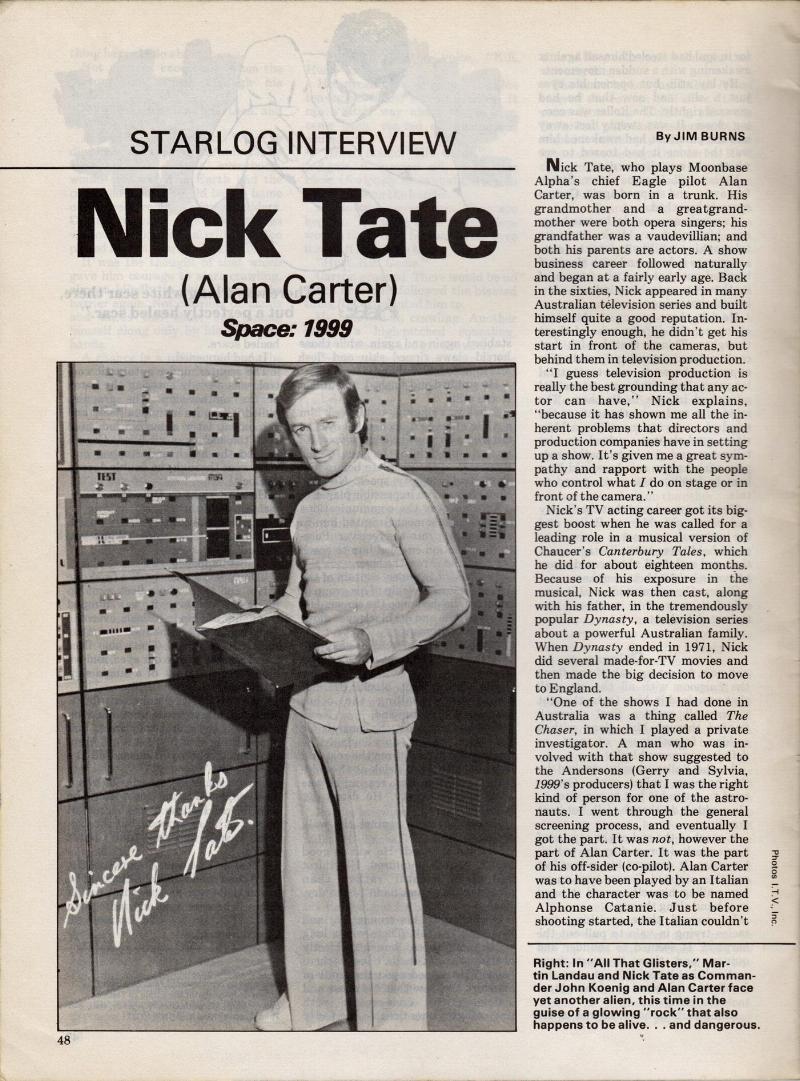 Starlog 4, March 1977, p48-51. Captioned photos:
In "All That Glisters," Martin Landau and Nick Tate as Commander John Koenig and Alan Carter face yet another alien, this time in the guise of a glowing "rock" that also happens to be alive... and dangerous.
In "Bringers of Wonder," Alan and another crew member are deluded into opening the reactor housing.
A helpless Carter looks on as the alien lashes back at Koenig in a scene from "All That Glisters".
In filming "Space Brain," the director accidentally joined in the fun by slipping on the foam and disappearing into the mountain of suds. He reappeared, to everyone's amusement, covered with the alien menace.
Alan Carter is about to have his life forces drained from him to feed the biological computer, Psyche, in Year Two's first episode The Metamorph.
Nick Tate, who plays Moonbase Alpha's chief Eagle pilot Alan Carter, was born in a trunk. His grandmother and a great-grandmother were both opera singers; his grandfather was a vaudevillian; and both his parents are actors. A show business career followed naturally and began at a fairly early age. Back in the sixties, Nick appeared in many Australian television series and built himself quite a good reputation. Interestingly enough, he didn't get his start in front of the cameras, but behind them in television production.
I guess television production is really the best grounding that any actor can have, Nick explains, because it has shown me all the inherent problems that directors and production companies have in setting up a show. It's given me a great sympathy and rapport with the people who control what I do on stage or in front of the camera.
Nick's TV acting career got its biggest boost when he was called for a leading role in a musical version of Chaucer's Canterbury Tales, which he did for about eighteen months. Because of his exposure in the musical, Nick was then cast, along with his father, in the tremendously popular Dynasty, a television series about a powerful Australian family. When Dynasty ended in 1971, Nick did several made-for-TV movies and then made the big decision to move to England.
One of the shows I had done in Australia was a thing called The Chaser, in which I played a private investigator. A man who was involved with that show suggested to the Andersons (Gerry and Sylvia, 1999's producers) that I was the right kind of person for one of the astronauts. I went through the general screening process, and eventually I got the part. It was not, however the part of Alan Carter. It was the part of his off-sider (co-pilot). Alan Carter was to have been played by an Italian and the character was to be named Alphonse Catani. Just before shooting started the Italian couldn't get himself released from a film he was doing in Italy, and a last minute juggle took place. They tried to find somebody to replace him, and I was the man on the spot. They had interviewed several people, but the director, an American, liked me and felt that my sort of Australian aggression was what they wanted for the series. They gave me a lucky break and let me do it.
At first, I was only supposed to be in the premiere episode. Then they offered me another five, because things were looking interesting, and, at the end of the sixth episode, they said, 'We'd like to sign you up for the series.'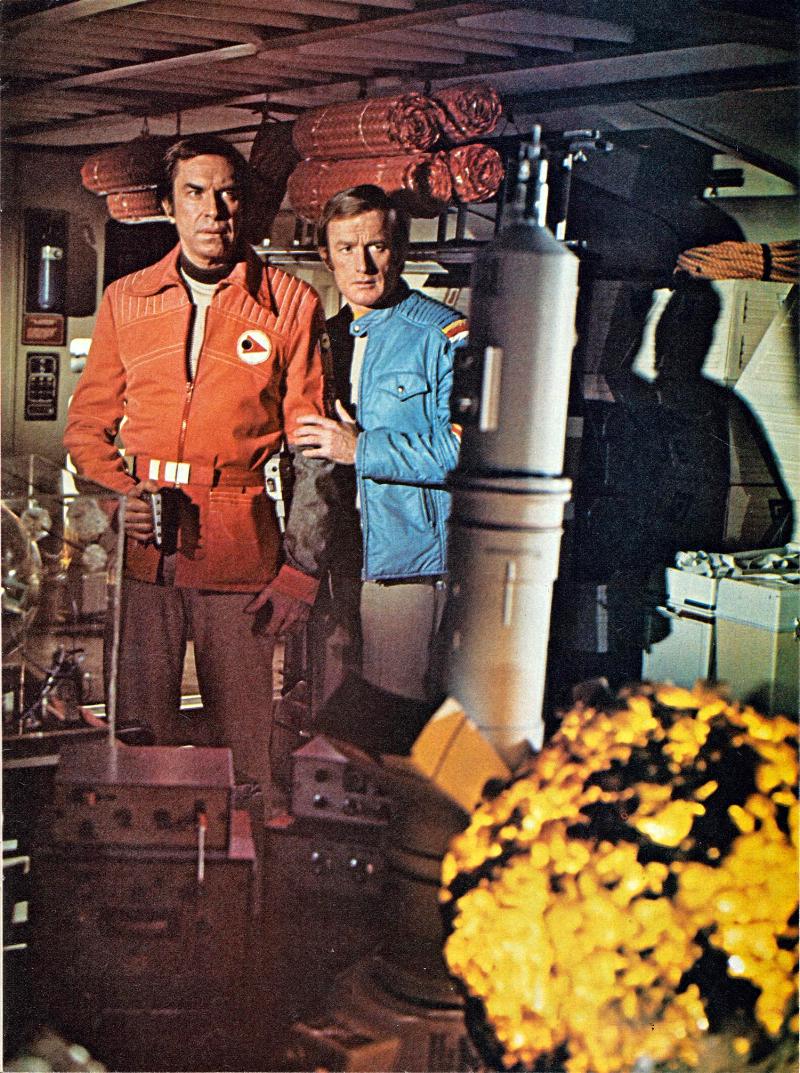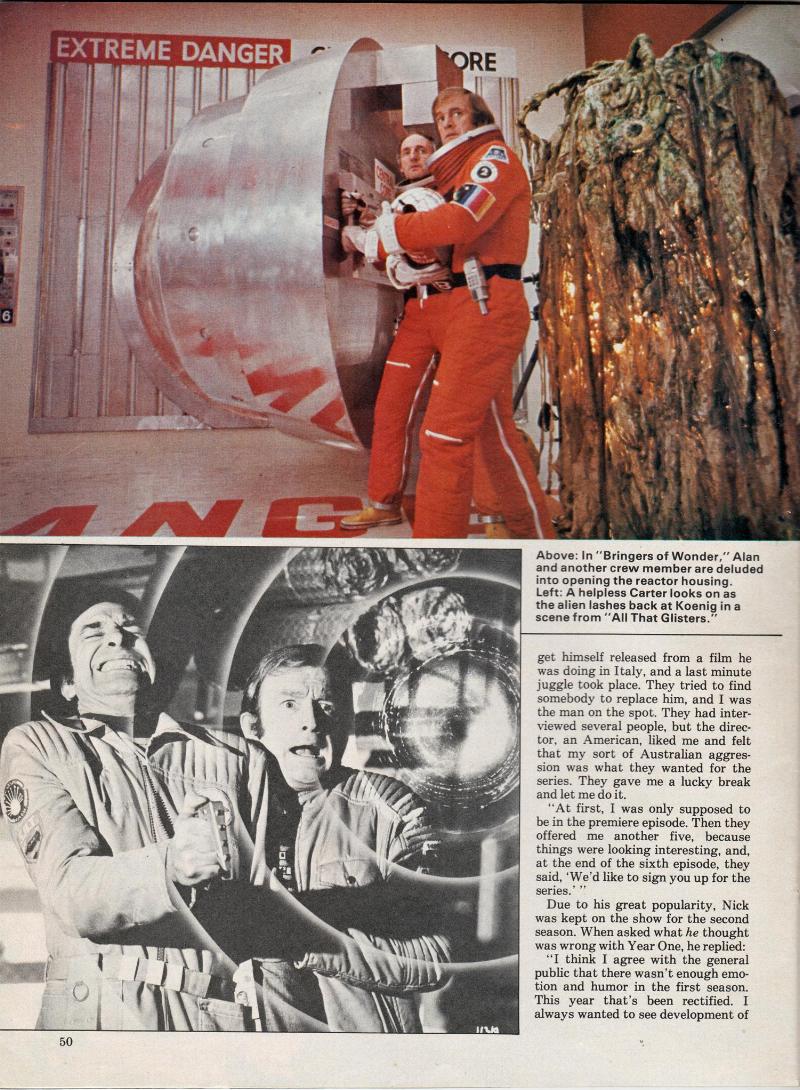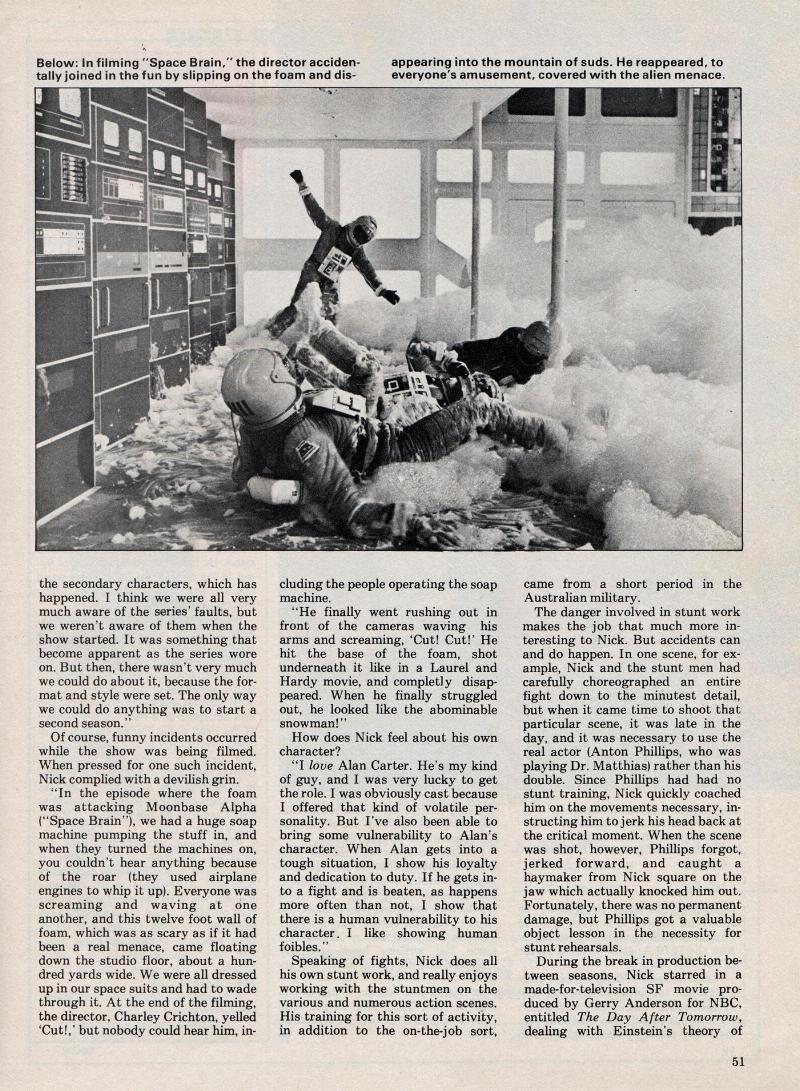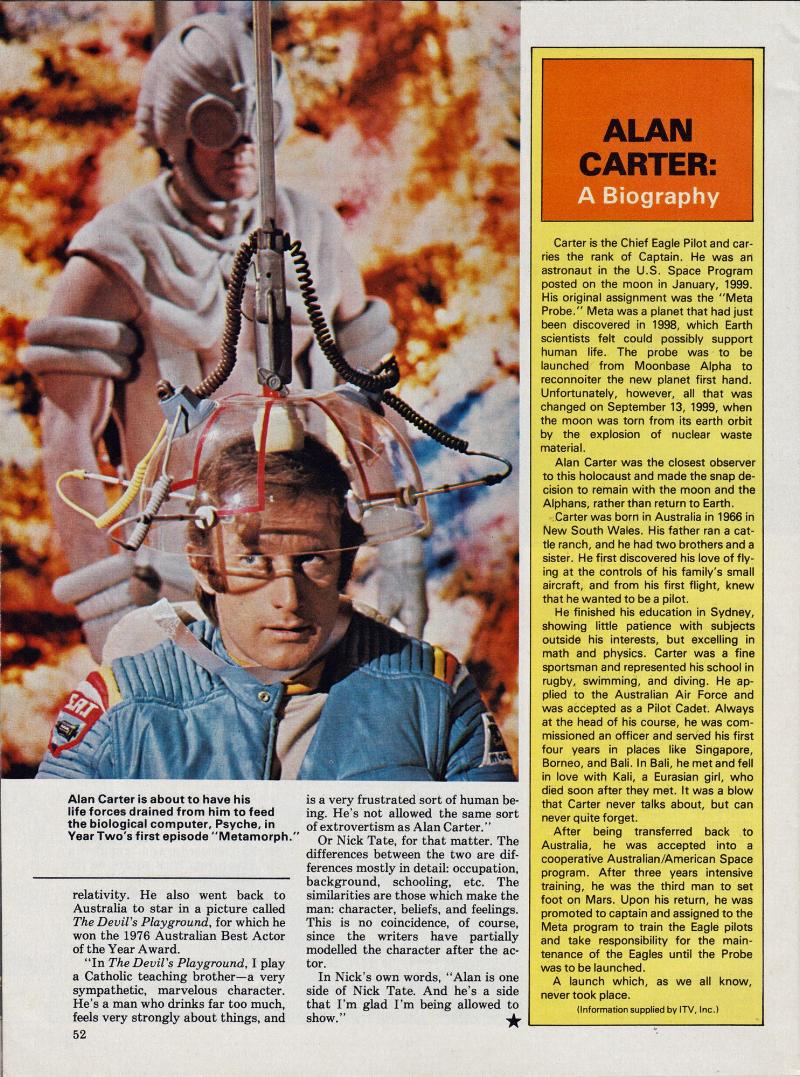 Due to his great popularity, Nick was kept on the show for the second season. When asked what he thought was wrong with Year One, he replied: I think I agree with the general public that there wasn't enough emotion and humor in the first season. This year that's been rectified. I always wanted to see development of the secondary characters, which has happened. I think we were all very much aware of the series' faults, but we weren't aware of them when the show started. It was something that become apparent as the series wore on. But then, there wasn't very much we could do about it, because the format and style were set. The only way we could do anything was to start a second season.
Of course, funny incidents occurred while the show was being filmed. When pressed for one such incident, Nick complied with a devilish grin.
In the episode where the foam was attacking Moonbase Alpha ("Space Brain"), we had a huge soap machine pumping the stuff in, and when they turned the machines on, you couldn't hear anything because of the roar (they used airplane engines to whip it up). Everyone was screaming and waving at one another, and this twelve foot wall of foam, which was as scary as if it had been a real menace, came floating down the studio floor, about a hundred yards wide. We were all dressed up in our space suits and had to wade through it. At the end of the filming, the director, Charley Crichton, yelled 'Cut!,' but nobody could hear him, including the people operating the soap machine.
He finally went rushing out in front of the cameras waving his arms and screaming, 'Cut! Cut!' He hit the base of the foam, shot underneath it like in a Laurel and Hardy movie, and completely disappeared. When he finally struggled out, he looked like the abominable snowman!
How does Nick feel about his own character?
I love Alan Carter. He's my kind of guy, and I was very lucky to get the role. I was obviously cast because I offered that kind of volatile personality. But I've also been able to bring some vulnerability to Alan's character. When Alan gets into a tough situation, I show his loyalty and dedication to duty. If he gets into a fight and is beaten, as happens more often than not, I show that there is a human vulnerability to his character. I like showing human foibles.
Speaking of fights, Nick does all his own stunt work, and really enjoys working with the stuntmen on the various and numerous action scenes. His training for this sort of activity, in addition to the on-the-job sort, came from a short period in the Australian military.
The danger involved in stunt work makes the job that much more interesting to Nick. But accidents can and do happen. In one scene, for example, Nick and the stunt men had carefully choreographed an entire fight down to the minutest detail, but when it came time to shoot that particular scene, it was late in the day, and it was necessary to use the real actor (Anton Phillips, who was playing Dr. Matthias) rather than his double. Since Phillips had had no stunt training, Nick quickly coached him on the movements necessary, instructing him to jerk his head back at the critical moment. When the scene was shot, however, Phillips forgot, jerked forward, and caught a haymaker from Nick square on the jaw which actually knocked him out. Fortunately, there was no permanent damage, but Phillips got a valuable object lesson in the necessity for stunt rehearsals.
During the break in production between seasons, Nick starred in a made-for-television SF movie produced by Gerry Anderson for NBC, entitled The Day After Tomorrow, dealing with Einstein's theory of relativity. He also went back to Australia to star in a picture called The Devil's Playground, for which he won the 1976 Australian Best Actor of the Year Award.
In The Devil's Playground, I play a Catholic teaching brother-a very sympathetic, marvellous character. He's a man who drinks far too much, feels very strongly about things, and is a very frustrated sort of human being. He's not allowed the same sort of extrovertism as Alan Carter.
Or Nick Tate, for that matter. The differences between the two are differences mostly in detail: occupation, background, schooling, etc. The similarities are those which make the man: character, beliefs, and feelings. This is no coincidence, of course, since the writers have partially modelled the character after the actor.
In Nick's own words, Alan is one side of Nick Tate. And he's a side that I'm glad I'm being allowed to show.
NICK TATE IN NEW YORK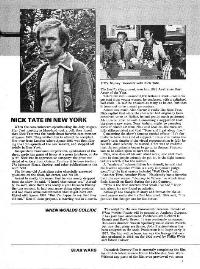 Starlog 2, November 1976, p7
When the Conventioneers spearheading the July-August Star Trek meeting in Maryland took a poll, they found that Nick Tate was the hands-down favourite cast member of Space: 1999. They invited him to attend; he accepted, flew over from London (where he was then filming the 15th episode of the new season), and stopped off briefly in New York. Independent Television Corporation, syndicators of the show, made him guest of honour at a press luncheon, on July 27. Nick was in appreciative company: the press consisted of writers from Galaxy, Fantasy & Science Fiction, The Monster Times, Starlog, and other publications in the sci-fi field.
The 34-year-old Australian actor cheerfully answered questions on the show, his career, and his life.
Asked to clarify the rumour that he was nearly dropped from the show, he said, I heard that rumour too. Actually, he said, since there was nearly a year between filming the two seasons, he had been away doing other projects and had made some commitments that might have conflicted with Space: 1999. But I'm happy to say that they did not. One of those projects, a starring role in a movie, The Devil's Playground, won him 1976 Australian Best Actor of the Year.
Tate's fan mail-around 5,000 letters a week - comes 95 per cent from young women, he confessed with a delighted half-smile. He said he answers as many as he can, but that it turns out to be a small percentage.
Asked how much Alan Carter is really like Nick Tate, Nick replied that since the character had originally been conceived to be an Italian, he had pretty much patterned Alan Carter after himself. Concerning a suggestion that the show's new actor, Tony Anholt, might be usurping some of Alan's air time, Nick said that no, the roles are fully differentiated and that Tony and I get along fine.
Concerning the show's famous special effects: It's fantastic to have that kind of support. He said it makes the actor's task simpler if the visual representation is fully believable. Just recently, he related, a fire was so realistic that the set actually began to go up in flames. Firemen had to be called upon to save the set.
Nick, who does all his own stunt work, said that from time to time people actually do get hit in the fight scenes; but it's worth it for the realism.
A "moderate" science fiction fan himself, he said that his favourite episodes ("This is a very subjective judgement") of the first season included "Full Circle" and "Another Time, Another Place." He already has a favourite from the new season: "Journey to Where", in which Alan finds himself on Earth during the 14th Century.
This is the first international break I've had, Nick said about his new-found popularity.
Although the changes in story and format for the second season really don't affect him much, Nick said, I'm positive the changes are for the better.
[captioned photos]
Alan Carter in Y2
ITC's Murray Horowitz with Nick Tate