Space Report
Gerry Anderson wrote a monthly column for the US science fiction magazine Starlog from issue 15 (August 1978) to issue 41 (December 1980). The format was similar to his column in the UK children's comic Look-In, answering questions from fans. Between the normal letters format, David Hirsch wrote a number of interesting articles, including profiles of Martin Bower and Barry Gray, the Space 1999 writer's guide from 1973, Five Star Five (issue 28), blueprints of the Hawk by Geoffrey Mandell, and a fascinating guide to the Mysterious Unknown Force.
Starlog 15, August 1978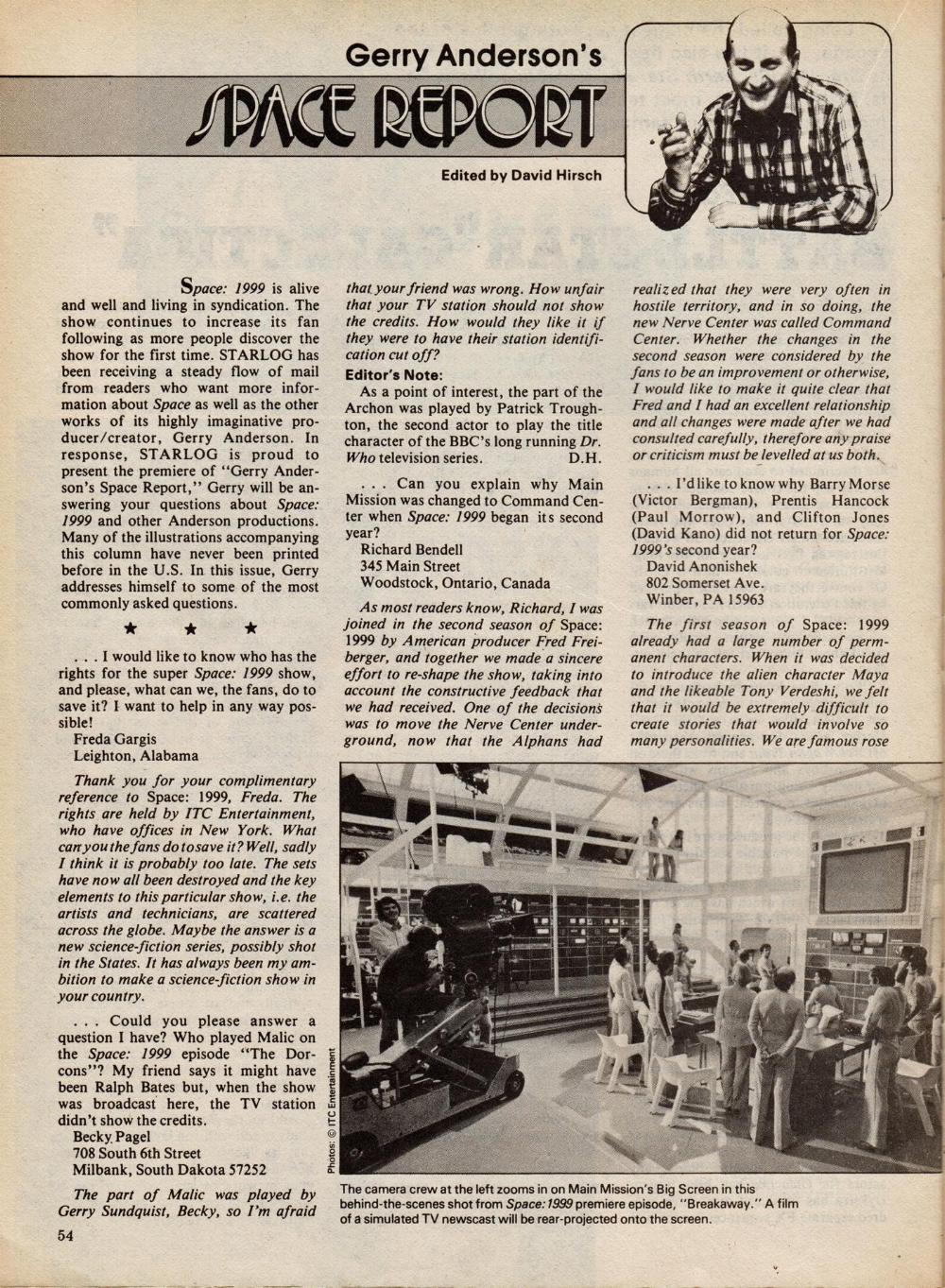 Gerry Anderson's Space Report
Edited by David Hirsch
Space: 1999 is alive and well and living in syndication. The show continues to increase its fan following as more people discover the show for the first time. STARLOG has been receiving a steady flow of mail from readers who want more information about Space as well as the other works of its highly imaginative producer/creator, Gerry Anderson. In response, STARLOG is proud to present the premiere of "Gerry Anderson's Space Report," Gerry will be answering your questions about Space: 1999 and other Anderson productions. Many of the illustrations accompanying this column have never been printed before in the U.S. In this issue, Gerry addresses himself to some of the most commonly asked questions.
... I would like to know who has the rights for the super Space: 1999 show, and please, what can we, the fans, do to save it? I warn to help in any way possible!
Freda Gargis Leighton, Alabama
Thank you for your complimentary reference to Space: 1999, Freda. The rights are held by ITC Entertainment, who have offices in New York. What can you the fans do to save it? Well, sadly I think it is probably too late. The sets have now all been destroyed and the key elements to this particular show, i.e. the artists and technicians, are scattered across the globe. Maybe the answer is a new science-fiction series, possibly shot in the States. It has always been my ambition to make a science-fiction show in your country.
... Could you please answer a question I have? Who played Malic on the Space: 1999 episode "The Dorcons"? My friend says it might have been Ralph Bates but, when the show was broadcast here, the TV station didn't show the credits.
Becky Pagel Milbank, South Dakota 57252
The part of Malic was played by Gerry Sundquist, Becky, so I'm afraid that your friend was wrong. How unfair that your TV station should not show the credits. How would they like it if they were to have their station identification cut off?
Editor's Note:
As a point of interest, the part of the Archon was played by Patrick Troughton, the second actor to play the title character of the BBC's long running Dr. Who television series. D.H.
... Can you explain why Main Mission was changed to Command Center when Space: 1999 began its second year?
Richard Bendell Woodstock, Ontario, Canada
As most readers know, Richard, I was joined in the second season of Space: 1999 by American producer Fred Freiberger, and together we made a sincere effort to re-shape the show, taking into account the constructive feedback that we had received. One of the decisions was to move the Nerve Center underground, now that the Alphans had realized that they were very often in hostile territory, and in so doing, the new Nerve Center was called Command Center. Whether the changes in the second season were considered by the fans to be an improvement or otherwise, I would like to make it quite clear that Fred and I had an excellent relationship and all changes were made after we had consulted carefully, therefore any praise or criticism must be levelled at us both.
... I'd like to know why Barry Morse (Victor Bergman), Prentis Hancock (Paul Morrow), and Clifton Jones (David Kano) did not return for Space: 1999's second year?
David Anonishek Winber, PA 15963
The first season of Space: 1999 already had a large number of permanent characters. When it was decided to introduce the alien character Maya and the likeable Tony Verdeshi, we felt that it would be extremely difficult to create stories that would involve so many personalities. We are famous rose growers in our country, David, and the experts say that if you prune the bush hard you get fewer roses but bigger blooms... we pruned hard.
The camera crew at the left zooms in on Main Mission's Big Screen in this behind-the-scenes shot from Space: 1999 premiere episode, "Breakaway.' of a simulated TV newscast will be rear-projected onto the screen.
... How did that system work that kept the astronauts asleep during their three -week space flight in your film Journey To The Far Side Of The Sun (also known as Doppelganger)!
Don Hicks Xenia, Ohio 45385
Plumbing connections were made to the astronauts through surgically implanted plugs in their wrists enabling their blood to go through a heart, lung, and kidney machine, thus allowing their bodies to be constantly monitored and supplemented by nutrients and drugs that would maintain the Astronauts in a state of hibernation during their journey. A timing device arranged for other drugs to be introduced into the blood supply in order that they should regain consciousness upon arrival at their destination, Don.
... During the early 1960s, I recall a program which appeared in New York City called Planet Patrol which was done in Supermarionation. Could you tell me about it?
A. Rivera Bronx, NY 10468
Fireball XL-5, elite spacecraft of the World Space Patrol stands ready upon the Space City launch rail.
The only Supermarionation programs being transmitted around that time were Supercar and Fireball XL-5, the latter being aired by the NBC-TV network. If it is my show that you are referring to, I would suspect that you are talking about Fireball XL-5 and either you have got the title wrong or the title was changed for transmission in the U.S.A. Assuming that we've got the right show, it was produced here in England in 1961 and was the fifth series to be made with puppets. It was also the last of our shows to be shown in black and white.
As a point of interest, the show that followed, Stingray, was the first color TV film program to be shown in the United Kingdom. Perhaps the most significant thing about Fireball XL-5 was that it predicted a horizontal rocket launch system on rails, a prediction that, of course, has proved to be wrong.
Editor's Note:
Planet Patrol was not an alternate title for Fireball XL-5. It was a puppet series syndicated in 1963 that was produced by another company. Planet Patrol chronicled the adventures of Captain Larry Dart, Husky, the Martian, and Slim, the Venusian of the Galasphere Patrol as they battled to protect the solar system against alien invaders. D.H.
Readers are invited to send their questions and topic ideas to Gerry in care of STARLOG. Although personal replies, requests for materials, etc., are impossible, letters of general interest will be selected for printing in future issues.
Starlog 18, December 1978
Gerry Anderson's Space Report The First "Space:1999" Convention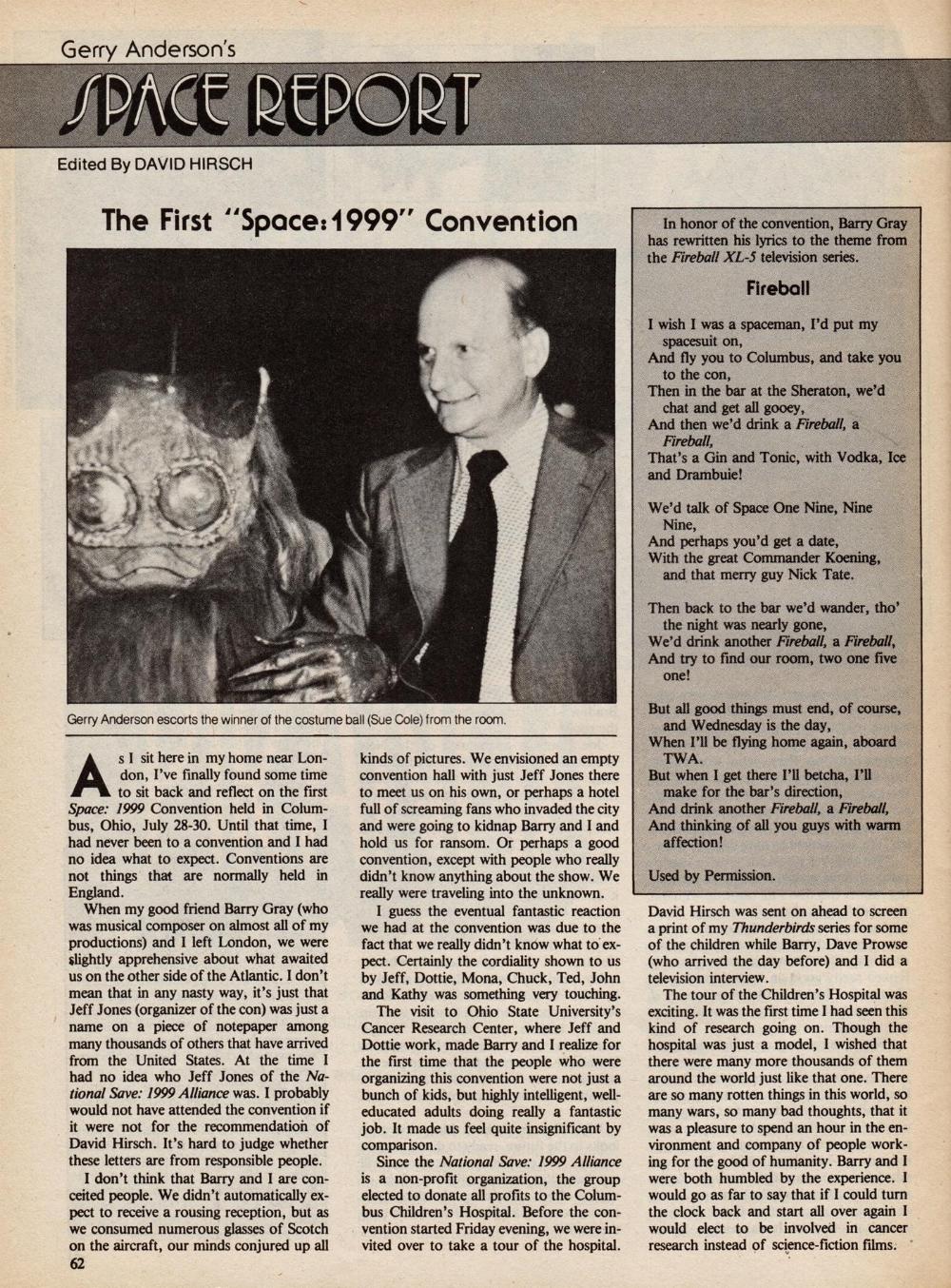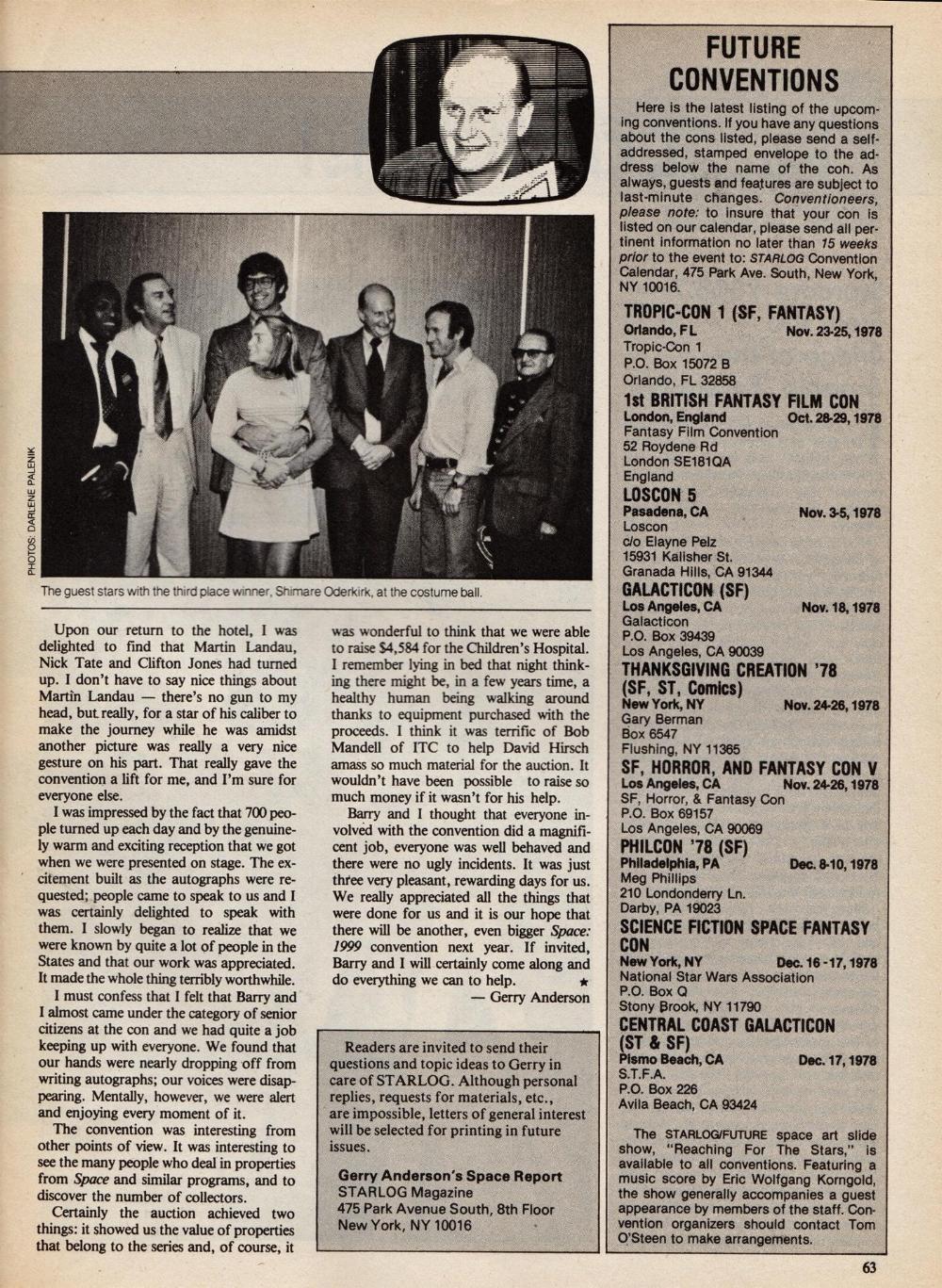 As I sit here in my home near London, I've finally found some time to sit back and reflect on the first Space: 1999 Convention held in Columbus, Ohio, July 28-30. Until that time, I had never been to a convention and I had no idea what to expect. Conventions are not things that are normally held in England.
When my good friend Barry Gray (who was musical composer on almost all of my productions) and I left London, we were slightly apprehensive about what awaited us on the other side of the Atlantic. I don't mean that in any nasty way, it's just that Jeff Jones (organizer of the con) was just a name on a piece of notepaper among many thousands of others that have arrived from the United States. At the time I had no idea who Jeff Jones of the National Save: 1999 Alliance was. I probably would not have attended the convention if it were not for the recommendation of David Hirsch. It's hard to judge whether these letters are from responsible people. I don't think that Barry and I are conceited people. We didn't automatically expect to receive a rousing reception, but as we consumed numerous glasses of Scotch on the aircraft, our minds conjured up all kinds of pictures. We envisioned an empty convention hall with just Jeff Jones there to meet us on his own, or perhaps a hotel full of screaming fans who invaded the city and were going to kidnap Barry and I and hold us for ransom. Or perhaps a good convention, except with people who really didn't know anything about the show. We really were travelling into the unknown.
I guess the eventual fantastic reaction we had at the convention was due to the fact that we really didn't know what to expect. Certainly the cordiality shown to us by Jeff, Dottie, Mona, Chuck, Ted, John and Kathy was something very touching.
The visit to Ohio State University's Cancer Research Centre, where Jeff and Dottie work, made Barry and I realize for the first time that the people who were organizing this convention were not just a bunch of kids, but highly intelligent, well educated adults doing really a fantastic job. It made us feel quite insignificant by comparison.
Since the National Save: 1999 Alliance is a non-profit organization, the group elected to donate all profits to the Columbus Children's Hospital. Before the convention started Friday evening, we were invited over to take a tour of the hospital.
In honour of the convention, Barry Gray has rewritten his lyrics to the theme from the Fireball XL-5 television series.
Fireball
I wish I was a spaceman,
I'd put my spacesuit on,
And fly you to Columbus,
and take you to the con.
Then in the bar at the Sheraton,
we'd chat and get all gooey.
And then we'd drink a Fireball, a Fireball,
That's a Gin and Tonic, with Vodka, Ice and Drambuie!
We'd talk of Space One Nine, Nine Nine,
And perhaps you'd get a date,
With the great Commander Koenig,
and that merry guy Nick Tate.
Then back to the bar we'd wander,
tho' the night was nearly gone,
We'd drink another Fireball, a Fireball,
And try to find our room, two one five one!
But all good things must end, of course,
and Wednesday is the day.
When I'll be flying home again, aboard TWA.
But when I get there I'll betcha,
I'll make for the bar's direction.
And drink another Fireball, a Fireball,
And thinking of all you guys with warm affection!
Used by Permission.
David Hirsch was sent on ahead to screen a print of my Thunderbirds series for some of the children while Barry, Dave Prowse (who arrived the day before) and I did a television interview.
The tour of the Children's Hospital was exciting. It was the first time I had seen this kind of research going on. Though the hospital was just a model, 1 wished that there were many more thousands of them around the world just like that one. There are so many rotten things in this world, so many wars, so many bad thoughts, that it was a pleasure to spend an hour in the environment and company of people working for the good of humanity. Barry and I were both humbled by the experience. I would go as far to say that if I could turn the clock back and start all over again I would elect to be involved in cancer research instead of science-fiction films.
Upon our return to the hotel, I was delighted to find that Martin Landau, Nick Tate and Clifton Jones had turned up. I don't have to say nice things about Martin Landau - there's no gun to my head, but really, for a star of his calibre to make the journey while he was amidst another picture was really a very nice gesture on his part. That really gave the convention a lift for me, and I'm sure for everyone else.
I was impressed by the fact that 700 people turned up each day and by the genuinely warm and exciting reception that we got when we were presented on stage. The excitement built as the autographs were requested; people came to speak to us and I was certainly delighted to speak with them. I slowly began to realize that we were known by quite a lot of people in the States and that our work was appreciated. It made the whole thing terribly worthwhile.
I must confess that I felt that Barry and I almost came under the category of senior citizens at the con and we had quite a job keeping up with everyone. We found that our hands were nearly dropping off from writing autographs; our voices were disappearing. Mentally, however, we were alert and enjoying every moment of it.
The convention was interesting from other points of view. It was interesting to see the many people who deal in properties from Space and similar programs, and to discover the number of collectors.
Certainly the auction achieved two things: it showed us the value of properties that belong to the series and, of course, it was wonderful to think that we were able to raise $4,584 for the Children's Hospital. I remember lying in bed that night thinking there might be, in a few years time, a healthy human being walking around thanks to equipment purchased with the proceeds. I think it was terrific of Bob Mandell of ITC to help David Hirsch amass so much material for the auction. It wouldn't have been possible to raise so much money if it wasn't for his help.
Barry and I thought that everyone involved with the convention did a magnificent job, everyone was well behaved and there were no ugly incidents. It was just three very pleasant, rewarding days for us. We really appreciated all the things that were done for us and it is our hope that there will be another, even bigger Space: 1999 convention next year. If invited, Barry and I will certainly come along and do everything we can to help.
Gerry Anderson
Caption: Gerry Anderson escorts the winner of the costume ball (Sue Cole) from the room.
Caption: The guest stars with the third place winner, Shimare Oderkirk, at the costume ball.
Starlog 19, February 1979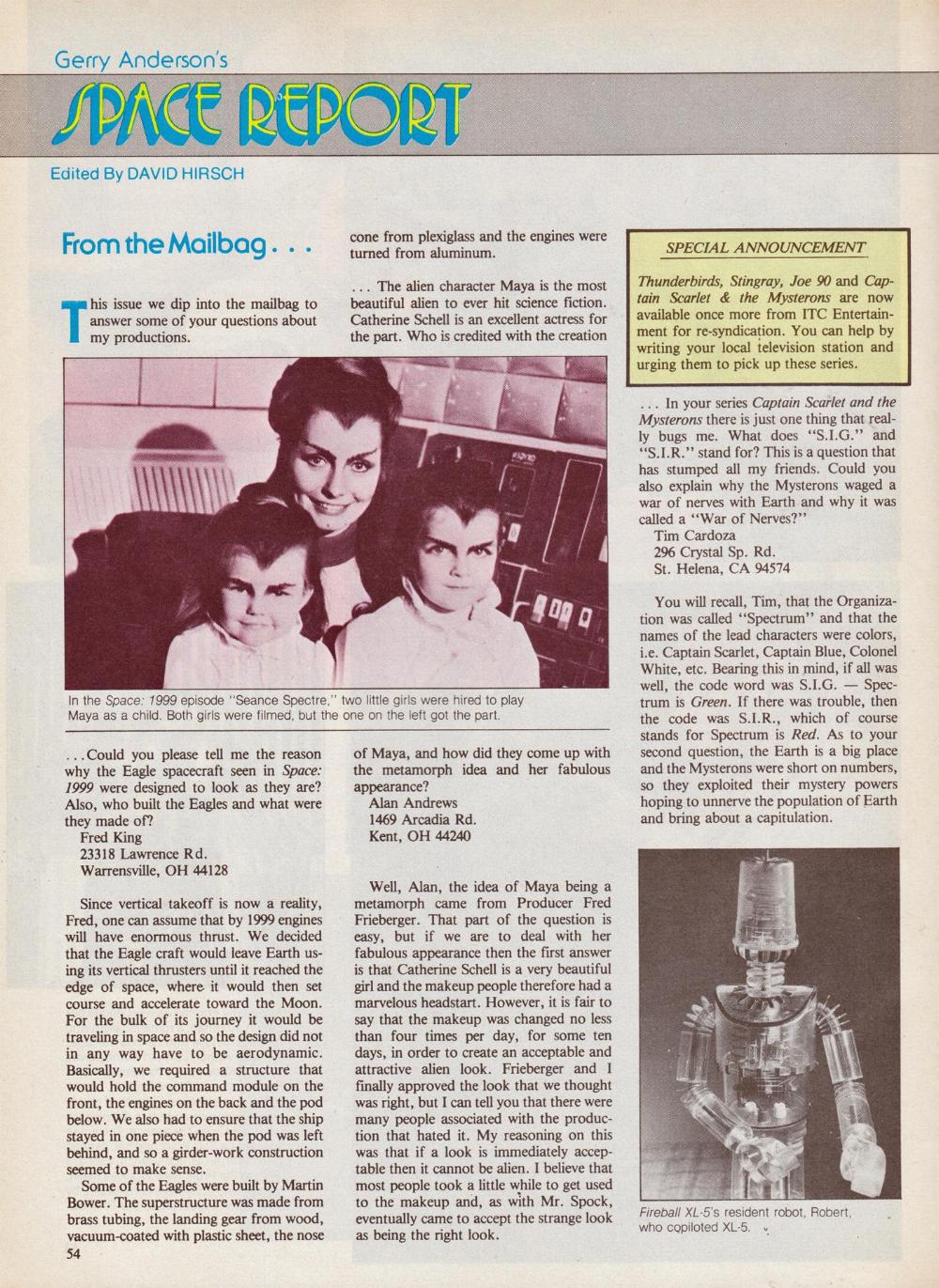 In the Space: 1999 episode "Seance Spectre," two little girls were hired to play Maya as a child. Both girls were filmed, but the one on the left got the part.
From the Mailbag.
This issue we dip into the mailbag to answer some of your questions about my productions.
... The alien character Maya is the most beautiful alien to ever hit science fiction. Catherine Schell is an excellent actress for the part. Who is credited with the creation of Maya, and how did they come up with the metamorph idea and her fabulous appearance?
Alan Andrews - Kent, OH 44240
Well, Alan, the idea of Maya being a metamorph came from Producer Fred Frieberger. That part of the question is easy, but if we are to deal with her fabulous appearance then the first answer is that Catherine Schell is a very beautiful girl and the make-up people therefore had a marvellous headstart. However, it is fair to say that the makeup was changed no less than four times per day, for some ten days, in order to create an acceptable and attractive alien look. Frieberger and I finally approved the look that we thought was right, but I can tell you that there were many people associated with the production that hated it. My reasoning on this was that if a look is immediately acceptable then it cannot be alien. I believe that most people took a little while to get used to the makeup and, as with Mr. Spock, eventually came to accept the strange look as being the right look.
... Could you please tell me the reason why the Eagle spacecraft seen in Space: 1999 were designed to look as they are? Also, who built the Eagles and what were they made of?
Fred King - Warrensville, OH 44128
Since vertical takeoff is now a reality, Fred, one can assume that by 1999 engines will have enormous thrust. We decided that the Eagle craft would leave Earth using its vertical thrusters until it reached the edge of space, where it would then set course and accelerate toward the Moon. For the bulk of its journey it would be travelling in space and so the design did not in any way have to be aerodynamic. Basically, we required a structure that would hold the command module on the front, the engines on the back and the pod below. We also had to ensure that the ship stayed in one piece when the pod was left behind, and so a girder- work construction seemed to make sense.
Some of the Eagles were built by Martin Bower. The superstructure was made from brass tubing, the landing gear from wood, vacuum-coated with plastic sheet, the nose cone from plexiglass and the engines were turned from aluminium.
SPECIAL ANNOUNCEMENT
Thunderbirds, Stingray, Joe 90 and Captain Scarlet & the Mysterons are now available once more from ITC Entertainment for re-syndication. You can help by writing your local television station and urging them to pick up these series.
... In your series Captain Scarlet and the Mysterons there is just one thing that really bugs me. What does "S.I.G." and "S.I.R." stand for? This is a question that has stumped all my friends. Could you also explain why the Mysterons waged a war of nerves with Earth and why it was called a "War of Nerves?"
Tim Cardoza - St. Helena, CA 94574
You will recall, Tim, that the Organization was called "Spectrum" and that the names of the lead characters were colours, i.e. Captain Scarlet, Captain Blue, Colonel White, etc. Bearing this in mind, if all was well, the code word was S.I.G. - Spectrum is Green. If there was trouble, then the code was S.I.R., which of course stands for Spectrum is Red. As to your second question, the Earth is a big place and the Mysterons were short on numbers, so they exploited their mystery powers hoping to unnerve the population of Earth and bring about a capitulation.
Fireball XL-5's resident robot, Robert, who co-piloted XL-5.
... Your Fireball XL-5 series is the one of my all-time favourite television shows. I loved it: Could you please answer the following question? I remember Steve Zodiac, but I can't remember the rest of the regular cast. Who were they?
Larry G. Coulter - Mt. Sterling, IL 62353
Fireball XL-5 - Larry, that is a long time ago. I can remember beautiful Venus, the ship's doctor. Steve Zodiac, Fireball's commander, had a crush on her. Then there was Zoony the space creature, Prof. Matthew Matic and Commander Zero, who was in charge of mission control. Zero had an assistant and his name was Lt. 90. For a little bit of history, I recorded the voice for Fireball XL-5's co-pilot, Robert the Robot, though it is not strictly correct to say that. In fact, I used my mouth to modulate a constant tone emitted by a vibrator pack which was pushed up against my throat. The device came from Edinburgh University and at the time was used by people who had been unfortunate enough to have their larynx removed as a result of cancer.
... What are your impressions of the Star Trek and Space: 1999 feud?
Terry Lemons - St. Louis, MO 63103
I must confess that I was not aware of a Star Trek/Space: 1999 feud. I met Gene Roddenberry some time ago at Pinewood Studios and we spent a couple of hours together chatting amicably. The only nasty thing that he did to me was to drink all my Scotch ... well, half my Scotch ... and in fact we got on extremely well together. I have heard about hostility from certain Trekkies ... on the other hand when many Trekkies had the opportunity of meeting Nick Tate at a Star Trek Convention and heard what he had to say, Nick told me that most of them became very friendly, and he was well received. Certainly I have no feud with Roddenberry or the Trekkies. I think that Star Trek was a very fine show and deserves the success that it has been enjoying.
Next Issue: All about the Space: 1999 Movie!
Starlog 22, May 1979
From The Mailbag
Space: 1999 stars in new Return of the Saint series. Above: Prentis Hancock as Vic in the "Collision Course" episode. Left : Catherine Schell as Samantha in "The Imprudent Professor". Ian Ogilvy stars as The Saint.
...In the Space: 1999 episode "War Games," Moonbase Alpha was attacked by aliens using Mark IX Hawks. If these Hawk warships were built on Earth, why were there none stationed on Alpha?
Jim Hepburn - Warren, MI 48091
Jim, you misunderstood [he point of the story of "War Games, "and that may have been caused by poor editing on the part of the station in your area. In fact, a few other starlog readers have asked how Dr. Bob Mathias was in the second season if he was pulled out into space when the Medical Centre window shattered. Let me try to explain. The point of the story was that aliens in this show had the capability of translating the Alphans' fear into an apparent reality. As the rogue Moon approached the alien planet, the Alphans saw fighter craft which they instantly recognized as Earth Hawks approaching the moonbase. The Alphans retaliated (in self-defence, of course) and it was not long before there was full-scale war, destruction and death. At the end of the episode they realized that the whole incident had taken place in their minds. It was a piece of Anderson philosophy that you missed. War was a concept long banished by the aliens. To prevent the humans from "contaminating" their world by landing, the aliens played out their warning in the Alphan minds using the only warships they could create images of... Earth 's Mark IX Hawks and the alien space craft encountered by the humans in the "Alpha Child" episode. Everything in "War Games" was nothing more than a dream ...or nightmare, if you wish. So Bob Mathias didn't die.
Why weren't the Hawks stationed on Alpha? Well, it was clearly stated in the dialogue that they were old machines, no longer in use -and would have been phased out before September 13, 1999.
... What are the stars of Space: 1999 doing nowdays?
Fred King - Los Angeles, CA 90035
Well, Fred, most of the people who worked on Space: 1999 are working all over the world, but the last I've heard is that:
Martin Landau has just completed Meteor and The Number, both to be released this summer in the U.S. Barbara Bain is. currently writing a novel. Barry Morse has just completed The Shape of Things to Come. Catherine Schell will be guest starring in ITC's new Return of the Saint series and in the TV movie Look Back in Darkness. Nick Tate has finished Licensed to Love and Kill. Zienia Merton will appear in Return of the Saint. Prentis Hancock also guests in Return of the Saint. Anton Phillips plays a doctor in Return of the Saint. Brian Johnson has moved on from Alien to The Empire Strikes Back, the Star Wars sequel. Nick Allder has filled in for Brian on Alien. Clifton Jones will appear in the mini-series Ike.
The Second Official "Space: 1999" Convention
I am pleased to report that as a result of the overwhelming success of the first Save: 1999 Convention held in Columbus, Ohio, the National Save: 1999 Alliance has announced that the Spacer 1999 Convention '79 will be held this year in Pittsburgh, Penn. If you're interested in coming to the convention on July 27-29, 1979, and/or joining the National Save: 1999 Alliance, send a self-addressed, stamped envelope to:
The National Save: 1999 Alliance 123 Fawn Valley Drive McMurray, PA 15317
SHADO Commander Ed Straker (Ed Bishop) drives up to the front entrance of Harlington-Straker Film Studios (actually ATV Studios in England), the secret location of SHADO HO in the 1969 UFO series.
... I'd like to ask you two questions about your UFO series. First, who recorded the voice of SHADO's computer S.I.D., the Space Intruder Detector? Second, who designed and built those fantastic futuristic autos like Ed Straker' s car and what happened to them?
Joe Dearborn - Harwich Port, MA 02646
The voice of S.I. D. was Mel Oxley. Since the story of UFO suggested that S.I.D. 's voice was generated by a computer, we felt that the diction and voice quality should be perfect and we used Mel Oxley because he was, in fact, at that time a newscaster on the BBC. As to your question about the cars on UFO, I've asked Derek Meddings, who was supervising special-effects director on UFO to explain:
"I designed the cars myself. These designs were then taken to Alan Mann, the racing driver. He built the three cars, which were originally designed for Gerry's film, Doppelganger (Journey to the Far Side of the Sun), at a cost of around £10,000, which came to about $30, 000 in 1969. Before they were actually built, a company in Germany, who had some modelmakers for actual cars, came over to England and built the shape of each car in clay, like they do in a normal car factory. When the clay models were finished, I was asked to go and have a look at them and alter them or do whatever was necessary to bring them into proper design. Once this was done, Alan Mann built the cars out of sheet aluminium on top of a Ford Granada chassis. They were then upholstered and finished off like a real car. The gull-winged doors didn't work technically or hydraulically; somebody always stood off-camera, holding the corner of the door. The only time you see the door open on its own is when it's propped up, but you can 't see how it's propped up. There were also three Austin Mini-Mokes, little jeeps, which I redesigned by putting an extra set of wheels on the back so that they had six wheels altogether. Then a company called Space Models, who did a lot of fiberglassing, built the actual canopies and bodies for them which were built over an existing Mini-Moke. "
What happened to them ? Well, they were sold off at the end of the production with all the other props, and since then they have changed hands many times. Sadly, I don 't know where they are today.
... I've heard that there's an official fan club for Nick Tate, Space: 1999's Alan Carter, in England. Could you please tell me the address? I'm sure many fans of Nick would be interested.
Debbie Phillips - Las Vegas, NV
The official fan club is The British Nick Tate Club. Nick keeps in constant touch to keep members up to date on his activities. Further details and membership information can be obtained by mailing two International Reply Coupons to: The British Nick Tate Club 69 Frances Road Acocks Green Birmingham B276LT England
See you next month.
-Gerry Anderson
Starlog 23, June 1979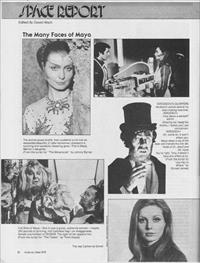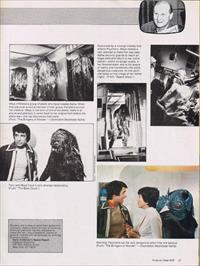 Starlog 25, August 1979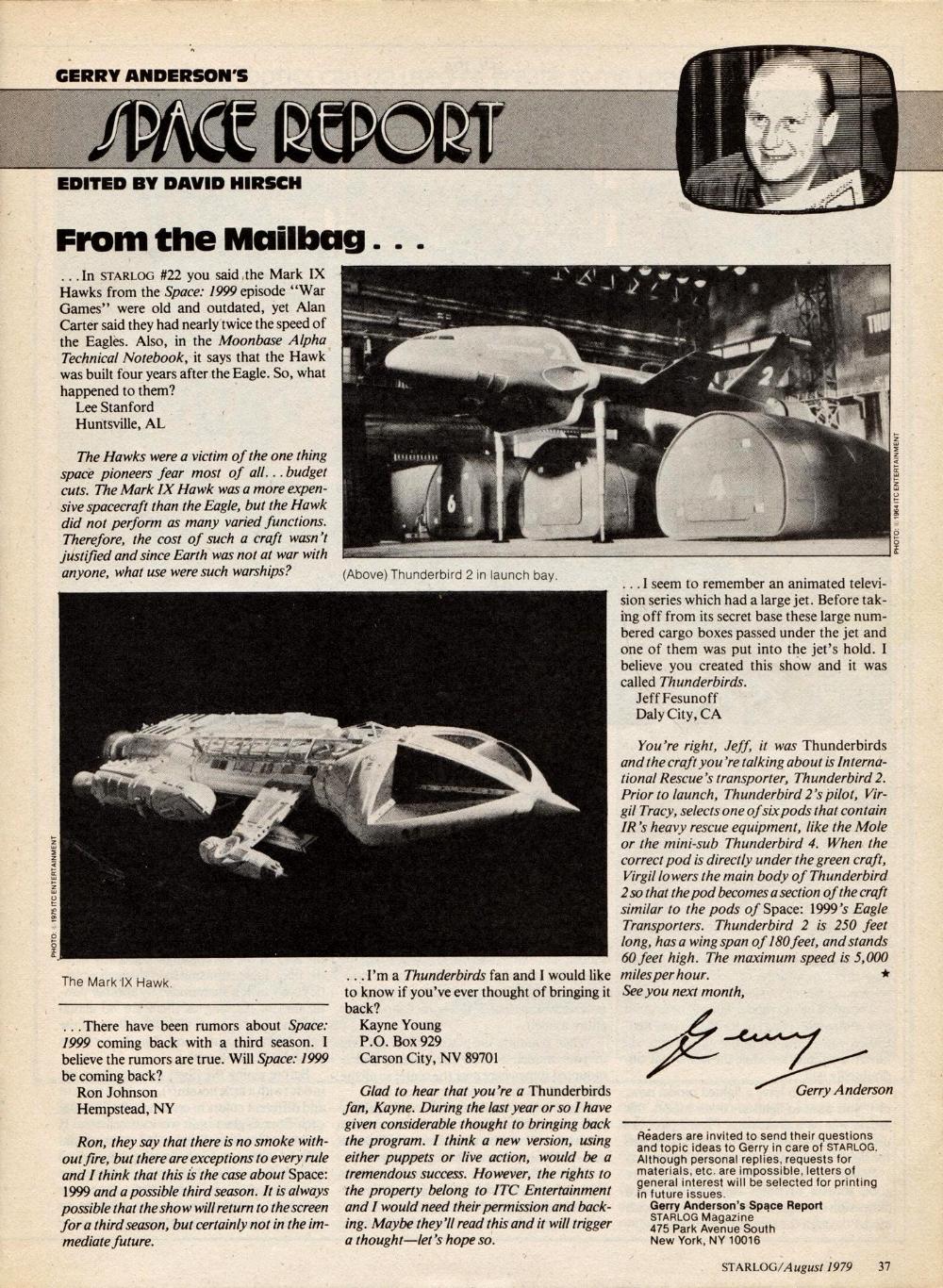 Prom the Mailbag
... In Starlog #22 you said the Mark IX Hawks from the Space: 1999 episode "War Games" were old and outdated, yet Alan Carter said they had nearly twice the speed of the Eagles. Also, in the Moonbase Alpha Technical Notebook, it says that the Hawk was built four years after the Eagle. So, what happened to them?
Lee Stanford - Huntsville, AL
The Hawks were a victim of the one thing space pioneers fear most of all... budget cuts. The Mark IX Hawk was a more expensive spacecraft than the Eagle, but the Hawk did not perform as many varied functions. Therefore, the cost of such a craft wasn't justified and since Earth was not at war with anyone, what use were such warships?
...There have been rumours about Space: 1999 coming back with a third season. I believe the rumours are true. Will Space: 1999 be coming back?
Ron Johnson - Hempstead, NY
Ron, they say that there is no smoke without fire, but there are exceptions to every rule and I think that this is the case about Space: 1999 and a possible third season. It is always possible that the show will return to the screen for a third season, but certainly not in the immediate future.
... I'm a Thunderbirds fan and I would like to know if you've ever thought of bringing it back?
Kayne Young - Carson City, NV 89701
Glad to hear that you're a Thunderbirds fan, Kayne. During the last year or so I have given considerable thought to bringing back the program. I think a new version, using either puppets or live action, would be a tremendous success. However, the rights to the property belong to ITC Entertainment and I would need their permission and backing. Maybe they'll read this and it will trigger a thought - let's hope so.
... I seem to remember an animated television series which had a large jet. Before taking off from its secret base these large numbered cargo boxes passed under the jet and one of them was put into the jet's hold. I believe you created this show and it was called Thunderbirds.
Jeff Fesunoff - Daly City, CA
You're right, Jeff, it was Thunderbirds and the craft you 're talking about is International Rescue 's transporter, Thunderbird 2. Prior to launch, Thunderbird 2's pilot, Virgil Tracy, selects one of six pods that contain IR 's heavy rescue equipment, like the Mole or the mini-sub Thunderbird 4. When the correct pod is directly under the green craft, Virgil lowers the main body of Thunderbird 2 so that the pod becomes a section of the craft similar to the pods of Space: 1999's Eagle Transporters. Thunderbird 2 is 250 feet long, has a wing span of 180 feet, and stands 60 feet high. The' maximum speed is 5,000 miles per hour. *
See you next month,
Gerry Anderson
Starlog 27, October 1979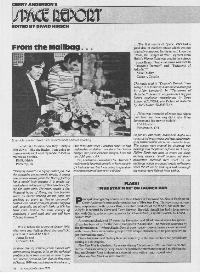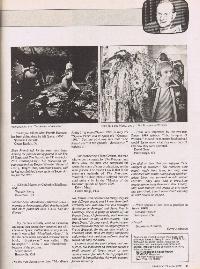 Prom the Mailbag
Brian Johnson and Cyril Foster retouch models before shooting.
... I would like to know how they " dirty a ship down" like the Eagles. I am going to make a movie and I want my model to look as realistic as possible.
Phillip Heide - Pomeroy, IA
"Dirtying down" is a highly skilled job, but the principles are extremely simple. A brand new airliner towed from the Boeing factory has a model look because it is totally unmarked and unlike aircraft that have been flying for some time. However, within a few thousand hours of flying, the tires become worn, oil marks develop on the flaps, the cowlings go sooty as they're continually blasted with hot air from jets, paint is chipped and, generally, the aircraft looks as if it has been used. Follow the same concept of visualizing a used craft and you will have "dirtied it down/'
... Weeks before the release of Space: 1999, what were your feelings about the series? Did you think it would be a hit?
James Krenek - Crockett, TX
In these days of science-fiction movies with astronomical budgets, a lot of the technical problems have been cracked on how to present science fiction on film. But the first series o/Space: 1 999 was made before the advent of
Star Wars and when I realized what we had undertaken to deliver, not for a big cinema budget, but for a television budget, I can tell you I felt pretty sick.
Yes, I did think it would be a hit. After all, I really would have had no right to have made it if I had believed that I was going to spend an enormous sum of money on a failure.
... The first season of Space: 1999 had a good deal of excellent music which was not originally composed for the series. I know the "Mars, the Bringer of War" segment from Holst's Planets Suite was used in the episode "Space Brain," but what music was used in "Dragon's Domain" and "Testament of Arkadia"?
Mike Dudley - Calgary, Canada
The music used in "Dragon's Domain " was Adagio in G Minor by Albinoni and arranged by Alain Lombard. In "Testament of Arkadia," the music was from the Chappell library catalogue- Appasionata by Serge Lancen (CLP705A) and Picture of Autumn by Arel Dutour (DMM313A).
... What was the model of Moon base Alpha built from and how long did it take Brian Johnson and his crew to build it?
Tod Ellsworth - Portsmouth, OH
As far as I can recall, Moonbase Alpha was constructed in six weeks and was made mainly of plaster which was set on a wooden base. The craters were created by dropping ball bearings into the plaster before it set. Finally, Fullers Earth was used to create the dusty looking surface. Small sections of front projection material were stuck on the buildings which produced bright reflections when the set was lit, making it look as though the rooms were lighted from within.
FLASH! FIVE STAR FIVE" ON LAUNCH PAD
Principal photography commences this October at Pinewood Studios in England on Gerry Anderson's spectacular production of Five Star Five. This epic space adventure, co-produced with Sydney Rose, executive producer of the Who's The Kids Are Alright, is scripted by Gerry and Tony Barwick. Barwick himself has had a long association with Gerry, as he scripted episodes for Thunderbirds, Captain Scarlet, UFO and Space: 1999.
A shooting schedule of 17 weeks for live action and 20 additional weeks for special effects has been set up for the movie, budgeted at $ 1 2 million. The movie is described by the filmmakers as "Where Eagles Dare in outer space- pure adventure entertainment with the emphasis on a central group of five unique characters, to be portrayed by major international stars."
Gerry Anderson and Sydney Rose are currently in the United States for preliminary casting in Los Angeles.
Five Star Five is scheduled for release during Christmas of 1980, in Panavision and stereo. Plans are already being made for worldwide merchandising and publishing tie-ins, and Sydney Rose is planning a musical tie-in with a major record label.
More on Five Star Five next month!
... Could you tell me what Prentis Hancock has been doing since he left Space: 19991
Shimane Oderkirk - Cedar Rapids, IA
Since Prentis left he has been very busy. Among the films he has appeared in are The 39 Steps and The Nativity (a TV movie for 20th Century-Fox); his television appearances include Doctor Who (in "Planet of Evil"), Danger UXB, Armchair Theatre, and he has just finished a new series of Secret Army for the BBC.
... Is Zienia Merton or Catherine Schell married?
Waverly Pierre - Beaumont, TX
Neither Zenia Merton nor Catherine Schell is married at the moment, albeit they have both had more proposals than I have had hot dinners!
... My parents recently went to Germany and upon their return they presented me with a book on Space: 1999 written entirely in German. It was called " Mondbasis Alpha 7." Is this the name of the series in Germany? In the book, "Breakaway" was called "Die Katasrphe." I know it was "Breakaway" because of the pictures.
Steven Reder - Brookville, OH
The show in Germany entitled "Mondbasis Alpha 1" is indeed Space: 1999. In Italy it's "Spazio 1999" and in Spain it's "Cosmos 1999." You are obviously sure that "Die Katastrphe" is the episode "Breakaway/' which it is.
... I am wondering if Ron Grainer, the man who wrote the music for The Prisoner, and Barry Gray, the man who composed the scores for many of your productions, are the same person. The reason I ask is that in the premiere episode of The Prisoner, "Arrival," a short phrase is played that was used quite a bit in the "Mission of the Darians" episode of Space: 1999.
Kelvin Mead - Cutler Ridge, FLA
No, Kelvin, Ron Grainer and Barry Gray are, two different people and I know them both extremely well. Ron now lives in a beautiful farmhouse in Portugal and Barry lives in Guernsey, one of a group of islands off the French Coast. Unfortunately, both men are part of what we call, in this country, "The Brain Drain. " In other words, they have been so successful that they can no longer afford to live in England, for the tax man would be hounding them. Both are highly competent and professional musicians and one certainly would not copy the other.
I cannot recall the short phrase that you refer to, but sometimes on television we use a small amount of library music or even classical music for which the copyright has expired. It is possible that this might account for the similarity.
... I was very impressed by the two-part Space: 1999 episode "The Bringers of Wonder." I found the monsters fascinating. I would like to know what they were made of and how they were operated.
David Guay - Pittsburgh, NY
I'm glad to hear that you enjoyed "The Bringers of Wonder. " The monsters were mainly made from latex, but they were embedded with plastic tubing along which artificial blood was pumped to add greater realism. They also had a breathing mechanism to make them look alive. Finally, they were painted with grease to give them that slimy took. I can 't understand why they haven't caught on as pets.
... Were special effects ever a problem in Space: 1999?
Richard Pelletier - Sunnyvale, CA
Always!
See you next month,
Gerry Anderson
Starlog 31, February 1980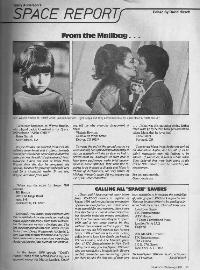 From the Mailbag
Left: Wayne Brooks as "Alpha Child" Jackie Crawford. Right: Maya and Tony admit their love for each other in "Beta Cloud.'
...Whatever happened to Wayne Brooks, who played Jackie Crawford in the Space: 1999 episode "Alpha Child?"
Brian Garrett - New Orleans, LA
Wayne Brooks was selected from over 100 children interviewed and I cannot honestly remember whether he came from a theatrical agency or was the child of a friend of a friend. However, I have not seen or heard from Wayne since the day he completed the episode. He must be grown up and could very well be a STARLOG reader. If you are, Wayne, let's hear from you!
... When was the score for Space: 1999 written?
Bill Boston - Jacksonville, FL 32217
Obviously, you cannot score a picture until it is completed- how else could you make the music support the story? Each score was written the moment we had a finalized cut. This left the composer (in this case Barry Gray for Series 1 and Derek Wadsworth for Series 2) very little time to write the music and copy the band parts - most music sessions were in fact the day before the final dubbing commenced.
...In the Space: 1999 episode "Devil's Planet," none of the second season regulars appeared except for Martin Landau. Could you tell me why everyone disappeared at once? What was the reasoning behind letting three years go by before Tony gets around to telling Maya that he loves her?
Virginia Bowman - Denver, CO 80219 Portland, OR
Towards the end of the second season we were shooting two episodes simultaneously to stay on schedule with the air date we had to deliver them by. Although we were able to have some performers make brief appearances in some episodes, they were not required to be in (such as Koenig and Maya in "Mark of Archanon"), the very nature of Michael Winder's script did not require the use of the other characters.
Tony loved Maya from the day she arrived on Moonbase Alpha, but like all of us he didn't necessarily want his feelings to be known. If you recall, it was at a time when Tony believed they were both about to die ("The Beta Cloud") that he made his pronouncement.
See you next month, Gerry Anderson
CALLING ALL "SPACE SAVERS
Gerry and I have received many letters from STARLOG readers in support of Space: 1999 and requesting the production of a new series or feature film. While we are most grateful for your support, there is very little that Gerry or I can do about resurrecting the series under the present conditions. ITC Entertainment owns all rights to Space: 1999 and a new series cannot be shot without their consent and/or support. The best way you can help pave the way for new Space: 1999 adventures is to write a clear, polite letter to Lord Lew Grade, the head of ITC in London, and Abe Mandell, president of ITC Entertainment in New York telling them why you like Space: 1999 and why you would like it brought back. Be very cordial; remember you are asking a favour for them to take the time out of their very busy schedules to investigate the possibility of putting Space: 1999 back in production. You can be most effective by sending a letter to both these men. Their addresses are:
Lord Lew Grade
ITC Entertainment
ATV House
17 Great Cumberland Place
London W1A 1AG
England
Abe Mandell, President ITC Entertainment The Galleria 115 E. 57th Street New York, NY 10022
To keep Space: 1999 on the air, write your local TV station. - David Hirsch
Starlog 41, December 1980
THIRTY
September 10, 1980
Dear STARLOG Readers,
Since STARLOG #15, I've endeavoured to keep you informed on my current projects and answer all your questions about Space: 1999 and my other productions. I'm sure it has been as worthwhile an experience for you as it has for me. However, recent events in my life have made it difficult to keep up with STARLOG 's monthly deadline and rather than let the quality of "Space Report" deteriorate, the editors of STARLOG and I have agreed to drop "Space Report" as a monthly column. This certainly does not mean that STARLOG is abandoning its readers who enjoy my productions. We intend to keep you informed up-to-the-minute on some of the new and exciting projects that lie ahead.
Currently, I am Chairman of a company called Southern Counties Television, Limited. It is one consortium of the six bidding for the franchise of Southern Television. This is the TV station that services the entire south of England. This project is taking quite a lot of my time and the results will be announced by the IBA (Independent Broadcasting Authority) at the end of this year. If we win the franchise, I will be Chairman of a company that will have two major television studios and a film production company. This project is important to me and you can imagine that it holds the promise of a very exciting future.
I am also heavily involved in an American feature film. For the moment, I can't disclose anything about it. We're hoping to start shooting next year. Sadly, this is not Five Star Five. When someone woke up and discovered that SF films do make a lot of money after the success of Star Wars, I'm afraid that all the SF films produced thereafter have been backed with American money whieh, as it happens, came over with American producers. After pioneering SF television for 20 years, I should have been riding the crest; unfortunately, inflation has made things very tight here in England and we weren't able to get the money we needed for Five Star Five from the backers.
Finally, I have what is essentially a "Top Secret" project which I think will be of interest to STARLOG readers if it happens.
As you can see, things are very busy at the moment and your enthusiasm won't be forgotten.
At the first Space con in Columbus, Ohio. Clockwise from top left: Martin Landau, David Prowse, Gerry Anderson, David Hirsch, Barry Gray, Clifton Jones and Nick Tate.
Before I did the first Space: 1999 convention back in 1978, 1 had no idea how valuable props and things from my shows were. In this industry, sets and props are just tools for production and when they're not needed, they're discarded. I'm not saying this is wrong. Storage costs money and when a production is shut down there's no longer any money coming in to pay the studio or warehouse to hold the material. Nevertheless, it is a shame because the material obviously has some sentimental value. The stuff in my exhibition at Blackpool has been salvaged from many private collections; none of it stolen, but when we were producing new series one after the other we had to clear out a great deal of material that could not be reused on another production. I had to give the order from time to time to destroy things to clear the prop and scene docks, but many of the staff who had worked very, very hard on the series took stuff home for sentimental reasons. I didn't stop them because all we would have done was burn them.
It's sad that things like this had to happen. The sets for Alpha on Space: 1999 were really well made. Eventually, ATV had to turn the sets and props out to be burned to make room for a new series.
Lastly, I'd like to extend my thanks to Kerry O'Quinn, Norman Jacobs and Howard Zimmerman for giving me the opportunity to answer your questions these past 25 or so issues and to David Hirsch, for all the help he's given me. As I've always said, "He knows more about Gerry Anderson than Gerry Anderson."
Again, thank you all for your support.
Bye for now,
Gerry Anderson Buckinghamshire, England
Editor's Note:
"Thirty," the title of this column, is a term used in publishing meaning "The End." I have avoided printing this column for a long time, but Gerry's schedule over the last year has become so hectic that is became impossible for us to continue the constant dialogue we had at the beginning. I, for one, really hate to see the "Space Report" go. In the last two and half years, we have brought the talents of Martin J . Bower into public view, covered the first two Space: 1999 conventions, and spotlighted the genius of Barry Gray.
Rest assured that while "Space Report" departs, we will continue to cover Space: 1999 and the other Gerry Anderson productions as well as bring exclusive coverage of ITC's Super Space Theatre which will bring to American television, for the first time, two Supermarionation films never seen before.
There is still much to do and I would like to hear what you would like to see.
Finally, I would like to return Gerry's compliment by saying that I have never met anyone with more exciting ideas than Gerry Anderson. Each time we meet he never ceases to amaze me with all the wild and wonderful ideas that pour out of his head. I wish him luck on his new endeavours.
David Hirsch New York City September 15, 1980
---