Calgary 2023
Calgary, Alberta, Canada
27th April- 1st May 2023
---
Email: destinationmoonbasealpha@yahoo.com
The convention had an exhibition of original models and props, including an original 44 inch Eagle. There was also be a large number of replica Eagles, and other spaceship models, on display.
The next convention will be held in London, 11th - 17th September, 2024
Photos thanks to David Hirsch, Darren Peters, Warren Friedrich, Robert E Wood.
Guests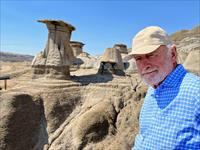 Nick Tate (photo by Robert E Wood)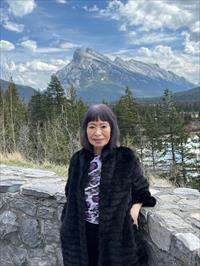 Yasuko Nagazumi (photo by Robert E Wood)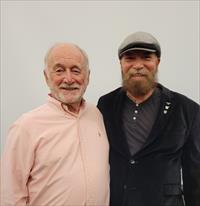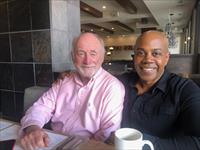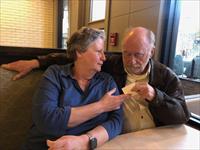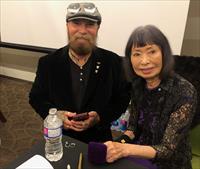 Nick and Yasuko also joined fans on excursions to tourist attractions in Alberta. (more photos)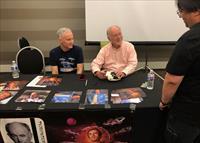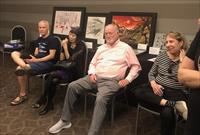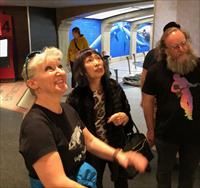 Also attending was film-maker Jeffery Morris, who is preparing a documentary The Eagle Has Landed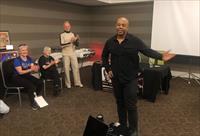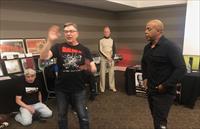 Signing their recent books were authors David Hirsch and Robert E Wood. Their recent books are To Everything That Might Have Been (2022), and Maybe There (2022); they previously wrote individually Moonbase Alpha Technical Notebook (1977) and Destination Moonbase Alpha (2009)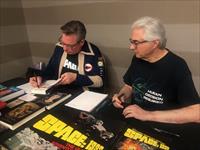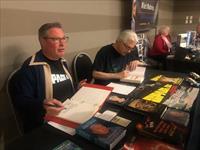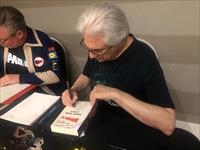 Model room
The model room included two original Eagle studio models (more pictures here) plus original Eagle pods. There were also displays of original artwork, publications that Martin Landau personally collected, and replicas (see here)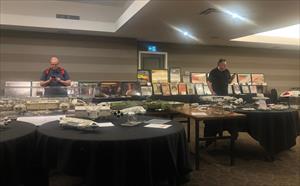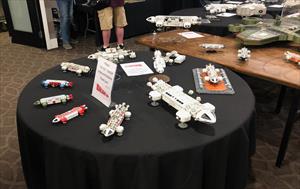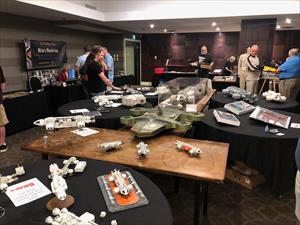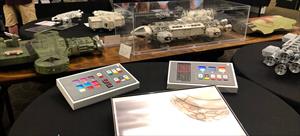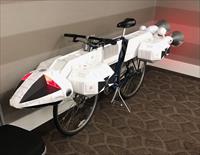 Schedule
Thursday 27th April 2023
Reception 7pm-10pm at the Sandman Signature Downtown Calgary Hotel - 888 7th Ave SW.
Friday 28th April 2023
Excursion to Vulcan. Possible Calgary Tower tour and Calgary Comic Expo trips.
Saturday 29th April 2023
Model/prop exhibition:

9:00am - Room opens: original 11" and 44" filming Eagles, Keith Wilson artwork, screen-used Command Centre panels, and production-used scripts on display. World premiere of the Martin Landau archive exhibit, plus exclusive merch from The Gerry Anderson Store, Bill Altenburg, 1999 Collectibles.
10:00-11:30am - Nick Tate and Yasuko Nagazumi autograph signings/photo-ops.
11:30am-12:30pm - David Hirsch and Robert Wood book signings.
1:30-3:00pm - Nick and Yasuko autographs/photo-ops.
3:30-4:00pm - World's largest 'Eagle' photo-op. Bring an Eagle from your personal collection to be included. Everyone welcome!
4:00-5:00pm - David Hirsch and Robert Wood books signings.
5:30-6:00pm - Nick and Yasuko Q&A.
6:00-7:30pm - Nick and Yasuko autographs/photo-ops.
8:00pm - Room closes.

Sunday 30th April 2023
Day-trip to Drumheller, Alberta to visit the Royal Tyrrell dinosaur museum and Badlands, with Nick Tate.
Monday 1st May 2023
Day trip to Banff, Alberta. Trip to scenic Lake Louise and gondola ride up Sulphur Mountain.