The Eagle Has Landed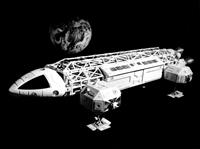 This is a documentary that will be written and presented by Jeffrey Morris, discussing the impact of Space: 1999's Eagle spaceship. It is not a Space: 1999 documentary- it focuses on the Eagle, space technology, and movie spaceship design.
It will released in 2025 (50 years after the debut of Space: 1999). Filming will begin in June 2023, with some filming at the Calgary convention, 27th April -1 May 2023.
Jeffrey Morris/ Futuredude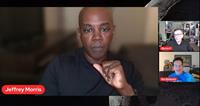 The film will be produced and presented by film maker Jeffrey Morris (FutureDude biography, Imdb). Based in Minneapolis , Minnesota, Morris was a dancer and video director, working with Prince in the 1990s, he later worked in science education and science fiction graphic novels and wrote and directed an animated short Parallel Man: Infinite Pursuit (2014) and the live action short Oceanus: Act One (2015). His science fiction film Persephone will be filmed in 2023 (website).
Morris has previously pitched concepts for rebooting Space: 1999 to ITV.
Concept
It will probably be available on a streaming service. The length will be approximately 90 minutes.
The documentary will have interviews with film and science professionals about the Eagle. It will include original footage of the Eagle with new scenes filmed with models and CGI.
Interviews will include effects and science fiction creators influenced by the Eagle, and scientists and astronauts inspired by the ship.
It will also look at the historical context of real-like spacecraft like the Apollo missions, and real-life future missions such as Artemis.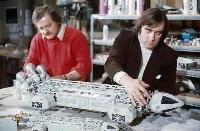 Brian Johnson, who designed the Eagle and directed the effects in 1973-1976, will be interviewed.
Steve Begg, effects director on recent Bond movies (imdb) will also participate.
George Lucas, who wrote and directed Star Wars, may also be interviewed (the 1999 Eagle has a well-known connection to the Millennium Falcon, described in the 2022 Disney+ documentary Light & Magic).
Development
Morris talked about the documentary in the Destination Moonbase Alpha convention (10 September 2022).
Media:
---