---
SF:UK
2001 00:35-01:05 Sun 8th April Channel 4 (UK)
This documentary series about British science fiction looked at Gerry Anderson, J G Ballard and Ridley Scott in the episode "Sex Machines", about the British obsession with machines. The programme featured clips from UFO and Space Warp (including the Eagle crash and Alan fighting the Maya animal on the lunar surface). Gerry Anderson was interviewed, but did not talk about Space 1999. The pristine, Utopian Moonbase was contrasted with the dirty, blue collar technology of Alien and Blade Runner.
Top Ten TV
2001 Sat 13th October 21:00-22:40 Channel 4 (UK)
This segment of the series ranked the ten "top" science fiction series, placing Space 1999 at number ten. There were brief interviews with Gerry Anderson, Catherine Schell and Nick Tate. Full transcript.
Malcolm In The Middle episode 304- "Malcolm's Girlfriend"
2001 28 November, Fox (USA)
Comedy series. Not a clip, but a brief mention of the show. One of a group of geeky kids in the playground says they will be watching a Space 1999 marathon on the Sci Fi Channel. (thanks to Shane).
Futurama, episode "Where No Fan Has Gone Before"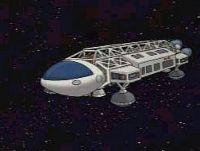 2002 21st April (USA)
Comic animation series. In the future, all Star Trek fans have been banished to Omega 3. This spaceship has a familiar design...
Daily Show, Comedy Central
2002 29th April (USA)
One of the headlines was about Mark Shuttleworth and his $20 million trip to the Space Station this week. The headline title was Space: $19,999,999, done in the same style as the show titles. (Thanks to Patrick Zimmerman)
The Simpsons, episode DABF21 - "Helter Shelter"
2002 Sun 1st December, Fox (USA)
Series 14 of the comic animation series. When the Simpsons stay with Comic Book Guy, there is a toy Hawk on his shelves.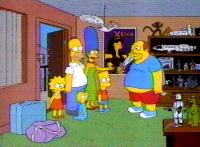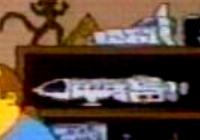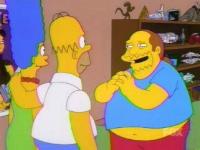 2002 Thurs 26th December, 10.55 - 11.35, BBC1 (UK)
There was a short section on the early appearances of famous faces in sci fi programmes - Doomwatch, Blakes 7, Dr Who etc. A clip from Force of Life was taken to show a young Ian McShane, as he gives up trying to get in to the nuclear generating area, Carter comes forward and shoots him, and he explodes and falls to the floor. Once all the clips were shown, presenter Angus Deayton made a comment like 'Just goes to show that in the future, our guns will be shaped like stapleguns, and they won't kill anyone, merely cook them.' The clip then played again. Then, he seemed to 'remember' an earlier clip of a KFC promotional film starring Gaby Roslin. The clip played again, this time with a voice over from Roslin 'How do you get it so crispy and tasty?' (Thanks to Chris Dale)
2004 7th June BBC 3
(By Stephen Herbert) In Episode #5/Series 4 (entitled "The Naked Living Room" from 2004) of the British relationship comedy series of "Coupling" there is a scene whereby the erratic, disaster-prone character of "Oliver" (played by Richard Mylan) is being questioned by the scatty, yet gorgeous, "Jane" (played by Gina Bellman) over Oliver's bachelor-flat that consists of mostly sci-fi and pornographic materials.
Approximately 17 minutes into the cosmopolitan goings-on of this episode, Jane goes into Oliver's kitchen to apparently make some tea, but she comes out naked, standing in front of Oliver to show him what 'real' nakedness is! She quips.. "How's this for naked?", and you get the first glance of something very Space 1999 as the camera pans closer to Oliver.
You get shots of Oliver's shelves that are full of sci-fi/fantasy paraphernalia, but what is most noticeable on his shelf is a very well-looked-after Space 1999 Metal Lunchbox (made by the King-Seeley Thermos Co. USA in the 1970s) which is very prominent as you view the Captain John Koenig side for several shots during the interactive dialogue between the two.
Oliver is stumbling over his words and attempting to regain some composure of viewing Jane in the flesh, but considering the proliferation of bigger name-brand toys on the marketplace (from Star Wars, Star Trek, Doctor Who, etc) it comes as a big surprise for '99 fans to actually stumble upon this!
All the seasons of "Coupling" are available in DVD box-set on BBC now.
2004 Mon 20th September, 8pm, Sky One (UK satellite)
Second in a series of three "top 10" programmes. A panel of "experts", including Gerry Anderson, selected a shortlist of 30 aliens, robots and sci-fi moments, from which the top ten were voted by viewers.
Maya was voted to number 5. Full transcript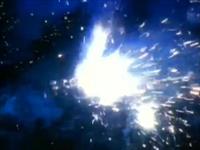 2004 music video for Australian rock band Midnight Oil
The music video is based on footage from a 1985 concert, with space themed imagery including real rocket launches and crude effects. At the 3:11 mark, a spinning Airfix/MPC Eagle is seen being blown up, apparently by fireworks.
2005 film directed by Judd Apatow
The title character, played by Steve Carell, collects action figures. Among his collection are the Mattel Koenig and Bergman, which can be seen in the display cases when his friend drops off a large box of pornography. Thanks to Charles McEvoy.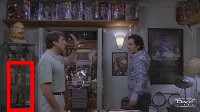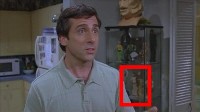 Hit US TV series starring Kiefer Sutherland, in the 4th (2005) season.
In the 11th episode, first aired February 28, 2005, we see an office of a company called "IDS Systems". The logo seen in the background is a plan of Moonbase Alpha.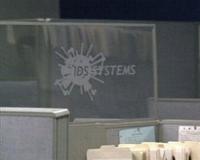 Japan, Episode 12, 21 December 2006
A 12-episode Japanese anime series based on Shotaro Ishinomori's manga series about a female cyborg secret agent. Episode 12, "Daybreak", features a spaceship crashing into the Moon. The spaceship design is an Eagle. Later in the episode is Mac's car from Gerry Anderson's Joe 90 (complete with flying sequence), the Magnacopter and the Mysteron city from Captain Scarlet and Shado mobiles from UFO. Another episode contains Thunderbirds 5 from Thunderbirds. Thanks to Ekmar Brand.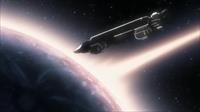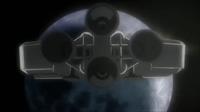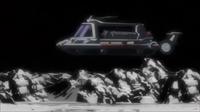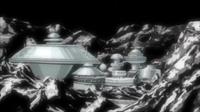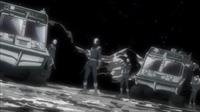 2006 Mon 28th November, 9pm, BBC4 (part of BBC4's "Timeshift" strand)
The programme uses clips from "Another Time, Another Place" (and the song "Another Girl, Another Planet"!). We see the Moon, Regina, Koenig and Bergman all being split into two, and Regina's visions of confronting her mirror self. Strangely enough, the narration makes no mention of the origin of these clips, which could lead some viewers wondering what it is they had been seeing. Thanks to Chris Moore.
2007 Mon 3rd November, Film 24
Documentary on the career of Gerry Anderson. Based around an interview with Gerry, it includes a short interview with Catherine Schell. Full transcript
2008 January, UK commercial channels
30 second UK advertisment for the electricity supplier EDF Energy. As the final caption reads "This commerical is made from recycled TV clips". Clips include Bugs Bunny, The Saint and Pingu. All are silent under the commercial narration and music ("There's a company that rewards customers for using less of it's product") with the one exception - a 1 second clip of Koenig and Helena from War Games in the Eagle cockpit as Koenig says "... keep us guessing...".
2008 2 January 21:10-22:10 BBC4 (a UK digital channel);
Sunday 28 December 2008 18:10-19:10 BBC2 (UK broadcast channel)
Broadcast as part of a "Thunderbirds Night" (first on the digital channel BBC4, then the mainstream channel BBC2 as part of the Christmas schedule). Directed by Jeff Simpson, and narrated by Jack Davenport, this documentary focused on the career of Gerry and Sylvia Anderson, particularly on Thunderbirds. Interviews included both Gerry and Sylvia, Shane Rimmer, Keith Wilson and others (including a few not involved in the original productions, such as Nick Park, creator of Wallace and Gromit).
The documentary finished with Space: 1999, which was covered only briefly (just over a minute), with only Keith Wilson commenting (an Eagle shown behind him). Clips were from the Year 1 titles and Mission Of The Darians.
Narrator (Describing working with live action in UFO): "It was a group up world, and Gerry and his crew were over the Moon. Meanwhile, another dream had been realised."
Archive footage of Neil Armstrong: "It's one small step for man, one giant leap for mankind"
Keith Wilson: "Before the moon landing, we really didn't know what it was like. This was the first time we'd ever seen, like everyone else, outer space. It was actually rather dull."
1999 titles: Space 1999 title- card, and Eagle falls.
Narrator: "So in the search for adventure, the only option was to send the moon itself into the outer reaches of the universe."
1999 titles: explosions on moon surface, breakaway shots.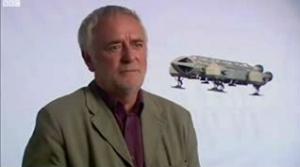 Keith Wilson: "It was wonderful to work with real actors, particularly on Space 1999 we had guest stars that you would die for. I remember having to design an outfit for Joan Collins. Unbelievable! When I look at the design, it was naff to say the least, but at the time it wasn't. She was incredible. I've never seen a woman so beautiful. Her legs were extraordinary. This was really exciting, this was film making."
Background footage: Kara explains to Koenig in the Darian recovery room.
Kara: "A million years of civilization gone. What future do we have now?"
Footage: end of titles as Moon leaves Earth. Narrator: "Space 1999 ended in 1977, by which time Gerry and Sylvia had split up and their crew had flown the nest, out making their mark in the big wide world.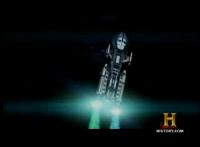 2008 November 11, The History Channel (US)
An hour long science-fact episode of the series showed various threats in space, including solar flares, meteorites, and more speculative potential disasters such as antimatter rockets exploding. To illustrate this last disaster, computer graphics showed a rocket taking off- the rocket's design is clearly a Hawk from the Space: 1999 episode War Games, seen from the underside. The Hawk rocket then blows up, over a city (why antimatter rockets have to be launched next to a city isn't discussed). Actually the scenario discussed is close to the episode Voyager's Return.
2011 March 1 Tue 22:00, BBC 2
Comedy series presented and written by Charlie Brooker using archive clips to show the "gulf between real life and television". Episode 5 covered technology and science, including the historic context of the NASA moon landings. Clips of UFO (titles) and Space: 1999 (title card, Breakaway and series titles of the breakaway) were shown.
Brooker: "After mounting a lengthy campaign in it's honour, TV now started to wonder if progress was such a good thing after all."
Announcer: "The totally unforeseen accident on the lunar surface has caused very serious repercussions here on Earth."
Brooker: "Hence the likes of Space 1999, a depressing vision of a future not worth bothering with, in which the moon had become an industrial waste dump manned by accident prone space lackeys so incompetent they caused a massive nuclear accident which sent the entire meaningless chalky bauble spinning off into deep space with a bunch of angry looking middle aged people in unflattering lycra stuck to it."
2013, Q1 and Q2, North America and Europe
Not a direct series reference, but this 2013 car advert featured a toy that was clearly inspired by an Eagle. The advert shows a young boy playing with his spaceship, until he discards it in favour of a ride in the new third generation Seat Leon. The spaceship toy has a front command module, a module main body, large rear rockets, a top spine, and leg pods (at least in the front).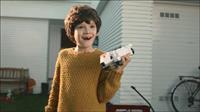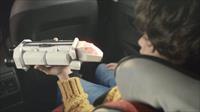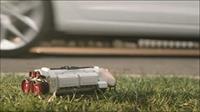 2014 October 20, CBS (USA): "The Expedition Approximation" and following episodes in season 8
The cult sitcom included an appearance of the Round 2 Eagle model, with the box cover clearly visible. The kit appears in the set of Howard and Bernadette's apartment, which includes various other model rockets. The kit is only partially built (without the command module), and the pod is oddly painted in red.
2014 November 9 Sunday 21:00-22:00 BBC4
Professor Brian Cox is joined by two of his heroes, the actor Brian Blessed and Professor Alice Roberts. On the agenda are his TV idols from both science fiction and science fact. Cox and Roberts are well-known academics and TV presenters. The program largely focuses on historic science presenters including Raymond Burke, Patrick Moore and Carl Sagan, and also shows clips of science fiction, including Brian Blessed in Dr Who, Blakes 7 and Space: 1999. Clips from both Metamorph (47 seconds in 4 clips), and Death's Other Dominion (42 seconds in 4 clips) are shown. Afterwards Cox states that Space: 1999 was his favourite show as a child.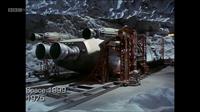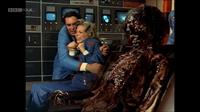 Clip 1 (36 minutes into program, 20 seconds): Mentor on Big Screen: "I am Mentor, of the planet Psychon" to shot of Maya/lion "a familiar argument, Commander. One that has caused the death of millions of our people."
Clip 2 (follows immediately, 10 seconds), Mentor passes in front of Maya/lion, "What do you think of these Alphans, Maya?". Maya transforms.
Clip 3 (follows immediately, 5 seconds). Mentor: "I teach you the priceless art of molecular transformation and see how you use it - foolish games."
Clip 4 (follows immediately, 10 seconds). Maya goes to Mentor. "I'd help you in your work if you'd like." "Oh, no, no, no, there is a great deal about the work that I do that you do not understand as yet." "Oh, father- " "Ah, ah, ah, ah..not yet."
Fade out, and fade into Rowland leading others onto balcony: "There!", immediate cut to Phoenix. 5 seconds.
Clip 6 (follows immediately). Rowland has his arms around Bergman and Helena. "Unencumbered by death, we shall leap from planet to planet, from solar system to solar system, from galaxy to galaxy! We shall be as gods in the Universe! Gods." 12 seconds.
Clip 7 (follows immediately, 5 seconds). Rowland sits next to Helena in Eagle. "Alphans and Thulians will walk together into the future." He takes her hand. Rest of line cut.
Clip 8 (follows immediately). Koenig and Alan in Eagle cockpit. They hear Helena scream. They leave. They run into passenger module. Koenig runs to Helena. Close up of taking corpse hand from hers, camera pans up to Rowland's corpse. Alan looks away. Koenig holds Helena, Rowland's corpse in foreground.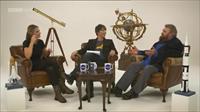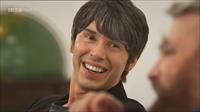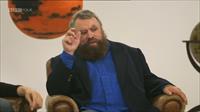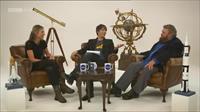 Cox: "I love Space 1999. I've got a Space 1999 outfit."
Roberts: "Have you?"
Cox: "Yeah, I had one made. For my 10th wedding anniversary party, honestly. It was fancy dress and that was my favourite television show when I was growing up. It's good science fiction, Space 1999. Well written."
Blessed: "It is. Space 1999 is very well written, yes."
2015 November 7 Sat 8:30, ITV
The 15th episode of the New Zealand children's series was based on a moonbase on the far side of the moon, which is destroyed by a meteorite shower. The base is named "Shadow Moonbase Alpha", and as the name suggests, the design includes elements of Gerry Anderson's UFO (a geodesic dome in the centre) and Space: 1999 (a wheel and spoke layout). The series is made with model sets and computer generated characters, so the moonbase was a real model. Unfortunately the model photography lacks depth of field, looking small and toy-like.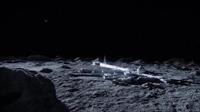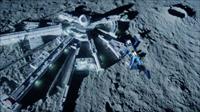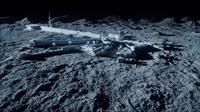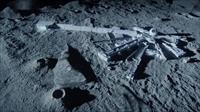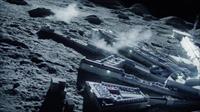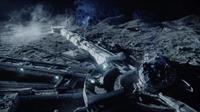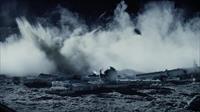 2019 February 17, ITV
The second episode of the sixth series of the police series set in the 1960s. This episode, directed by star Shaun Evans, features a production company making a puppet science fiction series, clearly based on Gerry and Sylvia Anderson's Thunderbirds. The puppet show in this episode is called "Moon Rangers" ("it's a sort of Bonanza in space"), and one scene shows an unseen puppet character called "Barbara" who is lost on the "dark side" of the Moon. One shot is a very specific Space: 1999 reference. We see a wall map of the Moon (actually the near side of the Moon, not the "dark side") with Mare Vaporum, Sinus Aestuum and the Montes Apenninus and Montes Carpatus marked. Below the Apennine mountains (in the unmarked Mare Insularum), is a large plan of Moonbase Alpha. The shot occurs about 20 minutes into the episode. We see a bit more of the map 10 minutes later, when we see a second Moonbase Alpha plan in the Mare Serenitatis.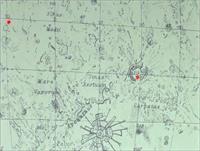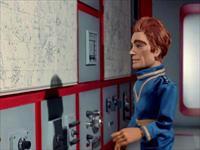 2019 December 27, 6:30pm, BBC 1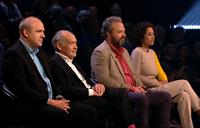 The BBC's TV quiz show Mastermind started in 1972; the celebrity edition started in 2002 and follows the standard format. There are four contestants per 30 minute programme; each has 90 seconds of questions on a specialist subject, then 2 minutes of general knowledge questions. The contestants sit on a chair under a spotlight, an intimidating experience the show's creator famously copied from being interrogated by the Gestapo in World War 2.
The first episode of the 10-part series was a winner's special, with four winners from previous series. One of them was Samira Ahmed, a journalist and presenter, who had won previously in 2010. For this show, her specialist subject was Space: 1999, and she wore a replica moonbase uniform top (unusually for this normally very conservative programme). She answered all nine questions about the show correctly. After the specialist round, three of the four were tied in the lead, with one contestant one point behind.
The questions (paraphrased):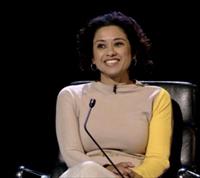 Before the second general knowledge round, the host John Humphrys asked each contestant some personal questions; Samira was asked about her top. She tells him she's disappointed he didn't recognise it, but he says he was "I was too young to be honest." Samira expressed how she had been excited by the show when she was 7 years old.
I was 7, and I realise now that I was looking at watching these adults in their late 20s, set in the 1990s, having these amazing adventures. It was actually 7 year olds watching themselves growing up in the 1990s. It was a series that was famous for being quite dark, I thought if I die a hideous death in this show, it would somehow be like an episode of Space: 1999
I wasn't expecting such a profound answer, I must say.
She increased her score to 21 in the general knowledge round, beating two contestants on 17 and one on 16. Samira was presented with her award as "Champion of Champions".
Samira accepts the award, saying Can I just say, as the nerdy girl in school who never won anything, I didn't have a great time, there is something really lovely about geeking out as an adult.
During the end credits, she states I love Mastermind has given me two chances to come back and geek out on the things I loved as a kid.
2022 streaming from 27 July on Disney+
Six part documentary about the SFX company Industrial Light and Magic, with the first 2 episodes focussed on Star Wars (1977). In episode 1, Joe Johnston describes how Space: 1999 forced the film to redesign Han Solo's ship. The title shot of Space: 1999 is shown with 2 clips, one of the Eagle over the waste dump.
One day George said 'We need a new ship for Han Solo and we need it fast'. Space 1999 came out and they had a ship that was roughly the same shape as the original Han Solo ship. George didn't want to copy anybody. He didn't want anything on TV that looked like one of his ships. So we were not going to use that ship. He says 'We can use that as the blockade runner. But Han Solo needs his own ship.'
The documentary does not mention Brain Johnson, although Lucas visited him in 1975 and tried to recruit him. It discusses Lucas falling out with John Dykstra, but does not mention that Brian Johnson was recruited for Empire Strikes Back to replace him.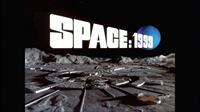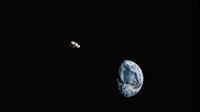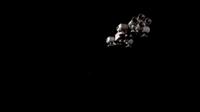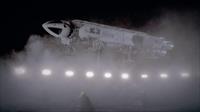 5-25-77
2022 film on streaming services including amazon; the film had a long production span of 18 years, with an incomplete version of the film shown in 2012, and was a limited theatrical run in 2017
An autobiographical comedy directed by Patrick Read Johnson, it shows a teenager making amateur films in the mid-1970s, leading up to the release of Star Wars. In early scenes we see one of his films is "Space 2000" featuring an MPC Eagle on a table-top set. Later in a montage of crashing spaceships around actor John Francis Daley, an Eagle crashes into the electricity wires between two pylons.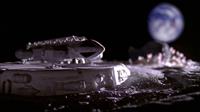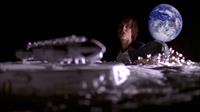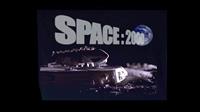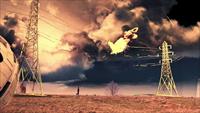 ---
---