Directors are in charge of making an episode. In Space: 1999, the directors were allocated episodes in rotation. The episode director was involved in preproduction, developing the script (with the script editor and writer), casting the episode (with the casting director), and planning the sets (with designer Keith Wilson). During filming, they were in charge of the camera crew (led by the lighting director), as well as directing the actors. Directors of TV series have to follow the creative style established in the first episode, but several directors succeeded in showing their distinctive creative style in their episodes. Unusually, Lee H Katzin was involved in editing his episodes, but normally episode directors were not involved in post-production.
Assistant directors Ken Baker, Bob Lynn and Dominic Fulford were responsible for the day-to-day administration for filming- preparing the shooting schedule, the daily call sheets, and general organisation. Bob Lynn was to step up as full director of three episodes.
Second and third assistant directors like Steve Lanning, Roy Button, John Downes and Gerry Toomey organised actors, make-up, sets and film crew.
Ring Around The Moon, Missing Link, Collision Course, End of Eternity, The Troubled Spirit, Mission Of The Darians, The Exiles, All That Glisters
Born 1932, died 2023. Austin began his career as a stuntman, first in his native Britain, then in the US in films like Spartacus (1960). He returned to Britain, working on the series The Saint (1963-68) first as an actor and stuntman, and graduating through directing action sequences until by 1968 he was directing whole episodes of the series. He also worked as a second unit director on The Champions (1968) and directed episodes of The Avengers (1968), Randall & Hopkirk Deceased (1969), Department S (1969) and UFO. He also directed documentaries, winning an Outstanding Film Award at the London Film Festival for The Perpetual Garden, and some films, including The Zany Adventures Of Robin Hood (1974).
He was involved early on with Space: 1999, helping cast the regulars. His wife Yasuko Nagazumi played Yasko in eight episodes of Year 2. He knew Martin Landau prior to making Space: 1999 as he was Landau's stunt double in the Mount Rushmore scene in North By Northwest (1959) and he was a stunt coordinator on Cleopatra (1962).
He later directed episodes of The New Avengers (1976-77), The Return Of The Saint (1977), The Professionals (1978), and, after he moved to the US, Magnum P.I. (1984) and the 1984 TV movie Return Of The Man From Uncle. He has directed episodes of V (1985), Highlander (1992-1997), JAG (1995-2001) and CI5 The New Professionals (1998).
Starlog 70 p63: I probably did 10 or 11 1999s. I think the show was better the first year. We had a great deal of production value in that show; no money was spared on sets. I was very surprised when we were cancelled. UFO never seemed real to me. It was theatrical as opposed to 1999, which seemed more realistic."
Sylvia Anderson on Ray Austin: Ray Austin was an ex-stuntman, he used to be the driver for Cary Grant. He was quite a character. A lot of his stuff was a little difficult to edit, but he produced the goods.
Christopher Penfold: "I think Ray Austin was absolutely right for the series. Ray started off life as a stuntman and then he made a name for himself as an action director, in Hollywood I think. He had a terrific raw energy he brought to his episodes. Everything I say about him as a director was in a sense the opposite of what I was looking for in writers and maybe that was a good thing. "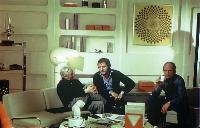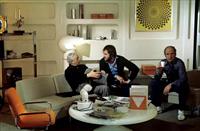 Print: Starlog Number 70 (May 1983); Ray Austin interview p28,63
Print: Andersonic #13 (Feb 2012); Raymond Austin interview p4-12
Assistant director, all Year 1 episodes, 7 Year 2 episodes
Assistant director on The Saint (1966), Randall and Hopkirk (Deceased) (1969), UFO (1970), The Adventurer (1973), Return Of The Saint (1978), Hammer House Of Horror (1980), Hammer House of Mystery and Suspense (1986) and Inspector Morse series (1987,1988), and films Labyrinth (1986), The Princess Bride (1987) and Willow (1988).
The Taybor, The Immunity Syndrome
Born 1927, Brooks was an American advertising director who moved to London in the 1960s and became an award winning commercials director. In 1955 he started in the art department of a major Madison Avenue advertising company (Ogilvy and Mather) and quickly became a top creative, especially with his 1958 campaign for Crest toothpaste using Norman Rockwell illustrations: "Look Mom, no cavities!". Brooks arrived in London in 1961. In 1962 he helped form the Design and Art Direction Association (D&AD), whose awards recognise creative advertising. In 1964 he started his own advertising photography studio, and in 1967 he co-founded the advertising film company Brooks Baker Fulford.
Brooks directed many popular and creative commercials. One sci-fi themed set of commercials for mashed potato (Smash, first seen in 1974) were a huge hit and were resurrected for new campaigns in the 1990s and 2000s; it was named by Campaign magazine in 1999 as best British ad of the century. He also directed the "Lipsmackingthirstquenching" Pepsi adverts (from 1974) and the famous "JR Hartley" adverts for Yellow Pages (1983 and on). Space: 1999 was his debut as a director of drama. His TV play The Knowledge (1979) was nominated for a BAFTA award. He later directed the film Tattoo (1981), but his drama career never took off and he remained primarily a commercials director. He died in 2012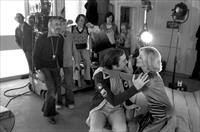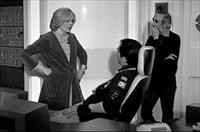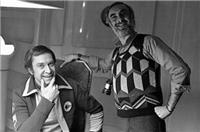 Journey to Where, The Bringers Of Wonder parts 1 & 2, Devil's Planet, The Dorcons
Born 1934. Clegg was a cameraman who switched to directing in the 1960s. He directed the TV play Regan (1974), and episodes of the series that followed it, The Sweeney (1975-78), as well as the film Sweeney 2 (1978). He also worked on the series Van der Valk (1977), The Professionals (1978), Hammer House Of Horror (1980), and Minder (1983). He directed the mini series Mountbatten- The Last Viceroy (1985) and the series The Marksman (1987) and Frederick Forsyth Presents (1989). He directed the Sharpe TV movies (1993-1997, 2006, 2008) and the film Bravo Two Zero (1999).
He died in 2016 aged 81.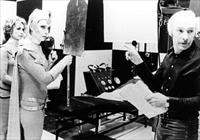 Brian the Brain, Seed of Destruction
Born in 1937, Kevin Connor began as an assistant editor on documentaries in 1959, and graduated through sound and film editing, working on Oh What A Lovely War (1969) and Young Winston (1972). He made his directing debut on From Beyond The Grave (1973) and with producer John Dark he directed a series of low budget fantasies: The Land That Time Forgot (1975), At The Earth's Core (1976), The People That Time Forgot (1977), Warlords Of Atlantis (1978) and Arabian Adventure (1979). He also directed episodes of The Return Of The Saint (1979) before moving to the US. He directed the film Motel Hell (1981), the TV movies Goliath Awaits (1981) and The Return Of Sherlock Holmes (1987) and the miniseries The Master Of The Game (1984), Mistral's Daughter (1984), and North And South Book 2 (1987). He also directed episodes of Moonlighting (1985). He now concentrates on miniseries, often Biblical or Dickens adaptations, including Great Expectations (1989, with art director Keith Wilson and writer John Goldsmith), The Old Curiosity Shop (1994), Robert Ludlum's Apocalypse Watch (1997), Mary Mother Of Jesus (1999), In The Beginning (2000), Blackbeard (2006)
He joined the internet convention in 2022.
Matter Of Life And Death, Earthbound, Guardian Of Piri, The Last Sunset, Death's Other Dominion, War Games, Space Brain, Dragon's Domain, The Metamorph, One Moment Of Humanity, The Mark of Archanon, New Adam, New Eve, A Matter of Balance, The Lambda Factor
Born in 1910, Crichton first entered film as an editor in Alex Korda's studios, working on Things To Come (1936) and Thief Of Baghdad (1940). After World War 2 he joined Ealing Studios, directing parts of Dead Of Night (1946), and a string of classic comedies, Hue and Cry (1946), The Lavender Hill Mob (which won a screenplay Oscar in 1952) and The Titfield Thunderbolt (1953). Other films included The Man In The Sky (1956), Floods Of Fear (1958, which he also wrote), and The Third Secret (1963). After an argument with star Burt Lancaster he was dismissed from directing Birdman of Alcatraz and it seemed his film career was over.
Crichton moved to television series, directing on The Human Jungle (1963), Danger Man (1964), The Avengers (1965-68), Man In A Suitcase (1967), The Strange Report (1968) and Anderson's The Protectors and Into Infinity. Subsequently he directed on The Professionals (1978), Return Of The Saint (1979), Dick Turpin (1979-82), Smuggler (1981) and he wrote episodes of Adventurer (1987). He won an Oscar nomination after directing the comedy A Fish Called Wanda (1988). He died in 1999.
Christopher Penfold on Charles Crichton: We were all enormously privileged to work with one of the best directors that the British film industry has ever produced- Charles Crichton. I worked very closely with Charles, and he approached the television series with the same kind of dedication and the same kind of enthusiasm as he had brought to all his great feature films. He brought to it a professionalism, a pursuit of quality which started with the scripts, which he followed through very much in his casting and in his direction of the actors.
Charles had a huge and spectacular film career behind him, he'd done quite a lot of episodes of television film series. What really impressed me is that every time Charles picked up a script, it was the most important script he had ever picked up in his life. I knew Charles was committed to getting the best out of the script.
Johnny Byrne on Charles Crichton: I was absolutely thrilled, of course, to find myself working with Charles Crichton who's a legend. Charles made The Lavender Hill Mob and lots of very good Ealing films like The Titfield Thunderbolt and Hue and Cry. He had a very maddening, meticulous perfectionist approach which was very good for someone who is, you know, quick as me. Everything had to be written down that one could see or imagine or convey onto the screen; and while Charles would have a sort of notoriously prickly gruff personality, he and I always got on extremely well. He could rub people up the wrong way, drive them mad by his attention to detail on the floor and his absolutely picking and picking away at a script. But I reckoned that a man of such experience- having virtually lived through the entire British film industry- had a lot to teach people like me who was relatively new to the actual job of making films, not to writing. So, I learned all I could from Charles.
Sylvia Anderson on Charles Crichton: Charlie Crichton was probably the most difficult director that I had to personally deal with. Gerry and I alternated with scripts and directors, so I would do every other script and every other director. And whenever Charlie Crichton's name came up I would sort of groan, because, A, he didn't really like dealing with women executives and women producers, and, B, he always wanted many, many extras on the set that really we couldn't afford. So I often had a stand off with him, because he would demand so many hundred extras, when in actual fact, budget-wise, it just couldn't happen. But nevertheless, he produced some fantastic work, and his track record proves this, but he wasn't the easiest. I would get actors coming to me, crying, or saying he's making me over-act. In fact, two actors were forced into overacting and they were fired, which I thought was terribly unfair. So I tried to fight their corner, but in the end, Gerry was executive producer, so it was decided we didn't want those two actors. But in fact they were extremely good and they went on to do some really good work. I wrote a letter to them saying how sorry I was, because it really wasn't their fault. Oscar James was one of them, and I met him some years later, and he said he appreciated that we tried to fight his corner. One of the two actors who were sacked is Gareth Hunt (guest star in Guardian Of Piri). Oscar James (imdb) may have been cast in Space: 1999, but we are don't know the role. Sylvia may have been confusing him with Lon Satton, Ouma, who was sacked after Breakaway.
Martin Landau on Charles Crichton: He was a bit stand-offish at first. I'm pretty tactile, I like to shake hands and stuff, so I would say hello and shake his hand, and at night before I left I'd shake his hand. Until one day he exploded. He said, "mwwaa.. mwaaa. .. you're not going to India for God's sakes, I'll see you tomorrow morning!" About six months [into] the series, he would come to put his arm around me, and stick his hand out, so I Americanised him. But he was wonderful. He was awesome, I liked him.
Barbara Bain on Charlie Crichton: Charlie Crichton was just an amazingly wonderful person. He was just such fun. [In his voice] 'He was so busy being so serious all the time' but he really was just a love.
Nick Tate on Charles Crichton: He used to have a Volvo that he would drive. Charlie would get absolutely tanked every night after the show, and then drive this Volvo home. He was so drunk he couldn't stand up, I don't know how in God's name he got home. (He lost his driving license twice during filming of the show) He was a great director, you couldn't fault that.
Assistant Director, The Beta Cloud, A Matter of Balance
Born 1939. Assistant director on The Saint (1967-8), Goodbye Mr Chips (1969), The Adventures of Black Beauty (1973), The New Avengers (1977), Superman (1978), The New Avengers (1979), Star Wars The Empire Strikes Back (2nd unit AD, 1980), Krull (2nd unit AD, 1983), Press Gang (production supervisor, 1989), Jeeves and Wooster (production supervisor, 1990), Agatha Christie's Poirot (associate producer, 1993), Ruth Rendell Mysteries (AD, 1996)
The Rules of Luton, The A B Chrysalis, Dorzak
Valmond Guest was born in 1911 and began his career as an actor, before becoming a film journalist, working as a columnist for the US show business paper, the Hollywood Reporter. In the late 1930s Guest became a writer of film comedies for Will Hay, Arthur Askey, the Crazy Gang and others: they included Oh, Mr Porter (1938)) and The Ghost Train (1941). In 1942 he began to direct as well as write films, including comedies and dramas such as Give Us The Moon (1944), eventually also becoming producer. Guest co-wrote, directed and produced adaptions from TV thrillers including The Quatermass Xperiment (1955), Quatermass 2 (1957) and The Abominable Snowman (1957), and from his own story, The Day The Earth Caught Fire (1961). He also directed The Weapon (1956 from a Fred Freiberger script), co-directed Casino Royale (1967) and wrote and directed numerous comedies, and thrillers, including The Camp On Blood Island (1958), Up The Creek (1958), Hell Is A City (1960), Jigsaw (1962), Assignment K (1968), When Dinosaurs Ruled The Earth (1970), and the musical Toomorrow (1970).
In the 1970s he turned to TV series, directing on The Persuaders (1971), The Adventurer (1972), Space: 1999, Sherlock Holmes & Dr Watson (1980), Shillingbury Tales (1981) and Hammer House Of Mystery & Suspense (1984). He directed the film comedy The Boys In Blue in 1983, and wrote and prepared to direct a remake of The Day The Earth Caught Fire in 1990-91.
He had worked with associate producer Frank Sherwin Green on several films including The Day The Earth Caught Fire (1961).
He died in 2006.
Starlog 163, p67: Martin was having terrible problems with Barbara at the time. Martin had got an idea into his head as to how he should play his part, and anything I tried to do to goose him up was a bit of a strain for him. Barbara was a real pain. She was always late, and took everything much too seriously.
Print: Starlog Number 163 (Feb 1991); Val Guest interview p59-62
Born in 1935, the American director worked in TV since 1965 on The Outer Limits (1963, as an assistant director), The Wild Wild West (1965-69), Mission: Impossible (1965-68), McMillan and Wife and Mannix. He directed the films Heaven With A Gun (1969), The Salzburg Connection (1972) and Le Mans (1971). He then directed the TV movies The Stranger (1972), Ordeal (1973), Savages (1974), Sky Heist (1975), The Last Survivors (1975), The Quest (1976), Terror Out Of The Sky (1978), and Samurai (1979). He also directed episodes of Man From Atlantis (1977), Automan (1984), and Miami Vice (1985-86). He died in 2002.
He was closely involved with the creation and casting of Space: 1999. He was contracted to be one of the directing team, but after severe overruns on his first two episodes he was not asked to continue. His slowness seems to have been due to filming lots of reaction shots from every angle.
Sylvia Anderson on Lee Katzin: Lee H Katzin was known in Hollywood as the king of the pilots, so he would go in to direct the pilot films of lots of series. He also directed Martin and Barbara in Mission: Impossible. So we had high hopes of him easing the way for the series. Lee H Katzin 3rd had no idea of time and budget. He also totally ignored the rest of the cast; it was just Martin and Barbara who took up his attention. Martin and Barbara liked him very much and they knew him. He hadn't worked in England before, he didn't know the crews, he didn't understand the way of working, he didn't understand the breaks for cups of tea. In the end we did a big editing job and got the thing down to the right length, but it was a nightmare.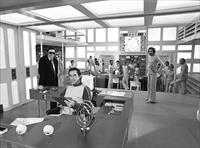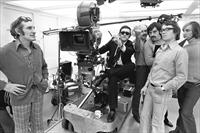 Voyager's Return, The Full Circle, The Last Enemy
Born in 1927, Kellett joined the film industry in 1950 as a writer (including one film project called The Last Enemy). In 1960 he set up his own company, Gannet Films, to produce and direct short documentaries. His first feature film as producer was the wordless A Home of Your Own (1964), starring Ronnie Barker, and was followed by his first film as director, Futtocks End (1969) again with Barker. He quickly established himself as a director of comedy films for Barker, Frankie Howard and Danny La Rue, and film versions of popular TV series. His films include Up The Chastity Belt (1971), Up Pompeii (1971), Up The Front (1971), The Garnett Saga (1972) and Spanish Fly (1976). Later ge was an executive producer with the Children's Film Foundation (1980-82). He was post production supervisor on FX- Murder By Illusion (1988), and the sequel FX 2 (1991). He was a line producer and second unit director on Before You Go (2002).
Kellett was a replacement for David Tomblin during 1974, as Tomblin was filming Kubrick's Barry Lyndon. He was a guest at the 1990 convention in Britain and appears in the AlphaCon Documentary (1991), repeated in The Space: 1999 Documentary (1996).
He died in 2012
Director Catacombs of the Moon, The A B Chrysalis, The Beta Cloud, promotional film
Born 1918, died 1982. Assistant director The Exiles, All That Glisters, The Taybor, Brian the Brain, Bringers of Wonder parts 1 & 2, The Lambda Factor, Devil's Planet
Director on episodes of The Saint (1963), Captain Scarlet, assistant director on The Abominable Snowman (1957), Superman 2 (1981).
Space Warp, The Seance Spectre
Born 1937, Hungary, he fled to Britain following the Soviet suppresion of the 1956 uprising. Medak was resident in Britain until the late 1970s when he moved to the US and Canada, although he returned to the UK for some projects. British film The Ruling Class (1972) and episodes of The Strange Report (1968), The Persuaders (1972), and The Professionals (1978), Medak went to the US and Canada to direct The Changeling (1979), Zorro The Gay Blade (1981) and episodes of Otherworld (1985), Twilight Zone (1985, 1986), Beauty and The Beast (1987), St Elsewhere (1987), Homicide (1993) and Law and Order Special Victims Unit (1999). In 1990 he directed the British film The Krays and Romeo is Bleeding (1993). Other films include Species II (1998). He directed the miniseries David Copperfield (2000) and Feast Of All Saints (2001), and TV episodes of The Wire (2002), House MD (2004), Breaking Bad (2009).
He was married to actress Carolyn Seymour; they met while making The Seance Spectre and moved with him to the US.
Another Time, Another Place, Force Of Life, The Infernal Machine, The Testament Of Arkadia
Born in 1931 opposite Borehamwood Studios, Tomblin joined the film business as a third assistant director, aged 14. After National Service in the Marines he returned to film in 1952, becoming a first assistant director in 1954 to Stanley Kubrick. He also worked on television, on the series The Invisible Man (1958), One Step Beyond (1959-61) and Danger Man (1960-68), becoming a full director, as well as writer and producer on The Prisoner (1968). He also wrote and directed on Anderson's UFO and The Protectors. Space: 1999 was his last work in television; tired of it, he became an assistant director to major film directors such as Richard Attenborough, Richard Donner and Steven Spielberg. Films included A Bridge Too Far (1976), The Omen (1976), Superman (1978), Superman 2 (1980), The Empire Strikes Back (1980), Raiders Of The Lost Ark (1981), Gandhi (1982), Return Of The Jedi (1983), Never Say Never Again (1983), Indiana Jones & The Temple Of Doom (1984), King David (1985), Out Of Africa (85), Cry Freedom (1987), Empire Of The Sun (1987), Indiana Jones and The Last Crusade (1989), Chaplin (1992), Braveheart (1995), The Man In The Iron Mask (1998). He died in 2005.
Tomblin joined the directing team as a replacement for Lee H Katzin. He left the production for a time in 1974 to film Kubrick's Barry Lyndon, being replaced by Bob Kellett.
Starlog 86 p46: They were very technical and very full, and there wasn't very much time. So, consequently, you really worked high pressure every minute of the day. Somehow we used to just about get through them, but they were very demanding. The schedules were really impossible. That's why I don't do TV anymore. There's no satisfaction in it. You end up making something you're not happy about making, you have to compromise too much.
Johnny Byrne on David Tomblin: I worked very closely with David Tomblin and he made a tremendous contribution to the scripts.
Sylvia Anderson on David Tomblin: David Tomblin had worked with David Lean, and he was a brilliant, fantastic person to work with. He came into my office one day and he said, 'I'm not happy with these scripts, I don't know what's going on.' And I said, 'David, would you feel like writing something yourself. You know all the problems and the things you'd like to see on the screen.' He said fine. So he disappeared for about 3 weeks, and finally came back into my office and said, 'You know, it's not as easy as I thought.' He got it out of his system.
Christopher Penfold: "David Tomblin has for years been assistant to Stanley Kubrick and Spielberg. David was a very good action director and I think he directed the first of Johnny's scripts (Force Of Life). I remember I didn't actually have a lot of faith in that script, much to Johnny's disgust! However the combination of Ian McShane, David Tomblin and Johnny's perception of what they could do in terms of action film-making made it work."
Print: Starlog Number 86 (Sept 1984); David Tomblin interview p45-46