Seed of Destruction

Year 2 - Episode 13

France/Canada
Le secret de la caverne
The Secret Of The Cavern
Germany
Das Spiegelwunder
The Mirror Wonder
Italy
Kalthon
Japan
Planet KALTHON, Seed of Destruction
Poland
Ziarno zaglady
Portugal
Semente da Destruição
Seed of Destruction
Portugal
A Semente da Destruição
The Seed of Destruction
Spain
Semilla de destrucción
Seed of destruction
An ice-cold replica of Commander Koenig takes control of the moon -and orders its destruction. ITC summary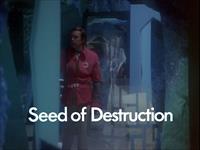 Shooting script dated 25th May 1976. Filmed 7th July- 19th July 1976. This and Seance Spectre were the only two episodes when filming had to be scheduled on a weekend- they shot on Saturday 17th July 1976.
A "year 1" reversioning was created by Jonathan Wood for Network in 2015.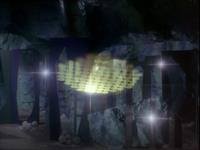 The opticals from the firestorm in Catacombs Of The Moon are reused.
The DVDs contain an interview from July 1976 with Brian Johnson, showing the storyboards and the setting up of one shot. The shot (scene 73, showing the Eagle from below illuminated green) is not in the final episode.
The crystal asteroid is perhaps related to a white dwarf, where a small star has collapsed into an inert core of carbon and oxygen, about the size of the Earth but extremely dense. They are also extremely hot, although over time they cool into a black dwarf star. The carbon core of a white dwarf may be an enormous diamond. One variable white dwarf star, BPM 37093 is estimated to be 90% crystallized (of a mass 1.1 times that of the sun), making it the largest known diamond.
The asteroid has Earth gravity and a "localised atmosphere", suggesting it is very dense. However, it seems unlikely the total power of Moonbase Alpha could regenerate an entire planet.
The term "black sun" is used again. It is featured in the episode Black Sun and also mentioned in Dragon's Domain.
1608 days after leaving Earth orbit (Sat 7 Feb 2004)
0 fatalities.
Alpha Technology: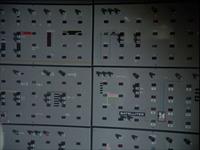 Eagle 1 (Koenig, Tony)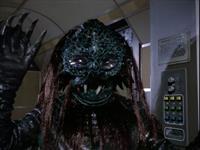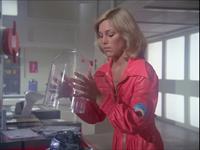 Lizard animal (as seen in The Beta Cloud), Cranston
None (Kalthon asteroid)
Aliens:
Kalthon seed
Props: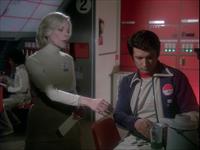 Life Support Section is a minimally changed Weapons Section (among the red panels beyond are the "Life Support Systems Control" panels also seen in the Power Room in The Beta Cloud and Bringers Of Wonder part 1)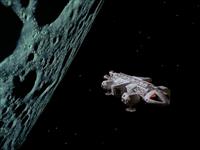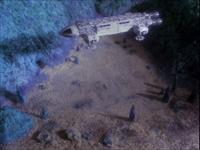 Koenig's Eagle has a booster pod when first seen, then a standard pod subsequently
The original script had an epilogue in which Koenig's crystal sample is projected into space.
Martin Landau also played doppelgangers in the 1973 Columbo episode "Double Shock" (thanks to Chris Moore)
External Links