三笠書房 (Mikasa Shobou), Japan, 1977. Each Yen 580.
Three translations of Michael Butterworth titles. The covers feature the series title in both Japanese and English above a photo (SFX publicity shot of the four sizes of Eagle, astronauts from "Ring Around The Moon", Eagle over Metamorph volcanoes). Interiors endpages contained black & white photos (all from Year 1).
Each book contains just three of the four episode stories. In book 1 and 2, it is the last story of the book that is deleted - New Adam, New Eve and One Moment Of Humanity respectively, and in Book 3 it is the third story, The Exiles, that is left out.
Each book starts with a six page intro with photos (all Year 1 images). First a title page, followed by a two page overview of the show - very much like an expanded version of the Year 2 opening credits, followed by a two page Table of Contents, then a one page Cast of Characters for that novel. This is followed by the novel itself, and then at the end of each book there is a short 2-4 page afterword by the translator of that book.
---
Japan, 1 June 1977
This is a small 64-page booklet containing abridged versions of a Columbo novel and The Metamorph from Planets Of Peril, translated by Masao Mitani for Mikasa Novels.
The booklet is small, 3.5" x 5" (9cm x 12cm), and just 64 pages long. The top text refers to National Railway East Bureau regulations for magazines and appendix material. Possibly this is a supplement to a magazine for Japanese commuters. In addition to the publication date (1 June 1977) it refers to volume 22 number 3 and 4.
The Columbo story is The Murder Chart (later re-titled Caribbean Murder Case), by Mitsufumi Sasamura. The Columbo books were published by a different publisher, Futami Shobo. The translator of the 1999 story, Masao Mitani, who translated Butterworth's text, also translated a number of Columbo novels, and wrote original Columbo novels. This booklet was published shortly after the first two Mikasa novels.
The banner phrase states it is a TV preview; Japanese TV was only showing year 1 episodes at the time. This episode was first shown in May 1981, almost four years later.
The unusual cover image is inaccurately coloured because artist Sumio Koizumi was working from a black and white promotional photo. It's a shot from Ring Around The Moon (Koenig throwing a piece of paper at Helena). The original photo appeared in the photo section of Mikasa novel 2, Mindbreaks Of Space.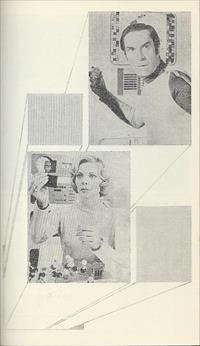 Thanks to Patrick Zimmerman