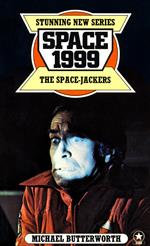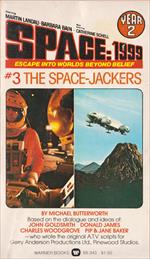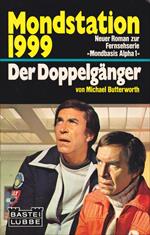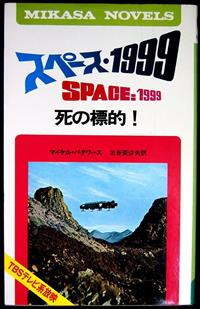 Shermeen in A Matter Of Balance is given the surname Goodwood. Butterworth worked from the 7 June version of the script, when Shermeen had no surname; the 20 July script gave her the surname Williams.
Both Simon Hayes and Tony Verdeschi appear in The Exiles (Tony was originally called Simon, and he also appears in Planets of Peril). At one point they both appear together.
Sahn appears as a different character in The Beta Cloud: "Sahn was a standby operator who had taken over the two posts normally manned by Sandra and Yasko." The pilot of Eagle 6 is named Mackinlock, not Graham (Macinlock was Carter's role in The Metamorph).
Star: (no nbr)
ISBN 0 352 39648 2
Mar 1977 ; 60p (Aus $2.20, NZ $1.90, Mlta 65c)
Warner: (nbr 3)
ISBN 0 446 88343-3
May 1977 ; $1.50
Mikasa Novels (Japan):
死の標的! ("Target of Death!") Translated by Masao Mitani
Details
15 July 1977. 230 pages.
Bastei: (nbr 25 003)
"Der Doppelganger" ("The Doppelganger")
ISBN 3 404 00780 8
1977 ; DM 3,80 Translation by Dr Ingrid Rothmann
Apex
Compilation: "Mondstation 1999, Band 2" ("Space:1999 Volume 2")
ISBN 978-3-7487-2357-8 (and other editions)
December 2019
Revised in Space: 1999 Year Two (Powys; 2006)