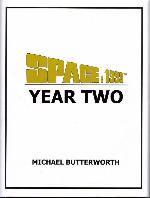 Powys. Revised adaptions of all 24 Year 2 episodes, limited edition of 100 (autographed by Michael Butterworth), with second edition of 100 (not autographed)
Hardcover 220mm x 285mm with white dust jacket, 442 pages with foreword by Butterworth and afterword by Mateo Latosa
1 April 2006, $100
Revised compilation of individual novels:
It also contains a novelisation of the episode The Taybor, not adapted in the original novels.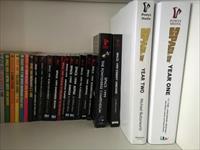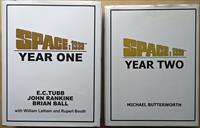 It is a companion volume to Space: 1999 Year One (2020)
Dust jacket inner flap
SPACE: 1999 YEAR TWO By Michael Butterworth

Initially published as six individual books, this omnibus edition, newly revised by the author, contains all the episode novelizations from the original editions plus--for the first time--the novelization of The Taybor.

In addition, this volume presents the episodes in a corrected order, following the chronological dating convention employed in the television series.

In this precedent-setting edition, the texts have been revised and amended to ensure a consistent connected continuity with the first season of SPACE: 1999--YEAR ONE--and with the line of original novels already published and forth-coming from Powys Media. The goal is to create a single, unified, internally consistent literary epic tale.
Contents
Foreword

i

The Metamorph

1

The Exiles

23

One Moment of Humanity

43

All That Glisters

59

The Mark of Archanon

75

Journey to Where

95

The Taybor

113

The Rules of Luton

135

New Adam New Eve

151

Brian the Brain

171

Catacombs of the Moon

191

The AB Chrysalis

207

The Beta Cloud

223

Seed of Destruction

239

A Matter of Balance

259

Space Warp

277

The Bringers of Wonder, Part One

295

The Bringers of Wonder, Part Two

315

Dorzak

333

The Seance Spectre

353

Devil's Planet

371

The Lambda Factor

387

The Immunity Syndrome

413

The Dorcons

427

Afterword

441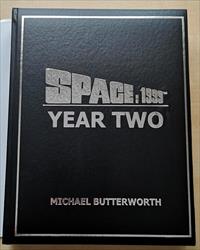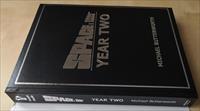 The white dust jacket covers the handsome black hardcover, with gold embossed lettering.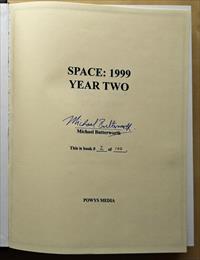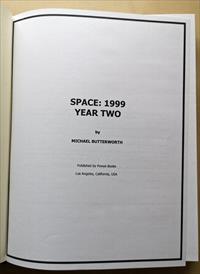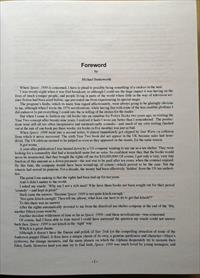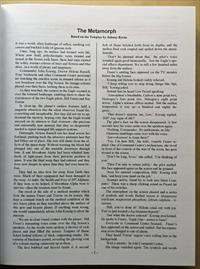 Signing page, title page, forward and the double-column layout of the main text.