The Taybor

Year 2 - Episode 6

A boisterous, flamboyant, larger-than-life trader from hyper-space makes a remarkable appearance on the moon -and falls in love with Maya. ITC summary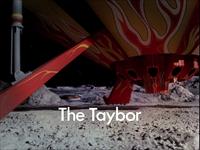 Shooting script dated 31 March 1976. Filmed 15 April - 3 May 1976 (16 April was Good Friday holiday, 19 was Easter holiday)
Writer Thom Keyes was an old friend of writer Johnny Byrne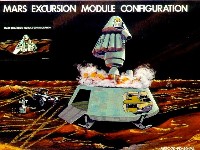 The design for the Emporium is based on a 1967 NASA concept for a Mars Excursion Module, shown here.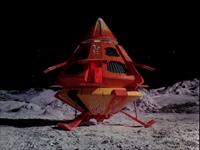 The SS Emporium was built by Space Models, who also built most of the Eagles and the ship from Earthbound. It was made of wood in three parts (base, main body, top); one side was not finished to provide access to the central light bulb.
Taybor's ship model photos
A 1976 student film included behind the scenes SFX shooting and storyboards. The clapperboard the date is 28 May 1976 - several weeks behind the live action filming.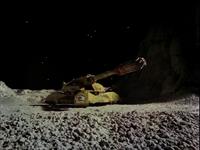 Taybor's gun was built by Martin Bower. The design was inspired by the paintings of Chris Foss, who did preproduction design for the series.
Taybor's gun model photos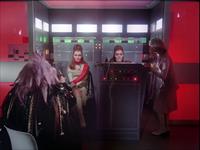 There are two scenes using split screen to show two Mayas.
Original score by Derek Wadsworth, recorded Friday 2nd July 1976 at the Music Centre, Wembley.
Astronomy Location:
"So you want to return to your Earth? This galaxy?"
"No. Galaxy M104. It's half way between PKS 1148 00 and 3C454."
"Oh, I can't say that rings a bell either. Which Universal Quadrant?"
"It's a.. spiral galaxy, it's right near N G C 185 and, ah, M33. It's a small cluster of thirty or so."
The information seems to have been taken from the New Concise Atlas Of The Universe by Patrick Moore (probably the 1974 edition, seen in Brian The Brain). More. Thanks to Marcus Lindroos.
M104 is the Sombrero Hat galaxy, a spiral galaxy in Virgo. It was added to the Messier catalogue of nebulae and clusters in 1921 by Camille Flammarion.
Our galaxy is the Milky Way, which is not in the Messier catalogue. It is a spiral galaxy in a Local Group of about 30 galaxies about 500,000 light years across. The Local Group is dominated by two large spiral galaxies, the Milky Way (200 billion solar masses) and M31, the Andromeda galaxy (300 billion solar masses). The other smaller galaxies are associated with one or other of these major spirals. M33 (30 billion solar masses) in Triangulum is a spiral galaxy near M31. NGC 185 is a dwarf elliptical galaxy (100 million solar masses) associated with M31. In Patrick Moore's book, one diagram shows M31 and NGC 185 close to the Milky Way, although later research will have changed the diagram (M33 now seems to be slightly more distant than Andromeda, M31, and both M33 and NGC 185 are now generally regarded as satellite galaxies of Andromeda, not the Milky Way).
PKS 1148 00 and 3c454 are distant quasars, each about 10 billion light years away. They appear on opposite sides of a diagram on pages 134 and 135 in Patrick Moore's book.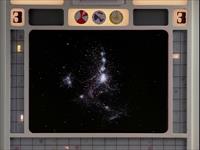 This star chart also appears in All That Glisters.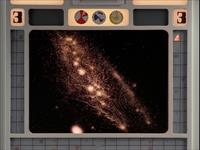 The "chart" is seen in One Moment Of Humanity (showing the Moon's position) and originally on the route to Alpha Centuri in Into Infinity.
No date given.
population 297. 0 fatalities.
Alpha Technology: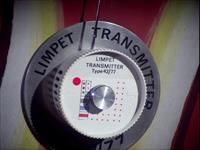 A small solarium area is shown. This is noticeably smaller than the large set in Force Of Life. The same footage also appears in The Exiles
Maya has the Eagle remote control on her desk.
Koenig doesn't know about hyperspace, but the Alphans do have technology that uses it (the limpet transmitter). A "subspace" transmitter is also used in Testament Of Arkadia.
Helena can create an accurate robot in the likeness of Maya, complete with speech.
In the Survey Equipment Room is one of Reilly's instruments from All That Glisters, and a nuclear bomb from Space Brain (labelled "Wall Probe Crater", although the "Fuse" label is also clearly seen).
The moonbuggy is seen. Only a small part of the full sized vehicle is seen (with broken wing mirror); other shots use a model.
Eagle 1 (Andrews); two others
White dog, ferret, slatternly Maya, reptile hand
Maya transforms directly from a dog into a ferret (in the script, a coral snake). This contradicts Rules Of Luton, where she cannot transform directly into another animal to escape a cage.
Maya locks herself in a form permanently (so she says). This contradicts Rules Of Luton and Space Warp where she can only hold a form for an hour.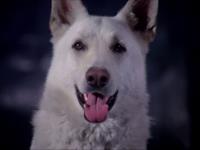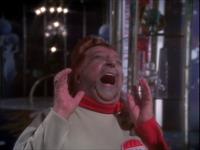 None, but we learn about lots of different trading planets
Aliens: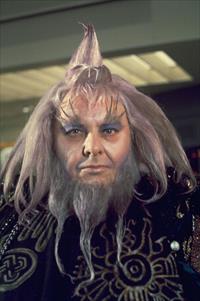 Taybor from Pinvith the Lesser.
Props:
Footage:
Helena calls the memory amplifier cylindrical (as it was in the script). It is hexagonal.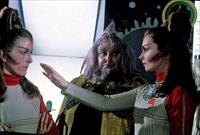 Before the split-screen, stand-in Pat Thompson is unusually in full costume and make-up as Maya.
In 1977 Yorkshire TV in the UK publicised this as a special Christmas episode, presumably as it involves an overweight man with gifts; it was shown on 22 December 1977 at 11pm.
Although Taybor admits he has been scanning them for some time, and knows their names, language and technology, he doesn't know they can't read colour coding.
Fraser's role was scripted for Alan Carter.
Kate's role was scripted as "Barbara". This is one of only two episodes where Sarah Bullen's character was given a name.
Taybor is described in the script: A corpulent jolly figure dressed in a most outlandish costume of coloured capes and scarves, striped baggy pantaloons and a turban type hat with jewels and feathers, twirling a moustache.
When the traded goods are returned to Alpha, the script states they smashed the Recreation Centre jukebox.
External Links