Stores and Equipment
Supplies are readily available from these storerooms.
Main Electrical Unit
This is a small room in the corridor near the Life Support Section in The Beta Cloud
An internal sign reads "Emergency Electrics". This small room, 4 foot square, contains lighted shelving.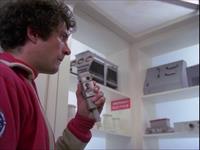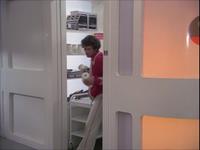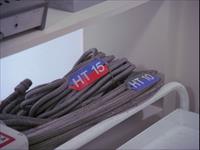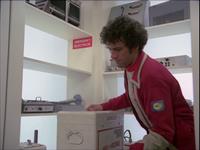 (The Taybor)
All we see of this room is the door and shelves of boxes.
The Explosives Storeroom appears in Catacombs of The Moon. The set is a revamp of the Life Support/Power Room, with an observation room. The same set is revamped again in this episode as the Medical Laboratory.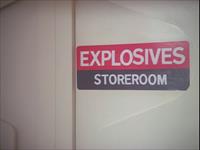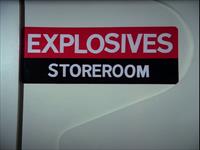 The door sign. Much of the action takes place just inside the door, which must be open. Note the slightly higher "S" in the middle.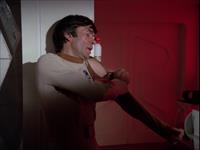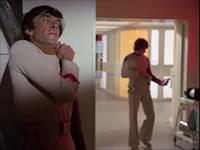 The door opens to the corridor. Osgood is hiding behind the corner to the observation room, with the glass of the window reflecting the storage boxes.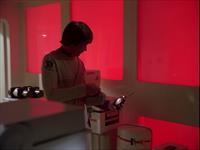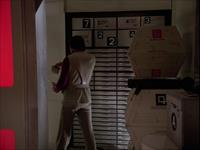 The side panels are illuminated in red. We see the filing drawers in the wall inside the arch.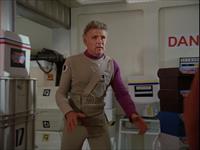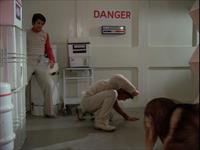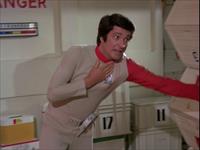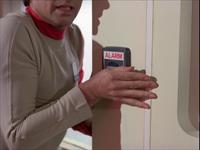 The back wall extends for just 3 panels (12 ft/3.65m), and we see it bends round into the main power room (all we can see are stacked hexagonal boxes). Tony uses an alarm button by the observation room door.