Space Brain

Year 1 - Episode 20

Alpha encounters an intangible mass as it heads though space...and towards disaster. Whatever the mysterious energy field might be, it possesses a strange and frightening power. ITC summary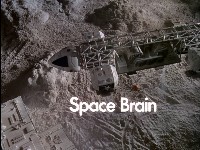 Final Shooting script 25th November 1974
Final Shooting script 1st December 1974
Shooting schedule dated 5 December 1974
Filmed 5th December 1974- 19th December 1974
"Additional material" 20 page script dated 25 February 1975, reshooting 25 February- 28 February 1975
As foam filled Main Mission, director Charles Crichton tried to cut the scene but could not be heard above the sound of the aircraft engines whipping up the foam. He ran forward waving his arms, slipped and disappeared into the foam. He emerged covered in it. The foam continued until it filled the set (account by Nick Tate in Starlog 4, Martin Landau and Barbara Bain in the Kindred/Fanderson video "The Space: 1999 Documentary")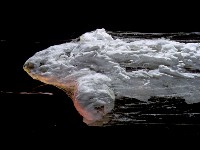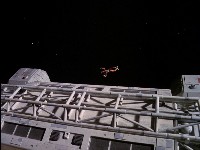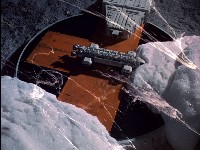 Library track: "Mars, Bringer Of War" composed by Gustav Holst, arranged by Malcolm Sargent (published by EMI Music For Pleasure)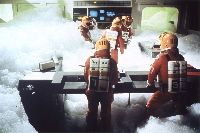 Bergman says there are only two schemes to move the moon: "Shockwaves and antigravity screens". Antigravity is an invention of the series. Shockwaves cannot travel through space (see Collision Course).
"This is neither a sun, a star or a planet we're dealing with." A sun and a star are synonymous.
"That part of the cerebellum that controls the will". The cerebellum controls muscular coordination; higher mental processes are controlled in the cerebrum.
Symbiosis between two minds seems to be similar to Kano's link to the computer in Guardian Of Piri.
Astronomer Fred Hoyle has proposed that space nebulae could become alive and novelised the idea in his book The Black Cloud.
Where does the foam go at the end of the episode? The moon will be coated with it, and it will not erode or decompose in the vacuum of space. Where do they put the foam that was inside Main Mission?
In his book The Biology Of Science Fiction Cinema (McFarland, April 2002); Mark C Glassy analyses this episode's treatment of antibodies. He approves of the concept of the moon and eagle as "antigens". Antibody proteins turn into bubbles when rapidly mixed with air, like the foam seen in the moonbase. He disapproves of the concept that the antibodies can gain weight and density.

Helena induces "neuronic concussion" with a handheld direct ophthalmoscope (used to examine the eye). Visible are the little dial that you spin to adjust the focus and even the eye aperture you look through on the 'top side' as it is held over Kelly's forehead. You can even see the power cord dangling off the back which seems appropriate for the 1970s since the lithium battery powered sort didn't become readily available until much later. Thanks to Meredith Girard
3 fatalities, Cousteau, Wayland, Kelly.
In the script cast list and some publicity material, Melita is listed as "Melita Janni" - although the surname is never used in dialogue. They are married (Koenig talks to her about "her husband"), so it is possible that Kelly is a forename; alternatively Melita may use her maiden name.
Alpha Technology: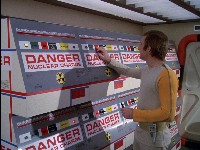 Eagle 1 (Wayland and Cousteau, destroyed); 4 (Rescue); 7 (Koenig, fastest); remote Eagle (crashed); cargo Eagle
None
Aliens: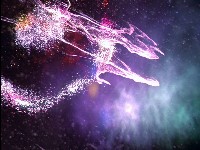 Space brain
Reuse
Cast: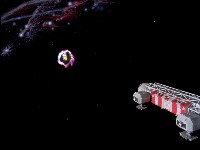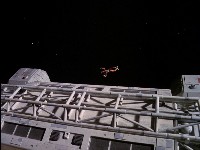 During the space-walk, the stripes on the rescue pod are gone.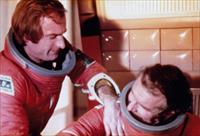 Several publicity shots exist of a fight between Kelly and Alan Carter in the Eagle cabin. This makes no sense in the context of the episode (as rewritten) and is not seen in the final print.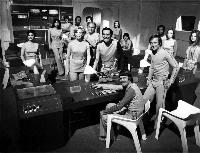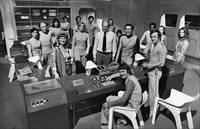 Carla Romanelli and (partially hidden behind Barry Morse) Troubled Spirit star Giancarlo Prete with the Main Mission crew. Probably shot on the first day of shooting, 5 December 1974, when Prete was still filming his final scenes of the previous episode. Picture thanks to Mark Spalding.
Christopher Penfold: The microcosm meets the macrocosm. The universe that the single complex cell of Alpha moves as itself only the interior of a brain that was huge beyond comprehension. It's a science fiction idea I find appealing, that within ourselves other universes exist.
Penfold wrote the second series of The Tripods (1985). In the source book, Earth is ruled by the alien Masters. Penfold departs from the book by having the Masters serve energy beings, the Cognoscs. "Each one is a cell of intelligence, and together they make up a kind of a brain. There are billions of others scattered around the universe. Coggy calls it the space brain." "What's he look like?" "Nothing. He doesn't exist. He's just this bundle of light and energy." Thanks to Rob Paquin.
Melita only calls her husband "Kelly". We never learn his first name.
Why can Kelly see more on a spacewalk than in the Eagle with all its sensors? Isn't there a danger of being hit by wreckage from the missing Eagle 1?
The human link to the computer, complete with fast typing, is also seen in Ring Around The Moon.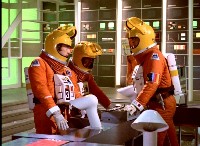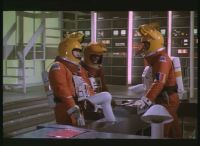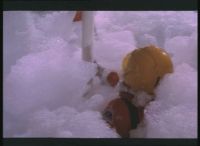 Two shots on the Carlton DVDs are in widescreen (with black borders top and bottom). They are zoomed in on the Network DVDs, cropping the sides of the shot.
External Links