The living quarters are more spacious than the Year 2 living quarters, and the bed area is separated from the living space. Around the bed area are a cupboard and a side door (to the bathroom, as we discover in Force Of Life). In Force Of Life the married quarters are a slight variation, with double doors to the bed area. All other rooms have single beds.
Each room has a communications post. In Breakaway Koenig's communications post is positioned slightly differently and has a "C" designation; in later episodes it is the normal position with the "LQ" designation. Helena's quarters has an "M" designation in Matter Of Life And Death and a mirror-image room design (also seen in Smitty's room in Black Sun); her quarters in Dragon's Domain are the standard design.
Standard furnishings:
In the cupboards we normally see one or two spacesuits with helmets.
Helena's quarters are seen in Matter Of Life And Death (mirror-image design) and Dragon's Domain
Other quarters seen include Paul Morrow (Black Sun), Kano (Black Sun), Sandra Benes (The Last Enemy), Smitty (Black Sun, mirror-image design), Melita's (Space Brain), Baxter (End Of Eternity), Cellini (Dragon's Domain), Zoref (Force Of Life)
Koenig's Quarters
Helena's Quarters
Zoref's quarters
Baxter's quarters
Cellini's quarters
Other quarters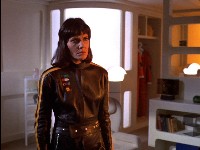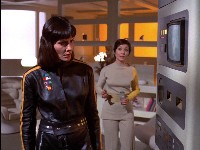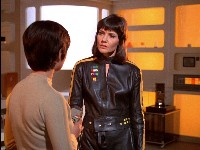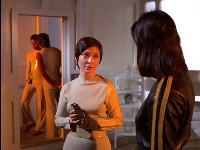 Sandra's quarters in The Last Enemy. There are two spacesuits on hangers: does she live with someone? There is a Demetrio 45 stacking table by the door, with a small Moon globe. There is an Elda 1005 chair, Mezzatessera table and a Rodica chair. The dark glass cabinet also appeared in Helena's quarters, as did the dried plants.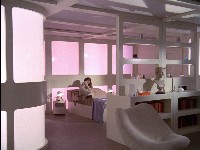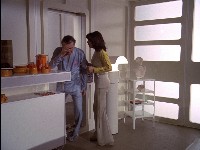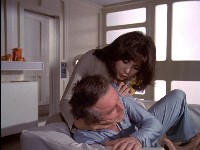 Melita's quarters in Space Brain. She only has a single bed, so presumably she does not live with Kelly. At the start of the episode they are doing the jigsaw on the Unibloc 4 Dining Unit. Kelly lies on a throwaway sofa. We also see a Rodica chair, Demetrio 45 stacking table by the door, and by the bed is a Giano Vano Ruote telephone table with Sorella lamp.