The wall units are very similar to those in the Year 1 configuration, but the room is smaller and there is no separation between the sleeping area and the living area. The single bed may be against any of three walls. No-one has double beds. Unlike Year 1, there is no communications post (although there is in Keith Wilson's set plan); the wall panel screens are used instead. There is no side door, so presumably occupants must go into the public corridor in search of the bathroom.
The room is seen in revamped format as a section of Medical Center in The Bringers Of Wonder part 1.
Koenig's quarters are seen in The Exiles, The Mark Of Archanon, and The Lambda Factor.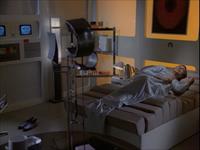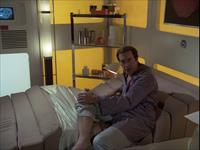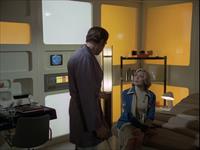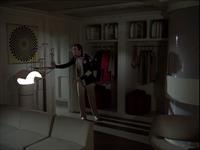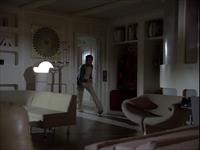 Koenig's quarters in The Lambda Factor. The comms wall panel and desk are in the standard positions; we don't see the facing wall.
Helena's quarters are seen in The Exiles, One Moment Of Humanity, and The Taybor.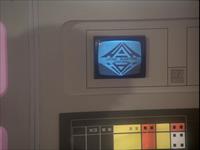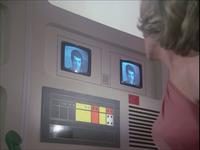 Close up of the communications unit
We only see Maya's quarters in Seed Of Destruction
Tony's quarters appear in Catacombs Of The Moon and Matter Of Balance.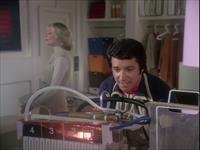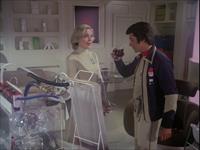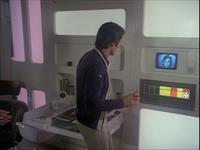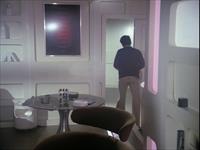 We see Tony's quarters in Catacombs Of The Moon. He has a contour bed, his beer machine machine, and an unusual chair and table. There is an ashtray on the table, so he must be a smoker.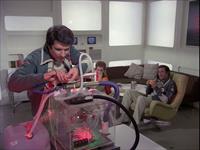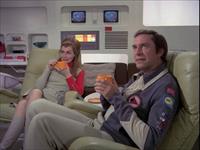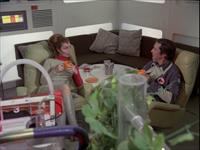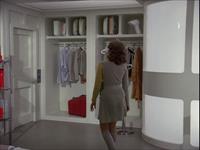 Tony's quarters in A Matter Of Balance. The beer machine is in much the same place. There is a long brown sofa and two chairs.
Other living quarters seen are those of Carolyn Powell (The Lambda Factor), Shermeen Williams (Matter Of Balance), Dorzak (Dorzak), and Area 3 Living Quarters (Catacombs Of The Moon).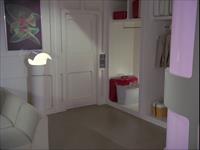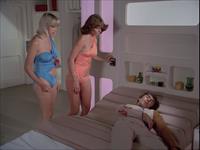 The "Area 3 Living Quarters" in Catacombs Of The Moon. The bed is in an unusual position, replacing the table, and an Alarm button has been added. These are not Osgood's quarters, perhaps belonging to one of the girls? (Perhaps not both, as it is a single bed). It reveals a rather serious security problem if anyone can get into someone else's bedroom.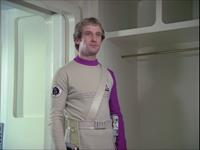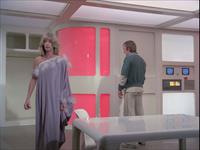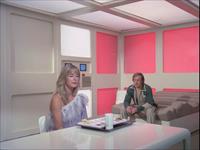 The detention unit is a sparsely furnished room; contoured bed, two chairs and Stadio 120 table. There is no desk unit in this set. Even the cupboards have empty rails.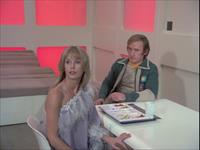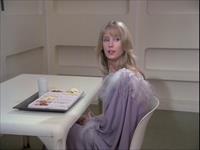 Unusually we see most of the facing wall, where the camera is normally positioned.
Dorzak's quarters have a little more furniture, including Melpomene hat-stand and Sorella bedside lamp. The desk wall panel is back. The bed is on the opposite wall to that in the Detention Unit.