Recreation Centres
Two different Recreation Centres were seen in Year 2. Both have chairs, sofas and small tables for socialising.
Recreation Centre 1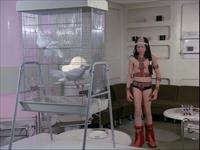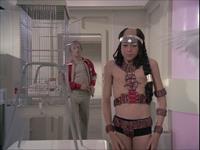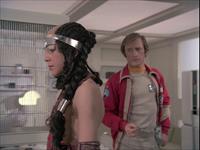 The set in The Mark Of Archanon has a bird cage, cutlery and the coffee machine. The wall posters have gone.
In The Taybor, the same Medical Center set is revised first as the solarium and then as a gym.
Recreation Centre 2
The octagonal ceiling lighting is from the Voyager interior in Voyager's Return and the Swift in Brian The Brain, as are the half-width lighted corner panels. The set was built on stage M. The Lambda Factor was filmed 12th-14th October 1976; The Seance Spectre scenes were filmed 18th October 1976.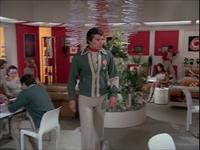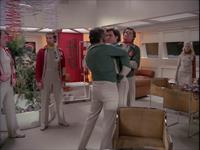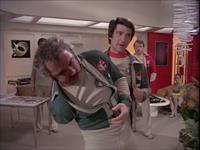 The Lambda Factor. There are four windows to the lunar surface, opposite the door. In the centre of the room is a circular plant stand; various coloured mobiles hang from the ceiling.
There are small TV screens and headphones. There are lots of art on the walls, mostly the geometric designs seen in living quarters. Shelves have rocks or plastic containers, and there is a coffee machine by the door. Games include blackgammon, jigsaws, 3-dimensional chess and the electronic board game "Gotcher" by Dacoll Games. There is a round display with plants and rocks, and mobiles hanging from the ceiling.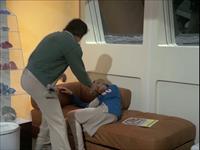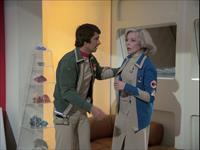 The windows to the lunar surface are rare in year 2. There is also a display stand with various quartz rocks (the rocks don't seem to be the same ones as in Koenig's office in year 1). In The Lambda Factor the rocks are closer to the windows; in The Seance Spectre they are moved nearer the door.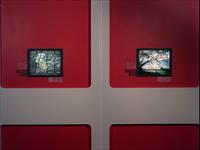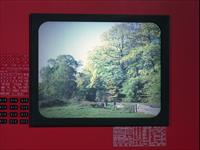 The two colour screens are small.