Voyager's Return

Year 1 - Episode 12

Grim danger emerges from the past. Moonbase Alpha is threatened with destruction from an unmanned spacecraft sent up from Earth many years earlier, with tragedy in its wake. Even worse lies ahead from outer space victims seeking revenge. ITC summary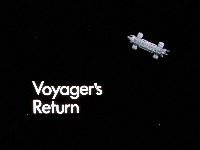 Shooting script 29th July 1974, revised 31st July, pink page amendments 5th August, 16th August. Filmed 7th August to 21st August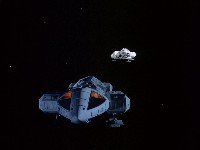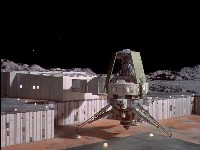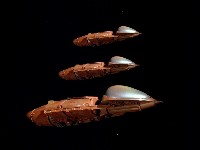 The second episode with Martin Bower models. The designs of the Voyager and Sidon ship were a collaboration with Brian Johnson.
Library track: from Thunderbird 6 by Barry Gray
Fast neutrons are neutrons with energy in excess of 0.1 MeV, produced from nuclear fusion. This suggests that the Queller drive is actually a fusion rocket. Fast neutrons are dangerous because they pass readily through "high-Z" elements like metals but smash into lighter "low-Z" elements, like those people are made of.
Sidon is a port in Southern Lebanon, and was one of the chief cities of the Phoenician empire, 1200-650 BC. Their galley ships traded throughout the Mediterranean, and were known for their purple dyes. Archon's purple gown is a nod to Phoenician dyes. Archon is the title of a ruler in ancient Greece and later a provincial governor in the Byzantine empire. In ancient Athens there were 9 concurrent archons ruling together, most as magistrates.
Two real-life space probes called Voyager 1 and 2 were launched by NASA in 1977. Their mission was to fly past Jupiter, Saturn and the other outer planets. Voyager 1 was the first man-made object to pass into interstellar space, in August 2012.
They are in 2000 (1985 is 15 years ago).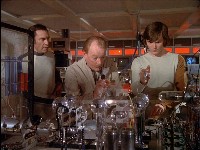 2 fatalities, Ernst Queller, Abrams.
Alpha Technology:
We learn an entire scientific community died from the Voyager 2 disaster. According to the script, this was another lunar colony (Moonbase Beta?)
The black box recorder is a real aerospace gyroscope. It is also seen in Dragon's Domain. It is similar to the AE-35 unit from 2001: A Space Odyssey (a Sperry G.M.compass MK4), and it is possible it is the same prop, reused via a film prop company.
There is a Command Conference
Eagle 1 (Alan); 2 (Abrams, destroyed); 4,5,6,9,10 (defence flight)
None. We learn several planets from the Federated Worlds Of Sidon were poisoned.
Aliens: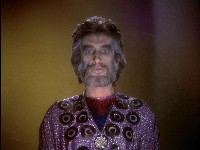 Archon, Chief Justifier of Sidon. Humanoid.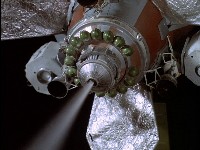 Close-up shots of the Voyager engines show drops of condensation falling from the gas jet (watch the nozzle carefully).
Linden was originally named Lander and Linder. Queller is named after Edward Teller, the Hungarian-American scientist known as the "father of the H-bomb", and based on Wernher von Braun, the German scientist who led the development of the V2 and Saturn V rockets. Von Braun was forced to defend his involvement with the Nazi war effort by citing the innate impartiality of science, although he knew that the V2 had been built by slave labour.
In the German dub, the name "Voyager" is changed to "Galaxiskop Eins" ("GalaxyScope One"). The NASA space probes Voyager 1 and 2 had both been launched before the German premiere, so perhaps the translator (K.E. Ludwig) was avoiding a reference to the real spaceships.
External Links