Victor Bergman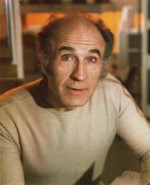 Character Name

Victor

Bergman

Played by
Barry Morse
Sex
M
Approx. Age
56
Section
None
Episodes
24 episodes
24 title credits

---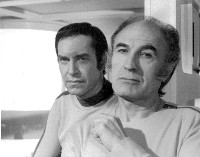 Victor's birthdate and age varies according to source:
Year 1 writer's guide and ITC publicity: in his late 50s
Technical Notebook: born June 1940 (59 years old in 1999)
Morse's actual age: 56 in 1974, so if Victor were the same age, he would be born in 1943.
The early character name in the early script Zero G was Science Officer Dr. Marc Miller. "Doctor of space research, his vast knowledge of space science gives him a key position in Moon City." In the early guidelines, he was named Professor Danilo Sabatini "Ast-Phy" (astrophysics?), an "interesting and wise Italian astrophysicist in his late fifties". Koenig was one of Sabatini's students. By the next guidelines he was English "Professor (name to be decided)". In the early Siren Planet script he was Professor Penmarric.
Bergman has an artificial heart (Black Sun, Force Of Life, Guardian Of Piri, The Infernal Machine). He is an astronomer (discovered planet Ultra in 1994, Dragon's Domain) and a physicist (responsible for the artificial gravity systems used by Alpha and their protective forcefield built in Black Sun). After 1997 he was "grounded", but was back on Alpha by 1999 (Breakaway). Science advisor on various exploration parties (Earthbound, End Of Eternity, Mission Of The Darians, Death's Other Dominion, The Testament Of Arkadia) and sits on command conferences. Enthusiastic about science (Voyager's Return, Death's Other Dominion).
Featured in all 24 Year 1 episodes. He was mentioned in the scripts of The Metamorph (Simon Hayes: "One lousy spacesuit with a faulty helmet and Victor had to be in it.") and Catacombs Of The Moon (they are reconstructing the Bergman artificial heart, not the Dorfmann).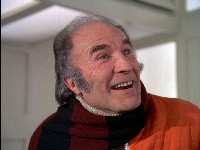 In Survival by Brian Ball (Powys, 2005), Bergman is propelled into space during a battle, his suit torn and losing air. The Alphans are unable to find the body. Unknown to them, the epilogue shows the alien scientist Yendys seeing Bergman healing in a stasis chamber within the living ship Susurra. The book names Bergman's former wife as Dorothy.
In the short film The Return of Victor Bergman (recorded 2002, first seen 2010), Barry Morse reprises the role of Bergman, recording a Moonbase Alpha status report in 2030.
"Alright, Nordstrom. We're watching you closely." (Breakaway)
"I haven't enjoyed a picture that much in a long time." (Matter Of Life And Death)
"I suppose we...all believe what we want to believe. Perhaps that's what reality is." (Black Sun)
"Maybe I've had enough of Earth and its so called civilisation." (Earthbound)
"We believe that revenge, sanctioned by authority, is also the sign of a debased culture." (Voyager's Return)
"Because, we have learned many things, but most of all, we have learned ..we still have much to learn." (War Games)
"I'm having trouble calculating our seasonal variations, but just instinctively I'd say it was spring." (The Last Sunset)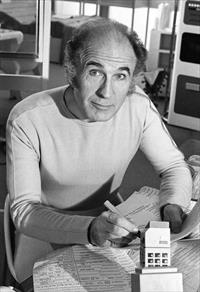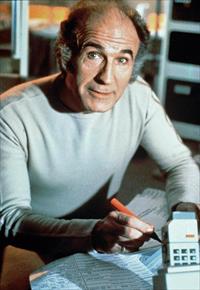 Publicity shot in Bergman's quarters, LQ12. The papers in front of him mention "Engines", "Petrol 1660, 23 Gallons", "Compartments".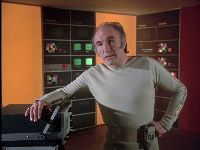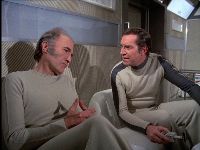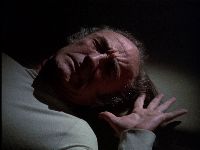 First appearance in Breakaway. He is the first regular actor to appear. The episode establishes a close relationship with Koenig.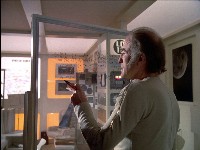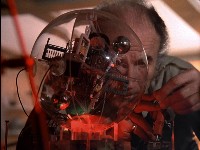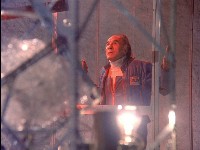 Bergman the scientist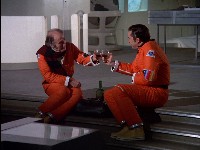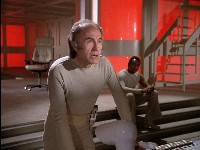 Bergman the humanist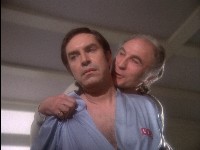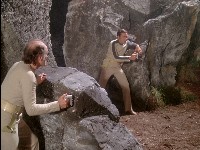 Bergman in action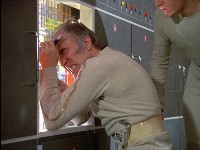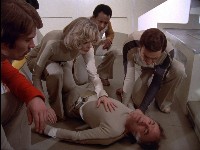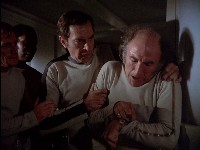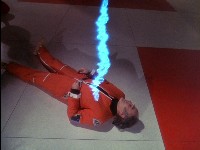 Heart problems.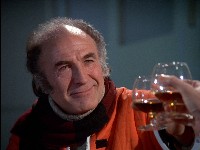 Victor likes a drink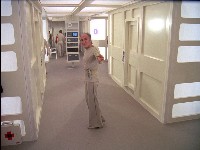 Also fond of cigars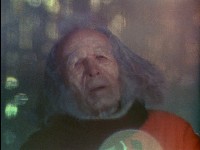 He feels old.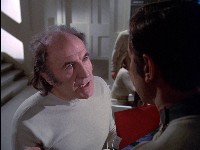 Arguing with Koenig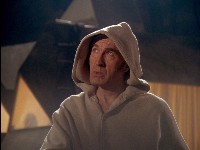 Alternative Bergman on Earth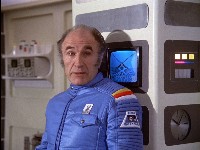 Flashback to 1996