Force of Life

Year 1 - Episode 9

A terrifying force from Outer Space brings freezing death to Alpha personnel. One man has been chosen as the instrument of destruction. ITC summary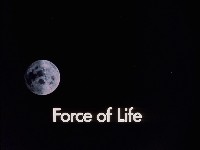 Shooting script 15th May 1974, final shooting script dated 24th May 1974.
Filmed 28th May - 7th June 1974. The entire crew were then on holiday until they resumed filming 1st July-5th July 1974. On the final day, a scene for Alpha Child was shot (using the Nuclear Generating Area set)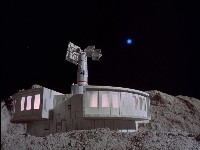 After investing lots of effects effort in Guardian Of Piri, this episode uses just Alpha sets and minimal effects (the blue light passing over Alpha, the revolving radar scanner, Moonbase buildings exploding). Note the nice shot of lights going out over the base. There are no Eagle shots.
Originally there were even less effects shots, but a revised set of 13 shots was added. See SFX storyboards
Library tracks:
"Cosmic Sounds No. 1 and No. 3" composed by Georges Teperino (Chappell Recorded Music Library)
"The Latest Fashion" composed by Giampiera Boneschi (Chappell Recorded Music Library)
"Videotronics No. 3" composed by Cecil Leuter (aka Roger Roger) (Chappell Recorded Music Library)
Roger Roger was born 1911, and died 1995. The French composer produced a large range of library music used in film and television. He was a pioneer of electronic music, using the Moog synthesizers that first appeared in the late 1960s. He used many different aliases, including Cecil Leuter. "Videotronics no.3" is also used in End Of Eternity. Another track by Roger appears in The Infernal Machine.
Georges Teperino was born 1912, and died 1994. The French musician was another pioneer in electronic music. He usually recorded under the name Nino Nardini, and was a close friend and collaborator of Roger Roger.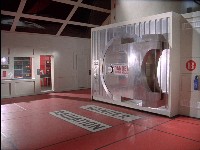 The reactor vessel looks more like a conventional coal furnace; nuclear reactors comprise water tanks in which the nuclear rods are inserted. If anything, they would look like swimming pools.
From the exterior shot of the explosion, the reactor is located centrally, close to the Main Mission Tower. For the replacement, they might consider a more peripheral location.
4 fatalities, Anton Zoref, Hilary Preston, Mark Dominix, guard.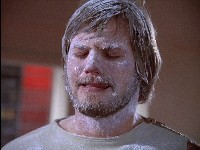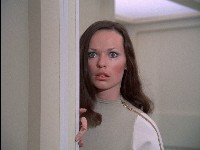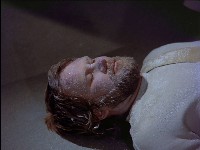 Alpha Technology: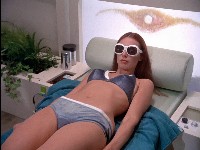 None.
None.
Aliens:
The life force. Not humanoid.
Footage:
Stock footage of Alphans being thrown about is repeated from Breakaway (as is one of the explosions of Alpha buildings). There's even a brief shot of Simmonds.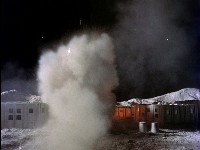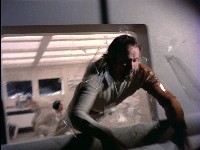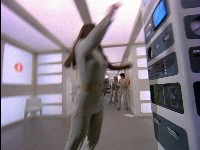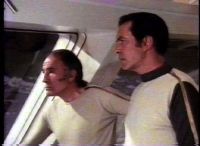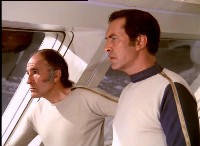 Some prints of this episode (such as the US laserdiscs) show an on-screen microphone top left during the opening shot of Koenig and Bergman. On the DVDs (all versions), the frame is zoomed in so the microphone is not seen. Thanks to James Poll.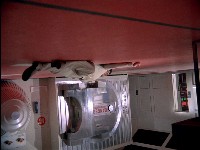 Impressive stylised visuals from David Tomblin, including weird angles, distorted points of view, slow motion, staggered cuts.
The story is a cross between the Midas touch and vampire myths; but here Zoref is not malevolent, simply needing sustenance (the script indicated an evil force, twice referred to as "almost Satanic").
Zoref is named after a friend of Johnny Byrne. This episode focuses on normal characters, showing their home life and giving the series a welcome touch of humanity.
When filming the ending about the birth of a star, Martin Landau ad libbed "Well, I always knew Anton had star qualities in him."
External Links