The Infernal Machine

Year 1 - Episode 21

France/Canada
La machine infernale
The Infernal Machine
Spain
La máquina infernal
The Infernal Machine
Germany
Die Teufelmaschine
The Infernal Machine
Italy
La macchina infernale
The Infernal Machine
Japan
Space Devil, Infernal Machine
Portugal
A Máquina Infernal
The Infernal Machine
Sweden
Maskin eller Människa
Machine or Man
South Africa
Die Gevaarlike Masjien
The Dangerous Machine
Machine or man? Alpha encounters one of the strangest mysteries of the universe - a living machine. ITC summary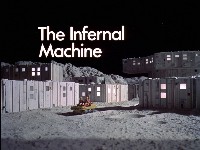 Final draft script 11th December 1974
Filmed 20th December 1974- 9th January 1975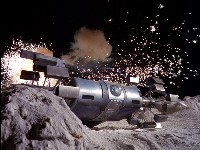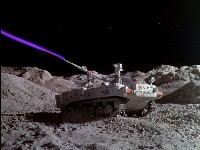 Gwent was built in two scales (plus larger sections for the lift and Eagle docking). The big model was smashed by Nick Allder immediately after filming, in frustration after problems making the ship roll correctly.
Three laser tanks were also built, to scale with the 44" Eagle. They were seen briefly in the This Episode clips of The Last Enemy and one appears in the Eagle hangar in Space Warp
The 3 tanks and 2 Gwents were built by Martin Bower in 12 days.
Stock footage of a manoeuvring Eagle is from The Last Sunset (also seen in War Games).
Stock footage of an Eagle being shot over the Moonbase is from War Games.
Library tracks:
"Mission Control" composed by Harry Soskin (Chappell Recorded Music Library)
"Outer Space" composed by Robert Farnon (Chappell Recorded Music Library)
"Lunar Landscape" composed by Roger Roger (Chappell Recorded Music Library)
"The Monsters" composed by Ivo Vyhnalek (Chappell Recorded Music Library)
"Dark Suspense No. 1" composed by Beda Folten (Chappell Recorded Music Library)
"Subterranean" composed by Joe Venuto (Chappell Recorded Music Library)
"Celestial Mirror" composed by John Cavacas (Chappell Recorded Music Library) was listed on cue sheets but not used.
There is no obvious reason why Gwent violates aerospace rules (the shape is symmetrical with rockets behind). The idea that bumble bees cannot fly is a popular myth of uncertain origin; the earliest reference is a 1934 book by entomologist Antoine Magnan. Insects swivel their wings during flight, generating more lift than fixed wings.
How do sensors detect a body (and that it is dead)? Infra-red (thermal imaging is sometimes used to detect bodies, and survivors, in smoke and debris)?
Unknown number of fatalities: perhaps 2 laser tank crews, 3 Eagle pilots.
Alpha Technology:
Eagle 1 and 2 (armed); 4 (supply) (3 Eagles are destroyed)
None.
Aliens: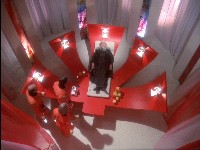 Delmer Powys Plebus Gwent from planet Zemo. Humanoid.
Props:
Footage: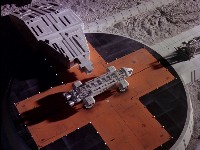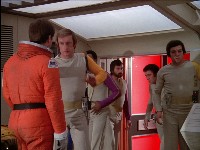 The supply Eagle exterior SFX shots show it docked to the portside. The interior set is docked to the starboard side.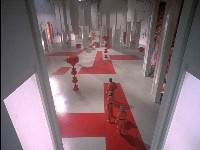 Many high and distant shots emphasise the size of the sets, and the loneliness of the central character. Mirrors and paintings of receding corridors further increase the perceived size of the sets. An award-winning chair by Finnish designer Eero Aarnio, the Pastil (1968), is used as set decoration: two are chairs, others are placed on top of two stacked Ditzel barstools to form columns. Both also appear (in black instead of red) in Mission Of The Darians.
Gwent and Powys are counties in Wales created in 1974. Gwent means "The Place", Powys is an ancient kingdom whose name means "province".
The title is from Jean Cocteau's 1934 play "The Infernal Machine" showing Oedipus crushed by a hostile world. "One of the most perfect machines constructed by the infernal gods for the mathematical annihilation of a mortal".
"Said the spider to the fly". Bergman is quoting The Spider and the Fly, a poem by Mary Howitt, published in 1829. "Children's stories are brutal, Professor, but you have nothing to fear." "Except fear itself." Bergman's reference here is to Franklin D. Roosevelt in his first inaugural address in 1933 ("the only thing we have to fear is fear itself", referring to economic pessimism in the Depression).
During a make-up session, Prentis Hancock was discovered to have a small tumour on his neck. During the filming of this episode he was in hospital having it removed, so he was written out and Winters introduced.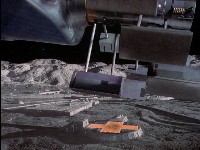 In the This Episode sequence, one shot shows the Moonbase through the rotating paddles of Gwent.
External Links