I have sketched some of the less well-known props and models in the series. You don't see much of them on screen but I like the look of them, and drawings show details you cannot see in photographs. These sketches aren't works of art, or technical blueprints, but they were drawn with reference to the original props and models. In addition to my poor draughtmanship the scans of photocopies don't give great quality! They are all copyright Martin Willey.
The lunar tanks were only featured in
The Infernal Machine
, although we glimpsed them in the
This Episode
sequence of
The Last Enemy
and in the Eagle hangar in
Space Warp
. There seem to have been six or more in total, with three designs; two were destroyed. They are represented by three different SFX models. They are heavy tracked vehicles, probably construction vehicles for Moonbase Alpha and the nuclear waste dumps. We would expect they would normally be equipped with shovels, rockbreakers and cranes. The transparent domes where the astronaut sits in two of the designs are clearly intended to maximise all round visibility, not protect the crew in battle.
Design a. Note the rear hatch, not large enough for an astronaut so probably for equipment storage. There is a camera on the front of the vehicle.
Design b. The flat topped version has a prominent camera on the front of the vehicle.
Design c. The Eagle-like cone nose of the third design only allows forward vision, which suggests it could be used for towing and shunting applications rather than excavating. It is also the only two-man vehicle (the others only have room for one astronaut). The rear door shows it could carry more personnel and their equipment.
These towers were seen in
Devil's Planet
. They are all built by Martin Bower, and are very different to the undetailed "lamp shade" buildings seen in
War Games
. There are clearly industrial buildings, with no windows and chambers looking like chemical reactors (possibly they were inspired by an oil refinery). The clusters attached to them are made from leg pods from the Airfix Eagle kit. Pictures of the models are
here
.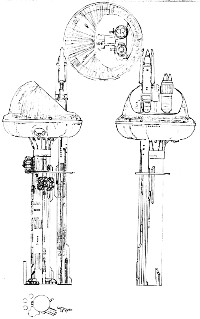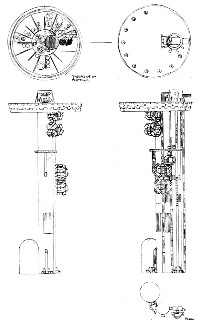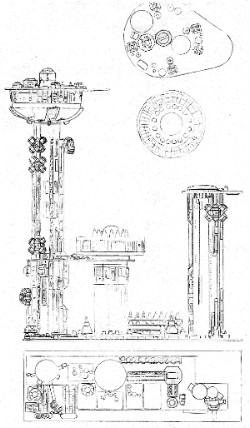 ---
Copyright Martin Willey