Space Warp

Year 2 - Episode 15

France/Canada
Déformation spatiale
Space Warp
Spain
Torbellino espacial
Space warp
Germany
Der böse Zauber
The Wicked Magic
Italy
I naufraghi
The Shipwrecked People
Japan
Fear of the Four-dimension Space
Poland
Podroz w czasie
Portugal
Vazio Espacial
Space Void
Portugal
Passagem para Outra Dimensão
Passage To Another Dimension
Eagle 1 gets lost in space and, as if that isn't enough, Moonbase Alpha has problems of its own when Maya's ability to transform herself into any living entity goes out of control. ITC summary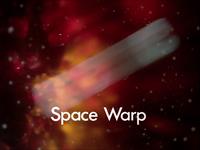 Shooting script dated 13th July 1976. Revised 27th July.
A "Double Up Helena" script, filmed simultaneously with A Matter of Balance. Shooting schedules dated 30th July, 16th August. Filmed 6th Aug- 24th Aug 1976
For the scene when the Maya animal throws Alan in Medical, a low camera angle meant a false ceiling was installed. The stuntman (Tim Condren) bounced off a trampoline, but was so intent on missing the ceiling he landed two feet short of the mat. He broke two teeth and his collar bone.
Edited into the 1982 compilation movie Cosmic Princess
Int. Command Centre
Int. Medical Centre
Int. Launch Area
Int. Control Room
Int. Corridor/Airlock 7
Int. Moonbuggy Airlock
Int. Alpha Corridor/Reception
Int. Corridor/ Elevator
Int. Travel Tube
Int. Eagle Pilot Section
Int. Eagle Passenger Section

Ext. Moon Surface
Int. Derelict
The first episode to feature an elevator (it also appears very briefly in The Seance Spectre; it is a revamp of the alien elevator in A B Chrysalis).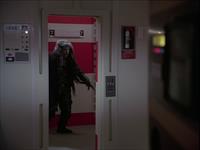 The Menon cruiser is a redressed version of the Archanon spaceship from Mark Of Archanon with a new nose section. In long shots it is docked with the 22 inch Eagle. Closeups of the 44 inch Eagle docked use a larger version of one bulkhead built for this episode.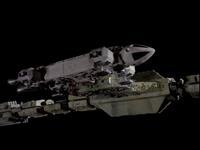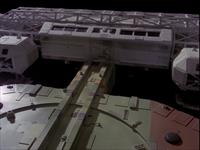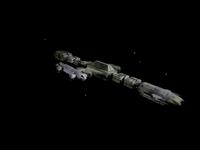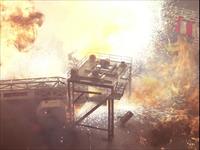 The 2nd Eagle model is in the foreground, the 3rd is barely visible behind flames which severely damaged the model. The first Eagle model, with a
striped rescue pod
, and a moonbuggy are also in this shot (top right), almost completely hidden by the flames.
Original score by Derek Wadsworth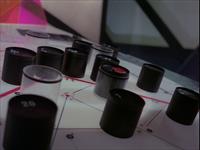 The data bank cartridges have Arabic numerals.
"Area Copernicus of the Copernicus depression". There is a Copernicus crater on the Moon; obviously it must be in walking distance of Moonbase Alpha. Copernicus is incorrectly called a mountain in Journey To Where.
The Betanon scout cruiser is said to be 12 parsecs from the mothership Admenon when it entered the space warp. That is considerably farther than the 5 light years the Moon moves. Although they use space warps, they evidently have faster than light capabilities anyway.
1807 days after leaving Earth orbit (Tue 24 Aug 2004)
0 fatalities.
Alpha Technology: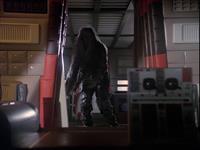 The Eagle remote control appears on Alan's desk in Command Center and in the Eagle 4 cockpit.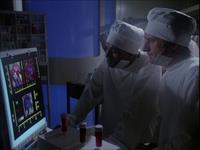 Medical thermographic scans are used.
Eagle 1 (Koenig); 2 (Refuelling); 4 (Maya, crashed)
Space Animal 1, Mentor/male Psychon, Space Animal 3
Maya changes into her father Mentor, from The Metamorph. Although scripted as such, it is plainly not Brian Blessed and could be another Psychon (the costume is Dorzak's).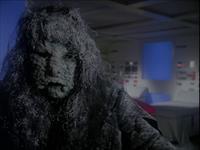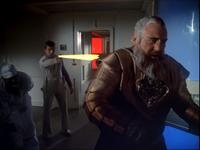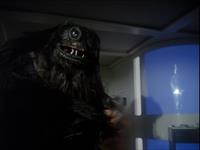 None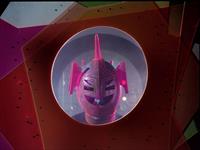 "Grasshopper" (credits) / "Captain Duro" (dialogue), captain of the Menon, (scout ship for the mothership Admenon). Humanoid.
Props:
Mentor's costume created for this episode is used again as Dorzak's costume.
The perspex screen (see Duro picture) was featured as the alien screen in The A B Chrysalis. The space warp detector equations were Maya's equations in that episode.
In the recording of Capt Duro, the round panel behind him is the communications panel from the Golos Life Support Centre in The Exiles.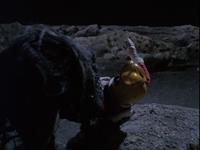 Alan's spacesuit visor knocks open during the fight.
Space: 1899 is a spoof version of this episode, conceived and produced by Gareth Randall and first shown at fan conventions in 2000. In 3 minutes, 30 seconds, it reveals the episode as a black and white silent movie, complete with caption cards. It is available on the Fanderson documentary DVD (2004).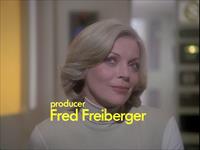 External Links