Elevator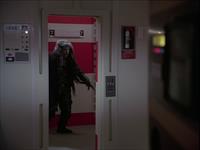 Although Moonbase Alpha has many levels, we only saw an elevator in two episodes: Space Warp and (very briefly) in The Seance Spectre. See a discussion by Craig Rohloff
Elevator 7, Space Warp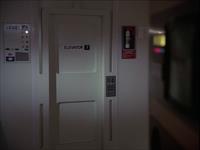 The door to Elevator 7, seen in Space Warp.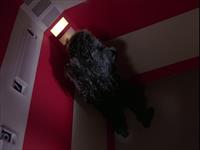 The interior is small with angled corners, with vertical light strips indicating movement (the same design as the alien elevator in The AB Chrysalis). Note the bold red walls.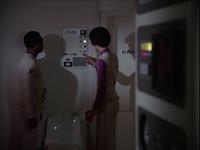 Operating voice communication with the elevator. There is no screen (unusually for Moonbase Alpha).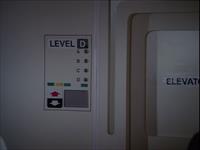 A close-up of the control panel. The meaning of the up and down arrows is obvious; on the right is the microphone/speaker, and above the level indicator. This elevator connects four levels: A, B, C and D.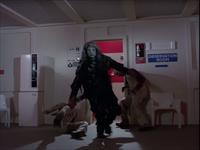 Close by the elevator door are a coffee machine, fire extinguisher and chair. A sign points to the "Observation Room". The guards here are otherwise occupied...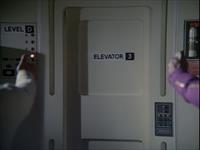 Note that while before we saw Maya enter elevator 7, and it is referred to as elevator 7 in the dialogue, here the sign says elevator 3.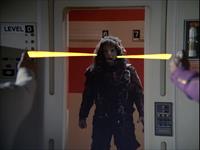 Note the grilles on the back wall of the elevator are numbered "6" and "7".
Wall plans by Craig Rohloff. More discussion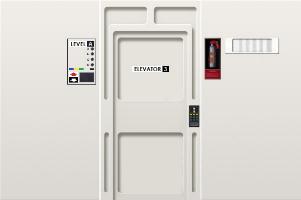 Eagle Hangar Elevator, Seance Spectre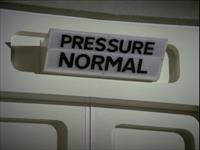 The Seance Spectre: the elevator to the Eagle hangars (hence the pressure warning sign). This has double doors, but the interior space seems the same as the single-door version, about 8 feet/ 2.4 meters wide and deep.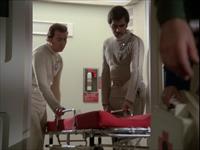 Note the angled corners with vertical light strips, same as the smaller elevator. A ventilation grill is also seen. A fire extinguisher is seen inside. There are no horizontal red stripes, as in the small elevator. There is a dark rectangle on the exterior by the door on the left. The plans below propose a variation of the elevator controls and speaker we saw in Space Warp.
Wall plans by Craig Rohloff More discussion