A Matter of Balance
Husband & wife writing team; films Island Of The Burning Damned (1967), Captain Nemo & The Underwater City (1969); TV includes episodes of Dr Who (Mark Of The Rani, 1985, Trail Of A Time Lord part 3, 1986, Time & The Rani, 1987)
With
Anthony Terpiloff
,
Death's Other Dominion
,
The Infernal Machine
Born Mary Elizabeth Cheney in 1930, USA, and known as "Bess". She was formerly married to screen writer Robert Guy Barrows, and in the mid-1960s she married Anthony Terpiloff, and by the early 1970s were living in Wales. After Terpiloff died in 1978 she returned to the US to become an agent. She died 1994
One Moment of Humanity
,
The A B Chrysalis
Born in 1934, Barwick had worked as a lab technician and in computing when he was asked to add some computer verisimilitude to a Danger Man episode. He then wrote some action sequences for the episodes, before joining Anderson and expanding the original half-hour Thunderbirds episodes to a full hour. He began writing full episodes, and by Captain Scarlet he was a story editor, writing for this, Joe 90, Secret Service, UFO and The Protectors. He also worked on both Thunderbirds films, Doppelganger, and co-scripted the unfilmed 5 Star 5. He also wrote most of the Terrahawks series and the Space police pilot. He also wrote for Randall & Hopkirk Deceased (1968), The Champions (1968), The Persuaders (1971), and he was script editor and writer on The Professionals (1978-83). He has written several novels with Donald James (as by James Barwick) and with Shane Rimmer.
1987 interview: "I didn't work as script editor on "Space: 1999" because the Americans for whom the series was primarily made, wanted an American script editor.
Do you think "Space" was Gerry's equivalent of "Star Trek" ? That from the outset of it he went out to make a series which was almost a facsimile of "Star Trek"?
In general terms, yeah. "Star Trek " was a very popular show so it was along those lines. I suppose it was getting a gang of humans out into alien environments.
By this time you were pretty 'weather-worn' to the Gerry Anderson format, so how did you feel about this particular idea ?
All ideas, really, are as strong as the stories . The idea was good enough, but I would probably have said it should be a bit more adventurous - follow the "Star Trek" theme, if you like, but maybe take it a bit further. I would probably have tended to make it a little more bizarre, a little more interesting , more unusual. It was a bit predictable, I felt.
The first of "Space :1999" was quite successful in the U.S.A. But it didn't do very well over here. Do you think this was because of the American influences or was it just bad luck ?
Just bad luck. Most of these things are luck - catching the mood of the audience. No-one knows what makes a successful TV series or else they'd be doing them all the time and they'd be very rich people! You are trying to predict what the TV audience would like to see, which is impossible. Sometimes you strike lucky and sometimes you don't....
You did write some episodes for the second series, however, and one of them was "The A-B Chrysalis". This story is notable as it features some strange spherical droids ( referred to simply as 'probes' ) which, when they are not resting on tall, slim perches, have a habit of bouncing around like footballs ! Could it be that you based the zeroids, in "Terrahawks " on these ?
No, I don' t think so, really. It was probably just a coincidence. I'm not aware that there was any conscious effort made to copy those things. In "The Prisoner" they had some great balloons , like giant beach balls, which went round chasing people! When I came to write that episode of "Space: 1999", I certainly didn't have those in mind!
Breakaway; story consultant during early development
The American writer has written episodes of Thriller (1960), The Defenders (1961-64) and Cannon (1970-75). Winner of Writer's Guild of America award. He was born in 1919, and died in 2002.
He was recruited in August 1973, preparing a Writer's Guide in September, before leaving the show in October before filming began.
Christopher Penfold on George Bellak: Gerry and Sylvia wanted me to work on it and they were apologetic that ITC needed an American name script editor. I was very appreciative of that and I believe they went to the United States with the express purpose of finding somebody with whom I could work. I was very grateful to them for that. They found a man who indeed I got on very well with, and to this day George Bellak is a very close friend of mine. George got on extremely well with me but he very soon failed to get on with Gerry. George survived long enough to write the first and second drafts of the story that eventually became 'Breakaway' and he then went off back to the United States. 'The Void Ahead' was his title for it. In fact, quite a lot of what became 'Breakaway' is actually my work.
George had a very much looser attitude than Gerry towards the mechanics of science fiction. He was much more interested in using science fiction as a vehicle for expanding awareness about ordinary human characters. He was much more interested in human character than Gerry was. He was less concerned with the mechanical plot process which Gerry had in mind, driven largely by the requirements of multi commercial break broadcasts. George had much less patience with that than Gerry himself did. Also I think that there was a feeling, probably from Gerry, that George didn't have the level of commitment to Gerry and the series that he would expect. For George it was 'another job' and he was still busy writing plays for television in New York and Hollywood. He was living what is actually a very normal life for a freelance writer. Gerry, I think, felt he wasn't giving to Space: 1999 the full commitment he expected. I think also that George came to believe that the work he was doing in the United States was more important to him than the work he was doing on 'Space'. I was very sorry to see George go; he was a very humanising influence on the whole production. He was a very imaginative man and a very creative writer. We've kept in touch ever since and he's still a very good friend. He now writes books.
(2002 interview) George brought with him, in the short time he was involved with the project, enormous humanity. Victor Bergman was very much his creation. I think that the humanity that George brought to what was essentially a space fiction series was something that marked out Space 1999 series one.
(2012 interview) It's probably not widely appreciated just how much the show was shaped by the very first script. That was initially written by George Bellak, and he insisted on a powerful role for a woman at the head of the show. As indeed was the whole ethnic diversity of the cast.
The Lambda Factor
Born 1935, Dicks was an advertising copywriter until he moved into writing drama, first for radio and later television, including episodes of Crossroads and The Avengers (1962-68). From 1968 to 1974 he was script editor on Dr Who, and afterwards he continued to write many scripts for the series. He also wrote Dr Who stage plays in 1974 and 1989, and most of the juvenile novelisations of Dr Who serials, numbering over 50 books. He also created and wrote the Moonbase 3 series in 1973, and he has written other juvenile books. In the 1980s he became a script editor for BBC television 'classic' serials, including an adaption of The Invisible Man in 1984. He died in 2019.
New Adam, New Eve
,
The Bringers Of Wonder
parts 1 & 2
A former political journalist, Feely has written books including Embrace The Sun and Limelight and an anthology of Henry James titled Affairs Of The Heart, which he adapted into a TV series. He has written 7 plays, including thrillers and more 'complex' plays. In 1966 he was story editor of the Mystery & Imagination series. He has written episodes of The Avengers (1961), The Prisoner (1969), UFO, The Persuaders (1971), Arthur Of The Britons (1972), The Protectors, The New Avengers (1976-77), and The Return of the Saint (1978). He created and wrote for the series The Gentle Touch (1979-85), Cat's Eyes (1985-87), and No. 10 (1983). He cowrote the miniseries Mistral's Daughter in 1984. He died in 2000, aged 72.
Seed of Destruction
Born in 1947, Goldsmith has written 5 novels including the best selling Bullion, and non fiction including Voyage In The Beagle, about his own adventures aboard a square rigger in South America. In the mid 1980s he was editor of the Journals Of Stephen Spender, and the Chairman of the Writer's Guild Of Great Britain. He has written episodes of The Protectors, The New Avengers (1977), The Professionals (1978), The Return of the Saint (1979) and he wrote the series John Silver's Return To Treasure Island (1986), and the film of Roald Dahl's Danny, The Champion Of The World (1989). He often writes for director Kevin Connor, including the miniseries Great Expectations (1989), The Old Curiosity Shop (1994), The Apocalypse Watch (1997), In The Beginning (2000). Other miniseries include Kidnapped (1995), Coming Home (1998), David Copperfield (2000, with director Peter Medak), Victoria And Albert (2001).
He joined the internet convention in 2022.
The Exiles, Journey to Where, The Seance Spectre
Donald James was the pen-name of Donald James Wheal. He wrote two autobiographies which describe his early life: World's End (2005) recounts his childhood in London in the late 1930s and early 1940s, White City (2007) continues the story of his family in post-War Britain. In 1964, he contributed a script for the ITV police series No Hiding Place, his breakthrough into writing for TV drama series.
James wrote episodes of The Saint (1968), The Champions (1968), Department S (1969), Randall & Hopkirk Deceased (1969), UFO (1970, uncredited series script editor), The Persuaders (1971), The Protectors (1972), and The Adventurer (1972). For Anderson, James cowrote the Anderson film Doppelganger (1969). As well as ITC series, he also wrote for The Avengers (1968), and a 1969 episode of the American series Mission Impossible.
UK TV companies lost interest in adventure series in the late 1970s, so James turned to thriller novels, beginning with A Spy at Evening (1977). His best-selling thrillers include The Fall Of The Russian Empire (1983), Monstrum (1997) and Vadim (2000). His last novel was Walking the Shadows (2003). He has also written several books with Tony Barwick (as James Barwick): Shadow of the Wolf (1978), The Hangman's Crusade (1981), The Devil at the Crossroads (1986), Kremlin Contract (1988). As well as his two autobiographies, other non-fiction includes The Penguin Dictionary of the Third Reich (new edition 2002, with James Taylor and Warren Shaw).
The Taybor
A science fiction writer and friend of Johnny Byrne, married to Regina von Kesslann (who gave her name to Regina Kesslann in Another Time, Another Place). He was born in 1949 in the USA, but raised in Britain. He wrote stories for Science Fantasy and New Worlds magazines. His first novel was All Night Stand, followed by Second Coming. He died in 1995.
The Full Circle (with Pat Silver)
Born in 1910, Lasky was the son of American pioneer producer Jesse Lasky. He became a screenwriter in Hollywood in the 1930s, writing scripts of the films Union Pacific (1939), Unconquered (1948), Samson and Delilah (1949), The Ten Commandments (1956) and Seven Women From Hell (1961). In World War 2 he served in the army. In 1962 he and his third wife, the actress and writer Pat Silver, moved to London, writing for television and film, including The Protectors, Marlowe- Private Eye (1984) and Hammer House Of Mystery & Suspense (1984). A small bearded man, Lasky was an accomplished swordsman, rider, tennis player, and an authority on weaponry and the wild west. His memoirs, Whatever Happened To Hollywood?, were published in 1973. He died in 1985.
Christopher Penfold: "Pat Silver and Jesse Lasky jnr. were friends of Sylvia's. They were husband and wife, though Jesse Lasky jnr. died a couple of years ago. They were both very nice people, but not the kind of writers I really wanted to have on the series. In my opinion they wrote very much on the surface and I wanted writers who, as I said, could give depth of character."
Ring Around The Moon, Missing Link, script for Alpha Child (no on-screen credit).
Script editor (credited, but actually he did not work on these scripts) Breakaway, A Matter Of Life And Death, Another Time, Another Place, Guardian Of Piri
Johnny Byrne on Edward di Lorenzo: Ed wrote Missing Link and Ring Around The Moon, but they were heavily rewritten by Chris [Penfold]. Wonderful man though he was, and a writer with a delicate touch and philosophical feel, Ed had problems with the type of story needed for Space at the time. His great love was the book he was writing. I think it was called White Light, and like his script work, it was poetic, delicate, a sort of post hippy Jonathan Livingstone Seagull (Chris's description). According to Chris, Ed left because he was fed up with the rewrite demands, and, anyhow, his book was his first priority. I was very sad and disappointed when he left because I felt he would have grown into the series and thus make it all the more special.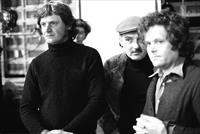 Script editors on the set, March 1974. Christopher Penfold (left), Edward Di Lorenzo, and Johnny Byrne
All That Glisters
Miles was born in Wales in 1940, but has lived in the West Midlands most of his life, and much of his work is based there. He read history at Oxford, and has written plays for TV, radio and stage. He wrote episodes of The Adventures Of Don Quick (1970), Edward VII (1975), Lillie (1978), and Disraelli (1979), and novelisations of the TV series Crossroads, Marco Polo (1983) and We'll Meet Again (1987). He has written over 40 books, many of them historical mysteries as well as fiction and nonfiction books about sport. Miles uses both his own name and the pen name Edward Marston.
A Breath Of Death (unfilmed script)
Born 1916, died 1996. An American writer who produced an early unfilmed script for the series. Other credits include the Barbara Bain TV movie The Obsessive Doctor (1992).
Brian the Brain
Scottish writer Jack Ronder was a chemistry teacher who later became a full time writer. He was born in 1926 and died in 1979. He wrote many episodes of Survivors (1975-76). He wrote a novel "The Lost Tribe" (1978) which he adapted into a series, shown in 1980.
Born Glasgow, 1926, died 1999. Although credited as "Lew Schwartz" on Space 1999, his surname is spelt "Schwarz" without a "t". He flew bombers in World War 2. After demobilisation he returned to Glasgow, but in the 1950s he moved to London to be a taxi driver. After meeting Spike Milligan in his cab, he began writing jokes for radio, and eventually joined with Eric Merriman to write the early sitcom Great Scott, It's Maynard (1955), followed writing solo for the Terry Scott sitcom Scott Free (1957), and as a semi-regular on The Army Game (1957). Working on the Charlie Drake Show (1963), led to success on other Charlie Drake series and films. He helped create and wrote for the hit series The Liver Birds (1969- 1979). He also worked on Carry on Laughing! (1975). He then became a creative writing teacher, and in 1998 published The Craft of Writing TV Comedy (Allison & Busby's Writer's Guides).
The Full Circle
(with
Jesse Lasky Jnr
)
Born in Seattle, Silver created, wrote, acted and directed in a live children's programme Mabel's Fables (1949, nominated for an Emmy). She was an actress (using the name Barbara Hayden). After appearing in an episode of Rescue 8 (1958) she went on to write 3 more episodes for the series, on which Hollywood screen writer and author Jesse Lasky Jnr also worked. They married, and in 1962 they moved the Britain. Together they wrote 4 books, 8 films and over 100 TV scripts. Together, they wrote The Wizard of Baghdad (1960), and episodes of Danger Man (1966), The Saint (1965), The Protectors (1973), the docu-dramas The Explorers (1975), and Hammer House of Mystery and Suspense (1986). They were head writers of the Powers Boothe series Philip Marlowe, Private Eye (1983, 1986)
In an interview in 2012, she stated she also wrote two other scripts for Space: 1999: one script titled The Silent Music and a draft titled The Valley of the Giants, with an alternative title Bats Out Of Hell.
Lunar Commission scenes in
Alien Attack
film
Born in 1932, Spooner was a gag writer who entered TV in comedy. His first scripts were for Anderson's Supercar, but were unused, but he contributed to Fireball XL5, Stingray and Thunderbirds, and he served as writer and story consultant on The Avengers (1961-68), Dr Who (1964, becoming story editor until 1965), The Champions (1966), Man In A Suitcase (1967, co-creator), Department S (1968), Randall and Hopkirk Deceased (1969, creator), Doomwatch, UFO (1969), Jason King (1971), The Protectors (1972), The Adventurer (1972), The New Avengers (1976-77), The Professionals (1977-78), Hammer House Of Mystery & Suspense (1984).
He died in 1986.
Earthbound
,
Collision Course
,
Catacombs of the Moon
, and, with Elizabeth Barrows,
Death's Other Dominion
,
The Infernal Machine
An American writer, born 1929, resident in Britain (married to Elizabeth Barrows). The Avengers (1962), The Alfred Hitchcock Hour (two episodes, 1965), Ironside (1967), Poet Game (BBC play, 1972), The Protectors (1973), The Return Of The Saint (1978)
He died in 1978.
Christopher Penfold: "Anthony Terpiloff was American but he'd lived in England for many years. He'd written one of the finest television films I'd seen for a long time. It starred Anthony Hopkins, was called Poet Game and was about Dylan Thomas in New York. It was a brilliant piece of work so without Tony having any predilection for science fiction I knew he was a terrific writer and that was always my main criterion for commissioning writers."
Matter Of Life And Death
(co-credit with
Johnny Byrne
)
Wallace co created and wrote for the series Dark Shadows (1966-67), and wrote episodes of The Invaders (1967), Star Trek (episodes Obsession, 1967, and Assignment Earth, 1968), and The Planet Of The Apes (1974). An early script was for Tom Corbett, Space Cadet (1955). He won a 1978 Writers Guild of America award for the children's series Little Vic (1977).
Black Sun
original concept for
Guardian Of Piri
Weir was the main writer on The Onedian Line (1974-78). He also wrote for The Troubleshooters/ Mogul (1966-70) and anglicised the Japanese series The Water Margin (1978).
Christopher Penfold: "I brought David Weir onto it as he was a imaginative and successful writer of episodes for series like The Avengers and Danger Man. He was a very cerebral writer with lots of weird ideas, though there isn't actually very much of David's writing left in the scripts for which he's credited."
Devil's Planet
Born in 1938. Winder wrote episodes of The Saint (3 episodes in 1967), The Avengers (1967), Ace Of Wands (1971) and cowrote the Canadian film Welcome To Blood City (1977).
The Rules of Luton
,
The Beta Cloud
,
Space Warp
Pen name of producer Fred Freiberger
Other writers
A number of other writers worked on early story outlines, or were considered for the series. See more