Thermographic Scans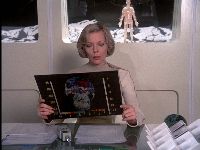 Scans of the head or torso and head, in various colours. "These are some thermographic scans I did of Lee Russell... These plates respond to body heat... You can see the areas of body heat, brain, vital organs, and the cold areas, the yellows." Featured in Breakaway, Matter Of Life And Death, Ring Around The Moon, Another Time, Another Place, Missing Link, Force Of Life, Space Warp (showing internal organs) and Dorzak.
The image is usually bordered by three scales. In Matter Of Life And Death the vertical scale on the left is 1, 2, 3, 4, 6, 01 (no 5). The vertical scale on the right is 10, 20, 40, 60, 100, TH (thousand?; no 80). The horizontal scale on the bottom is 0, 2 ,4, 6, 8, 10.
The scan plates greatly resemble current inkjet printer transparencies (Catacombs of the Moon features a similar printout of Michelle Osgood's artificial heart) . They are sometimes examined directly, but in Breakaway Dr.Russell uses as lighted viewbox. In Year 2 episodes such as Space Warp, Catacombs of the Moon and Dorzak, we see a flatscreen device (a screen or viewbox).