Moonbuggy
Transport on the lunar surface is afforded by moonbuggies. They are driven with two handles, each one controlling one side of the buggy; hence, turning was accomplished by putting one stick forward and drawing the other back. The dashboard originally only had an ignition switch. In Year 2 the buggies had additional controls including airlock switches ("inner door - outer door - pressurise - depressurise") in Space Warp. They also had larger number 5 on their side. They may be deployed from special airlocks (Space Warp) or Eagles (The Full Circle, The Testament Of Arkadia), and in the latter case may be used on Earth-type planets.
The full sized moonbuggies is only seen being driven in four episodes: Breakaway, The Full Circle (on Retha), Space Warp, and The Bringers Of Wonder part 2. Other episodes used the vehicle as a static prop (The Testament Of Arkadia), or model moonbuggies.
Various shots of Eagles on launch pads included a small moonbuggy model. The Year 2 titles included two small moonbuggies in the view of Moonbase Alpha as the logo moves overhead.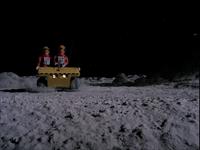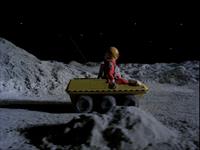 The Taybor featured more close-ups of the remote controlled buggy, which is let down by the stiff astronaut maquettes. Unlike the smaller models, this model does not have an exhaust on the right side.
Three designs of laser tank were seen in The Infernal Machine (and glimpsed in the "This Episode" clips of The Last Enemy and the Eagle hangar in Space Warp).
---
Copyright Martin Willey